The origins of werewolf fiction are ancient and wide-ranging, spanning worldly traditions. Featured in Greek mythology and medieval romances, as well as early folk and fairy tales, wolfish shapeshifters have taken many monstrous forms. The subject evolved with 19th-century gothic fiction, which placed the werewolf in a modern format, while 20th-century portrayals often re-interpreted the werewolf as a sympathetic point-of-view character. The transmogrification continues with these recent novels and stories that have clawed their way to the top of the werewolf fiction list.
Such Sharp Teeth
A young woman, Rory, returns to her hometown to help her pregnant twin sister, Scarlett, and is attacked by a werewolf. She begins a physical transformation. Despite her struggles to adjust to her new reality and the ongoing pain it brings, she must also navigate life's daily challenges—planning a baby shower, going to parties, dating.
Her werewolfery is a constant problem that forces her to reflect on a traumatic past and the horror of not being able to control her own body. Her sister's pregnancy similarly comments on issues of bodily autonomy. Rory questions how long she can manage the agony of her situation while still being a functioning almost-human. Another full moon is always coming. This novel is a thoroughly enjoyable page-turner with a comedic tone that makes the characters feel relatable despite the darkness of their problems.
Mongrels
A young boy lives on the road in the American South with his Aunt Libby and Uncle Darren who constantly regale him with stories of how family members shift into werewolves. He's in first grade when we meet him, and astonished by not only the content of these stories—especially those his grandfather tells—but the possibility that one day he too might change. Taking note of everything he learns about lycanthropy, which is portrayed with great realism, he absorbs the often hilarious and always pragmatic details of what "wolfing out" entails.
With his mother dead and father gone, he has a strong need to achieve a sense of belonging with not only his family, but the rest of the world. Timeframes shift between past and present in this coming-of-age story about a boy who lives as an outsider and contemplates his role and potential to transform. Inventive storytelling, strong voice, and engaging prose make for a page-tuner of werewolf lore.
The Wehrwolf: A Short Story
Set at the end of World War II, "The Wehrwolf," by Alma Katsu follows a German man, Uwe, who is terrified of what will become of his wife and daughter when Allied troops draw near to his village. When bodies start turning up, he realizes there's something else in the woods too—an unnatural predator. A pack of werewolves defends the land, and Uwe must join forces with these creatures to save his family. In doing so, he grapples with not only his own monstrosity, but larger horrors of wartime atrocities.
Blood-thirsty werewolves serve as a strong metaphor for men of war and the pack mentality of those willing to turn their heads and look away from carnage and atrocity. Threaded throughout this effective piece of historical horror fiction are reflections on the depiction of werewolves in folk and fairy tales.
Bishop
Set in the Alaskan wilderness, Bishop follows the plight of an adventurous mother, Erin, and her daughter, Casey, who have become lost while hiking near glaciers in Juneau. Realizing they've been gone too long, their brother and uncle, Troy, sets out to find them. Frigid, snowy weather isn't the only thing that makes this a difficult task. The locals warn of a dark and evil presence to avoid in this region where "all sorts of animals run wild." An ancient monster stalks the forest and the only person with the skills to facilitate the search is a mysterious local recluse named Bishop. There is terror at every turn in this thrilling, action-packed novel.
Carnivorous Lunar Activities
Justin and Ted haven't hung out since high school, but Justin badly needs help and begs Ted to come over—and bring meat. He soon explains his problem. He's going to turn into a werewolf at midnight, and Justin is the only person he trusts to help manage the mayhem when he wolfs out again. Ted is extremely skeptical, assuming his longtime friend is having some sort of mental breakdown. However, Ted is also entrenched in his own problems—his wife recently left him—and tries to hear Justin out and provide solutions. Their banter is often hilarious, giving an entertaining glimpse into the friendship of two troubled men and the horror that may or may not await when the clock strikes twelve. The book is as much a masterclass in sharp, funny dialogue and suspense as it is an explosion of bloody horror goodness.
Lobizona
Manuela Azul is an undocumented immigrant living in Miami, Florida. When her mother is arrested, she is forced to survive on her own, though she has few options. With nowhere to go, she embarks on a journey of self-discovery, uncovering the truth about her past by delving into family secrets enmeshed in Argentinian folklore. A universe of witches and werewolves is revealed, and she must find a way to belong in a world that condemns her existence as illegal.
When We Were Animals
In this gothic, coming-of-age novel, the teenage Lumen refuses to accept what everyone else in her Midwestern town has so readily accepted. Upon entering puberty, teens are known to "breach," transforming into wild creatures (not quite werewolves, but perhaps something like it) during the full moon. She rejects this reality and the violence that comes with it, doing everything she can to avoid her fate.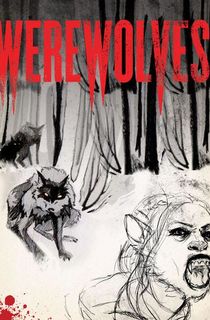 Werewolves
Formatted as an illustrated journal, Werewolves chronicles the life and of a high school girl and her transformation into a werewolf. Her journey is documented through scribblings and sketches while she navigates her new life and integration with her wolfpack in this creative book of illustrative storytelling.
Bitten
Despite being the only female werewolf, Elena Michaels is conflicted about her role and longs to live life as a human. After leaving her pack behind to lead a regular life in Canada, she's called back to help resolve a wolfish uprising. Bitten is the first book in Otherworld, a 13-novel series that also includes additional novellas and short stories.