The werewolf is, in my opinion, one of the most underrated creatures of the horror genre. Throughout the history of literature and visual media, they have often played second fiddle to spotlight-hogging vampires. But what is scarier than something that is not only a creature of the night, but a human as real and tangible as you and I?
Werewolves encompass duality—a true internal struggle between reason and uninhibited desire. They stand as a metaphor for change and self-control. Sometimes they are vile, conscienceless creatures. Sometimes they are the victims of the tale. But regardless of where the villainy lies in their story, tragedy follows werewolves wherever they go.
It's time to give these magnificent beasts some recognition. While this is hardly a comprehensive list of must-read or must-see works, here are some of the books, television shows, and movies in which werewolves really shine.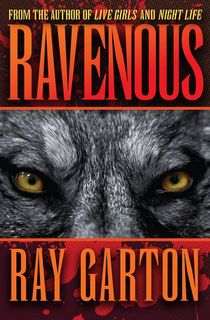 Ravenous
This gritty, lore-redefining horror book pulls absolutely no punches. After Emily Crane's car breaks down on an empty stretch of road in the middle of the night, a man comes out of the dark to attack and sexually assault her. In a fight for her life, she kills the man. But a few hours later, the dead rapist gets up and walks out of the morgue. Then Emily's strange cravings start...
Related: 11 Twisted Ray Garton Books That Will Give You Nightmares
As Sheriff Arlin Hurley of Big Rock, California investigates the gruesome deaths of partially eaten victims, rumors of werewolves have him rolling his eyes. But an odd clump of hair left behind on a body lends credence to all the talk, and it soon becomes obviously that whatever is slaughtering folks isn't doing it alone. And these monsters are doing things far more vile than just killing and eating people.
Ray Garton is the master of the disturbing, so if you're on the prowl for a no-holds-barred, truly beastly look at lycanthropy, this book should be your first stop.
Cycle of the Werewolf
This book by master of horror Stephen King is great for anyone looking for a shorter read, coming in at 101 pages. With incredible illustrations by artist Bernie Wrightson, this work also boasts a film adaptation for readers who want an even fuller experience.
Related: 9 Terrifying Stephen King Novels You May Not Have Read
Set in the fictional town of Tarker's Mills, Maine, each chapter of this book unfolds almost like its own little short story. Each chapter represents a calendar month, and as the full moon rises a werewolf descends to terrorize the small town. The police patrol the fear-paralyzed town for a human murderer, but 10-year-old wheelchair-bound Marty Coslaw knows better.
The Werewolf of Paris
An absolute classic of werewolf fiction, this novel by Guy Endore defined the very standard for this genre. First published in 1933, this work ties these half-human beasts to a sense of sexual compulsion, elevating them to a whole new level of carnality. Outcast Bertrand Caillet embarks on a journey across pre-Revolutionary France in an attempt to soothe the beast churning inside of him. What unfolds next is a bold and chilling tale that would influence generations of horrors writers to follow.
The Wolfen
Another essential read with a film adaptation, this was first published in 1978 as Whitley Strieber's debut novel. In New York City, two police detectives—Becky Neff and George Wilson—investigate the suspicious deaths of two fellow officers. But little do they know, a race of highly intelligent beings descended from wolves watch their every move, determined to keep their existence a secret at any deadly cost.
This book doesn't dive into werewolf lore in any traditional sense, but for a fresh and haunting look at half-man half-wolf creatures, this is a must-read.
Mongrels
This coming-of-age novel may not lean as heavily into the dark corners of horror as some of the others on this list, but for readers really looking to explore the humanity amongst werewolves, this is a novel that can't be ignored.
Related: Stephen Graham Jones: Where to Begin with the Award-Winning Horror Author
A family of werewolves lives along the outskirts of society in the American South—poor and constant targets of the law in a world that despises what they are. The young and unusual boy at the center of it all fights to understand his place in the world as his Aunt Libby and Uncle Darren forge a life amidst a society that rejects them. Born into a mixed-blood mongrel family, does the nephew belong on the road with his aunt and uncle as they make narrow escapes, or is his place truly with the others who have turned their backs on his family?
When werewolves in television come to mind, it's almost impossible to gloss over Teen Wolf. And why would you? Running for six seasons on MTV, this is one of the few shows in television history to have a primary focus on werewolves. It also commits to wolfy facial prosthetics in a way many long-running shows tend to skimp on. Plus, it boasts the added benefit of being a loose adaptation of the 1985 cult classic movie of the same name starring Michael J. Fox.
High school sophomore Scott McCall (Tyler Posey) gets bitten by a rogue alpha one night when exploring the woods. As his body undergoes quick and terrifying changes, he's lucky enough to have the help of his trouble-magnet best friend Stiles (Dylan O'Brien) and recalcitrant werewolf mentor Derek Hale (Tyler Hoechlin). And as his popularity skyrockets with his new abilities, he also finds his way into the heart of beautiful new student Allison Argent (Crystal Reed)—whose family baggage may be more trouble than it's worth...
As the seasons unfold, new and interesting lore is explored at the heart of lycanthropy. And as bigger and badder creatures arrive in Beacon Hills, the dynamics of McCall's wolf pack is ever-changing.
The Vampire Diaries/The Originals/Legacies (2009-Present)
While The Vampire Diaries is the beginning of it all, this CW franchise expands into a trilogy of shows, including The Originals and Legacies, all of which are available now on Netflix. As the title might imply, the show does revolve mainly around vampire mythology, but it does a significant amount of work with werewolves too—and in interesting ways.
Related: Trail of Dead: The Horrifying, Real-Life Case of the Beast of Gévaudan
In this universe, lycanthropy first came about as a witch's curse, and one cannot be turned by a bite or a scratch, but must be born of at least one werewolf parent. The curse activates after one carrying the werewolf gene takes a human life. Werewolves are generally aggressive, and natural enemies to vampires. The show makes bold choices with its atypical classes of werewolves—like hybrids and Evolved wolves.
While Being Human had a reasonably popular American adaptation, I remain loyal to the British original. The show follows vampire Mitchell (Aidan Turner), ghost Annie (Lenora Crichlow), and werewolf George (Russell Tovey) as they share a house together and try to blend in with human society. Though the show embraces plenty of comedic beats, it also has moments that will chill you to the bone.
George is a hospital attendant who was turned into a werewolf after an attack. Most of the time George serves as the moral backbone of the household. But once a month he becomes monstrous. The show dives into his physical transformation with more detail than you'd see most places, so if painstaking practical and visual effects excite you, this is a series you'll want to check out.
Based on The Southern Vampire Mysteries series by Charlaine Harris, this sexy and dark HBO adaptation also has a primary focus on blood-sucking vampires. But in season three of the series, werewolves are brought into the drama with the introduction of Alcide Herveaux (Joe Manganiello).
Related: The Werewolf of Bedburg
Werewolves don't have a great reputation in this portrayal, but it is an interesting and nuanced one. In True Blood lore, werewolves are a species in and of itself, not a curse to be passed through a scratch or bite. Their existence is kept a secret from humans, unlike the tumultuous worldwide reveal of vampirism. They're generally considered to be brutish creatures who rely heavily on a strict social order. In the series, werewolves are depicted as a low-class group with an addictive reliance on V—vampire blood which has drug-like properties in this universe. Alcide is the exception to this rule, existing separate from the pack as a lone wolf who makes his own decisions.
The downside of Bitten is that its decision to render werewolves in CGI has a generally goofy looking result. However, the series—which is based on the Women of the Otherworld series by Kelley Armstrong—centers around a female werewolf, which isn't something you tend to see a lot of across any form of media.
After getting turned into a werewolf by her ex-fiancé, Elena Michaels (Laura Vandervoort) is actually the only living female of the species. In this universe, hereditary werewolves can only pass the gene on to their son, resulting in typically all-male packs. Trying to build a future for herself in Toronto, Elena exists in a constant state of conflict, torn between her normal life with her human boyfriend Philip (Paul Greene) and the obligations she has to her werewolf pack.
Whenever werewolves are thrown around in conversation, the Universal Pictures classic The Wolf Man is naturally the first thing that comes to mind. Starring the legendary Lon Chaney Jr. in the titular role, this film has had an immeasurable impact on werewolf interpretations across film and television.
Related: 12 Classic Horror Audiobooks You Can Listen for Free on Youtube
Larry Talbot (Chaney) returns to Wales to put his deceased brother to rest and attempt a reconciliation with his father, John (Claude Raines). While there, Larry is attacked by a mysterious half-man half-animal (Bela Lugosi), and is warned by a Romani fortuneteller that he is now cursed to become a werewolf himself. As the full moon finds its way into the sky, Larry devolves into a rampage. Guilt slowly consumes Larry in his human form as his beastly actions return to his memory.
Based on the novel of the same name by Gary Brandner, the film is only really vaguely related to its source material. Los Angeles television news anchor Karen White (Dee Wallace) has suffered a traumatizing incident after helping the police track down serial killer Eddie Quist (Robert Picardo). Under orders from her therapist, Karen and her husband, Bill (Christopher Stone) go away to a secluded countryside resort for recuperation. However, the resort is filled with strange characters—and has a haunting connection to Quist, who has vanished from the morgue. As Karen's husband undergoes strange changes, Karen reaches out to her friends for help.
An American Werewolf in London (1981)
Another can't-miss werewolf flick from 1981, this film features special effects makeup from the legendary Rick Baker (who also consulted on The Howling above). A horror comedy written and directed by John Landis, the movie follows two American backpackers—David (David Naughton) and Jack (Griffin Dunne)—as they travel through England. After an attack by a humongous animal kills Jack and leaves David wounded, strange events begin to unfold. A vision of an undead Jack alerts David to the fact that he's been turned into a werewolf, and his savage nature is sure to be lethal.
In this romantic horror film, Jack Nicholson stars as Will Randall, an editor whose life takes an abrupt turn after he's bitten by a black wolf. After his job and his wife are stolen from him by a younger co-worker (James Spader), he utilizes his new abilities and aggression to fight for what he wants. With his boss's daughter Laura (Michelle Pfieffer) at his side, he must balance his growing human success and increasing wolf aggression. And he's not the only wolf in town to worry about...
Related: 17 Romantic Horror Movies That'll Make Your Blood Run Cold
Like Bitten, Ginger Snaps embraces the feminine side of lycanthropy we rarely get to see. After 16-year-old Ginger (Katharine Isabelle) is bitten by the werewolf terrorizing the dogs of her town, she goes through a series of changes that concern her younger sister Brigitte (Emily Perkins). With the slow and subtle transformation of Ginger into a bloodthirsty monster, this film delivers a gripping satire wrapped in a teenage coming-of-age story, a nuanced feminist critique, and a wholly entertaining creature feature.
Related: Female Villainy in Horror Movies