Horror is a genre that is very much of the body, spinning visceral tales that make readers' skin crawl, hearts pound, and breath come out in nervous bursts. With a foundation that is so firmly rooted in negative physical responses, adding erotic elements—a sub-genre which taps in to the delicious side of the body—creates complex, multi-layered stories. What do you do when what feels good is oh so bad?
From full-length novels to collections of short tales, and even beyond to illustrated comics, here are some of the best erotic horror books to start with. Don't get too excited...
Erotic horror novels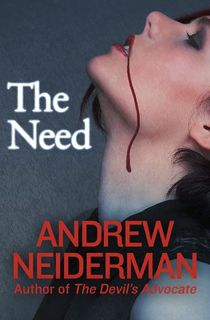 The Need
Clea Cave is not your typical Hollywood actress, and it's all thanks to her...unusual relationship with her brother. When she awakens one morning next to her dead lover, she wastes no time in turning herself in to the police. Unfortunately, Detective Steven Mayer has a different suspect in mind, her brother, Richard, who he believes is behind a slew of murders dubbed the Love Murders.
Clea's next confession is even stranger than her first: she and Richard are the same person. They are members of the hidden Androgyne race, and as such they live in one body, sharing a single soul. As Clea, she is an impeccable beauty who can shift her gender at will. As Richard, he has an insatiable hunger for mortals' life force, which he steals through erotic wiles. Clea is desperate to keep Richard from killing again, but can she fight her own nature? And can she escape the dangerous force that's hunting her down?
Dark Hollow
Things have gone amiss in LeHorn's Hollow. In the middle of the night, the strange sound of pan pipe music can be heard, and deep in the woods there have been sightings of mysterious fires. Worst of all, women are disappearing, leaving their lives, husbands, and children behind. A sinister satyr has been summoned, and the town will remain in the grips of a lush nightmare until his insatiable need to procreate has been fulfilled.
The Briars
The Briars is a commercial dungeon in Los Angeles. Here ex-ballerina Claire, dominatrix Ruby, and their other colleagues in sex work spend their day-to-day fulfilling fantasies. Their sensual workplace just happens to be haunted by the benevolent spirit of the dungeon's founder, who died back in the 1990s.
When a new submissive arrives at the dungeon, their resident ghost takes a turn for the sinister. Suddenly, employees are being harmed and clients are getting spooked. With the women's livelihood at risk, Ruby and Claire set out to find the answers to the ghost's odd behavior. But as they draw closer to the ghost's true identity and its dark plans, Claire and Ruby can't resist the intimate pull they have toward one another.
The Train Derails in Boston
Rebecca Malone has no shortage of problems. The trouble starts with alcohol, takes a detour through her husband's hopeless novel writing, travels on through her teenage daughter's promiscuity, makes a pit stop at her crazy mother, and rolls on through the fact that her lover is trying to take her husband's place. But it doesn't end there. No, the real trouble is the chest of ancient mahjong tiles she finds in the basement of her new home, Cherrywood Lodge. Now her life has become a blur of hallucinations, unusual sexual desires, and gruesome killings.
But is it really the fault of these old tiles, or has Rebecca long been a pawn in a different game?
Erotic horror short story collections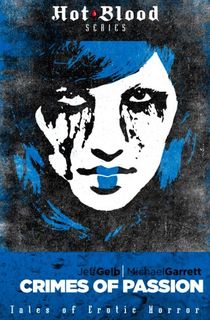 Crimes of Passion
This collection of 14 sultry tales includes work from some huge talent, from Joyce Carol Oates to Lawrence Block to Ramsey Campbell. One tale unravels an acid-trip nightmare in 1960s San Francisco. Another explores an alternate reality uncovered through submissive prostitution. There's plenty to excite you amongst these hedonistic horrors.
Books of Blood - Volume 1
There's no erotic horror list that's complete without Clive Barker. In this volume, readers will find the titular short story "The Book of Blood," as well as "The Midnight Meat Train," "The Yattering and Jack," "Sex, Death, and Starshine," and "In the Hills, the Cities." Barker's gripping style embraces the erotic and the grotesque in tandem, leaving readers unsure whether something is born of desire or a nightmare.
Les Petites Morts
If you're a reader who likes anthologies centered on a more specific theme, the erotic tales in this collection are all based on fairy tales, mythology, or folklore. From a sensual twist on the story of Tam Lin in "Vicious Fruit" to a steamy encounter with the Lithuanian goddess of death in "Giltine," these stories expertly blend the disturbing and the exciting. This anthology includes work from Hailey Piper, Sara Tantlinger, Sonora Taylor, Joe Koch, and more!
Cthulhurotica
Another exciting themed collection, this anthology is centered around erotica inspired by the writings of H.P. Lovecraft. Besides rousing tales of sexuality, this book also offers insightful academic essays and incredible pieces of original artwork. So if you've ever wanted to get intimate with an eldritch horror, dive into these tales by Silvia Moreno-Garcia, Gabrielle Harbowy, Kirsten Brown, and more!
Erotic horror comics
Urotsukidoji: Legend of the Overfiend
It can't be denied that tentacle sex is a well-known staple of monster erotica. With remastered color pages now available to read in English, the infamous hentai manga Urotsukidoji is a must-read for fans of the sub-genre. In this story, a half-beast, half-human named Amano Jyaku must travel to the mortal realm to find an all-powerful demon god who is hiding inside the body of a young man. But he's not the only one looking for him...
The Furry Trap
This comic of 11 short stories is not for the faint of heart, as the eroticism within these pages pushes the limits of disturbing. From terrifyingly cut demons in "Demonwood" to a depraved antihero in "Mark of the Bat," these stories find new extremes. If you're looking for tales that take big risks with shocking imagery, this is the comic for you.
Letters for Lucardo
Ed Fiedler is just a man. At 61 years old, he works as a royal palace scribe. One of his frequent clients is Lucardo Von Gishaupt, an aristocrat who is far more than "just a man." Forever youthful, Lucardo is a member of the mysterious Night Court—a vampire. When Lucardo and Ed fall into feelings for one another, they must face the difficult realities of a mortal living amongst the eternal, as well as the disapproval from the Lord of the Night Court. This comic is a beautiful read for those who enjoy the softer side of erotic horror.