Horror is a genre which can present itself in many forms. While it's perfectly respectable to favor gentle horror reads, there are some of us that just need more edge. More blood. More twisted depravity. And while plenty of horror books are going to have a body count, it can be hard to find reads that plunge into the gore of true body horror.
Related: 13 Disturbing Body Horror Movies to Make Your Skin Crawl
Mutilation, transformation, violation—who can get enough of it? Here are eight of the best gory body horror books that will have you're heart pounding and your stomach churning.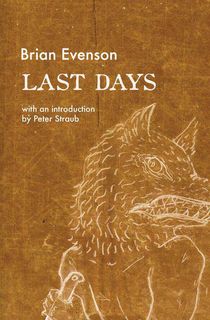 Last Days
This gripping read by Brian Evenson brings the dark world of detective noir into the realm of gruesome horror. Former detective Kline is known for his cool head. Who could be better to hunt down the killer of a twisted cult leader? But going under cover in this disturbing organization that believes amputation brings people closer to God means that Kline must sacrifice parts of himself to get to the gory truth.
Body Shocks
Cultivated by World Horror Grandmaster Ellen Datlow, this collection of short stories contains 29 tales of the anatomically horrific. What could be more terrifying than your vulnerable flesh being at the mercy of a monster—human or otherwise? From a son seeking revenge against the parent who bred him to be a plasma donor to doctors harvesting organs from a living man without anesthetic, these masterful gory tales deliver gut-churning tales from start to finish.
The Troop
Scoutmaster Tim Riggs has made a tradition out of taking a troop of boys off for a weekend camping trip in the Canadian wilderness each year. After all, there's nothing better than gathering around a campfire to trade ghost stories. But this year the comforting retreat is thrown into chaos when an intruder ambles into their campsite—pale, thin, and insatiable. Tim and his boys are exposed to this terrifying strangers nightmarish condition—a bioengineered terror that spreads rapidly between the campers. Thrown into a dark battle of survival, the troop must face off against the elements, the infected, and one another.
Related: 11 Nightmare-Inducing Authors to Check Out After You've Read Everything by Stephen King
Things Have Gotten Worse Since We Last Spoke
Currently out of print, this popular book from a rising author will be available again via wide-distribution from Titan Books in September 2022. In the early 2000s, Agnes and Zoe—two terribly lonely young women—meet in an internet chatroom. As they begin to share their life stories and their deepest secrets, a dark dynamic festers as their friendship takes on a manipulative color. The closer the become, the more they succumb to their gruesome, twisted desires—transforming at the hands of disturbing codependency. Pre-order the gory new edition here.
Blood & Bone
Horror is often treated as a man's game—especially when it comes to the more intensely gruesome and macabre of the genre. But this anthology edited by indie publisher Ghost Orchid Press's A.R. Ward has brought together the best of the best of body horror fiction by women and non-binary authors. These 22 viscerally skin-crawling tales explore and dissect the feminine experience. Touching on everything from eating disorders to pregnancy to physical and sexual violence, these hard-to-stomach stories showcase next level talent in horror gore.
The Cipher
This surreal horror read won the 1991 Bram Stoker Award for Best First Novel. Poet Nicholas and his lover, Nakota, find a bizarre hole in the floor of the storage room down the hall. It's a black, pulsing mass which feels like it's on the brink of sentience. They call it the Funhole, and what begins as a curious joke turns into a series of experiments. They toss objects into the Funhole. Insects. Mice. A human hand. And each and every being or object thrown into the hole comes back violently misshapen. But when they send a camera down to explore, what the others see is not the same vision playing out before Nicholas's eyes.
The Beauty
An apocalyptic event leaves Earth devoid of any women, leaving behind a population of only men. In the Valley of the Rocks, a small society of men and boys have banded together, joining each night by the fire to hear their history told by their storyteller, Nate. As these are the boys and men of the last possible generation, they obsess over the tale of the death of all women. But when Nate brings back word of peculiar mushrooms growing over the graves of women, everything begins to change.
Related: 12 Dark and Extraordinary Pandemic Books to Make You Feel Less Alone
The fungus is a yellow curiosity. Slowly, the mushrooms take the shape of women—something these touch-starved men have waited all too long to find. As the survivors take advantage of the soft and shapely fungus, a venereal horror takes root.
Genital Grinder
For only the most hardcore of horror readers, this collection by Ryan Harding provides some of the goriest, most disturbing, and vomit-inducing tales out there. But when it comes to extreme horror, these tales are top of the line. Inventive and deeply provocative, these stories span grotesque subjects from cannibalism to necrophilia. Almost guaranteed to make you gag.