The Enchanted
The Enchanted by Rene Denfeld is a heartbreaker: a beautifully written, very dark novel set in a decaying, corrupt prison. A female investigator takes on hopeless cases, trying to save the lives of condemned criminals by examining their pasts for mitigating circumstances. I also recommend Rene Denfeld's The Child Finder, published a few years later. The Child Finder is more of a crime novel than a horror book, although it is about the abduction and abuse of children. A young woman who survived abduction herself barely remembers the experience but is haunted by it. Her life's mission is to find other missing and abducted children. Thought-provoking, suspenseful, and exceptionally moving.
A Head Full of Ghosts
A Head Full of Ghosts by Paul Tremblay is an absorbing horror book about a teenaged girl who appears to have schizophrenia. After various doctors cannot help, her father consults a Catholic priest, who pronounces the girl possessed by a demon. The family and their quandary become the subject of a TV reality show. We hear most of the story through the eight-year-old younger sister, who suffers some mental and emotional problems of her own. And I'm sure it's not by chance that the younger sister is named Meredith, shortened to Merry—as in Shirley Jackson's Merricat in We Have Always Lived in the Castle.
The Library at Mount Char
The Library at Mount Char by Scott Hawkins is an accomplished debut novel. A group of neighborhood children orphaned simultaneously in a devastating event are taken in by a mysterious stranger who becomes their overbearing "father." Whenever the reader thinks they know what will happen next, the story veers into another direction, perfectly controlled by the author. An excellent, very dark fantasy about the monstrousness of gods. It's both horrifying and funny, and it hits every mark.
Experimental Film
Experimental Film by Gemma Files is a prime example of one of my favorite types of weird fiction: a secret history of movies and how they are made. The main character is a journalist and former film teacher who suffers from anxiety and depression as a result of mothering an autistic son. Her obsessive investigation into a mysterious series of old films pulls her into a mystery that becomes increasingly dangerous to all around her. The novel contains so much: it's about gods and the worship they require; the difference between seeing and understanding—and knowing when to look away. Wonderfully dark and creepy.
The Rook
The Rook by Daniel O'Malley is dark, violent, yet interlaced with humor—a marvelous debut. It starts with one of the most captivating first lines I've ever seen: "Dear You, The body you are wearing used to be mine." At that a young woman regains consciousness. She finds herself with two black eyes, people lying dead around her, and no memory of who she is or how she ended up where she finds herself. The remainder of the story doesn't disappoint, chock-full of supernatural conspiracies and plenty of mayhem to entertain the reader throughout. Its sequel is titled Stiletto, about the Checquy, a top-secret group of supernatural operatives working out of the British government. This time, Mythwany Thomas—the Rook—holds a secondary role, with two very different young women holding center stage. One is a member of the Checquy, the other a Grafter, the Checquy's ancient enemy. Though the women deeply distrust each other, they must work together in the face of mutual danger. Humor, murder, and supernatural mayhem ensue.
Lovecraft Country
Lovecraft Country by Matt Ruff melds the real-life horror of 1950s Jim Crow America with the uncanny horror of the Lovecraftian Mythos. In 1954, an African-American war veteran from Chicago goes in search of his missing father. The novel exudes a sense of dread that arises almost more from the unrelenting racism the main character must face than the Lovecraftian monsters, paranoia, family secrets, and cosmic horror.
Related: 11 Books for Fans of H.P. Lovecraft
Lovecraft Country is a perfect read alongside Victor LaValle's novella The Ballad of Black Tom. LaValle's dedication explores his conflicted feelings about Lovecraft, and the story reimagines "The Horror at Red Hook" with an African-American protagonist. Charles Tester is paid to deliver an occult book to an elderly customer in Queens—and in so doing becomes involved in arcane circumstances.
Mongrels
Mongrels by Stephen Graham Jones is a coming-of-age story about a young werewolf-to-be being brought up by relatives who are tasked with teaching him how to be a werewolf. The story, which moves gracefully back and forth through time, offers clues to the family's past. Dark and moving.
Hex
One of the most unnerving books I've ever read is Hex, by Thomas Olde Heuvelt. An isolated town in upstate New York lies under the curse of a witch from the seventeenth century, a woman whose eyes and mouth are stitched up. She appears around town without warning: in the street, in stores, even in homes. The town residents understand that certain rules must be obeyed, if harm is not to follow. Most importantly, outsiders must never be told of the curse, which means the town must quarantine itself from the outside world. When a new family moves in despite every attempt to dissuade them, frightening events begin to manifest. A story both psychologically and supernaturally horrific.
The Fisherman
The Fisherman by John Langan is the author's second novel, which deservedly won the Bram Stoker Award. Two widowers living in upstate New York love fishing and are always on the lookout for new places to do so. In a perfect Matryoshka of stories within stories, a tale is told of another kind of fisherman, who is seeking more than mere fish.
The Loney
The Loney by Andrew Michael Hurley a gorgeous, powerfully written gothic novel about events in the lives of three Catholic families during a religious retreat. They go to the coast of Lancashire, a remote northern area known as the Loney and a wild, ghost-ridden place rumored to be the source of miracles. Their hope is to obtain a cure for the narrator's brother. But, as always, there's a cost. Excellent literary horror. Winner of the prestigious Costa First Novel Award in 2015.
The Anomaly
The suspense in The Anomaly by Michael Rutger was so powerful that at times I had to stop reading for fear of what was about to happen. It's a prime example of suspense-horror, about the cast and crew of a "Ghost Hunters"-style reality series searching for a cavern rumored to lie deep within the Grand Canyon. Amazingly, they actually find the cavern, and a cave system beyond it. Then events take a nasty turn. The author is superlative at getting the reader to feel for the characters.
Generation Loss
Generation Loss by Elizabeth Hand was the author's first psychological suspense thriller, and a powerful one indeed. Cass Neary is a photographer best known for the shots she captured of dead people during the height of the punk scene. The novel involves her assignment to back-of-beyond Maine to interview the reclusive photographer whose work so strongly influenced her own. The events that follow are horrifying and engrossing. Hand followed up Generation Loss with three more novels about this prickly, damaged anti-hero, with the newest, The Book of Lamps and Banners, coming in September 2020. Be sure to explore her science fiction and fantasy as well, plus the historical mystery, Curious Toys, and Wylding Hall, a ghost story like no other and winner of the Shirley Jackson Award.
Ellen Datlow, an acclaimed science fiction and fantasy editor, was born and raised in New York City. She has been a short story and book editor for more than thirty years and has edited or coedited several critically acclaimed anthologies of speculative fiction, including the Year's Best Fantasy and Horror series and Black Thorn, White Rose (1994) with Terri Windling. Datlow has received numerous honors, including multiple Shirley Jackson, Bram Stoker, Hugo, Locus, and World Fantasy Awards, and Life Achievement Awards from the Horror Writers Association and the World Fantasy Association, to name just a few. She resides in New York.
Check out a Few of Ellen Datlow's Anthologies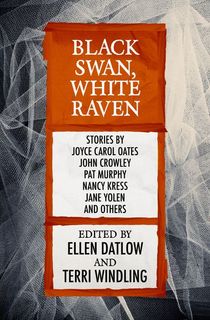 Black Swan, White Raven
Dark and decidedly grown-up stories inspired by fairy tales—from New York Times bestsellers Karen Joy Fowler, Joyce Carol Oates, Susanna Clarke, and more.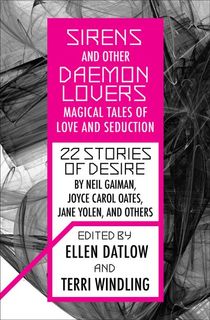 Sirens and Other Daemon Lovers
A dangerously seductive collection of tales that—like the sirens themselves—are impossible to resist.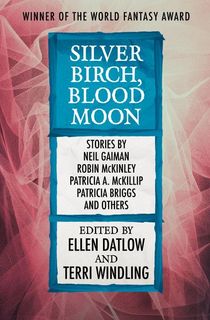 Silver Birch, Blood Moon
Winner of the World Fantasy Award: New twists on classic fairy tales from Neil Gaiman, Patricia Briggs, Robin McKinley, Caitlín R. Kiernan, and more.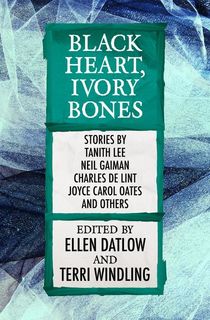 Black Heart, Ivory Bones
20 fairy tales hauntingly reimagined by some of today's finest sci-fi and fantasy authors, including Joyce Carol Oates, Neil Gaiman, Tanith Lee, and more.
This post is sponsored by Open Road Media. Thank you for supporting our partners, who make it possible for The Lineup to continue publishing the terrifying stories you love.