Whether or not you're a member of the LGBTQ community, it isn't hard to notice that mainstream media tends to be heteronormative. Turn on the TV at any point of the day, scroll through streaming platforms, take a look at the list of this year's bestselling books, and the chances are pretty good that everything you find will feature heterosexual characters navigating life. Meanwhile, the LGBTQ community the world over is crossing their fingers in hopes of a positive reference that mirrors their own experience, all while oftentimes feeling afraid to do something as small as hold their partner's hand in public.
Even when LGBTQ people are represented in fictional stories, their portrayals overwhelmingly tend to be negative. In a 2019 Medium post titled "When We Are At The Center of Horror: Evolving Queer Horror", author Jonathan Rosa discusses how queer characters were marginalized in 20th-century horror, with the queer experience often censored or portrayed in a dehumanizing light. In horror, LGBTQ people, people of color, or women are often the first to go—leaving straight white men as the surviving heroes to save the day.
For centuries, writing openly of the daily experiences and relationships as experienced by the LGBTQ community was considered taboo. In literature dating back to the late 1700s and into the 1800s, writers like Matthew Gregory Lewis, J. Sheridan Le Fanu, and Oscar Wilde shrouded their homosexual characters and storylines in themes of bloodlust, monstrosity, and diseases of the skin, blood, or mind. Only recently, have improvements broke through in the horror genre, making room for new and vital voices.
Related: 21 Chilling Horror Novels to Read on Your Summer Vacation
Joss Whedon's Buffy the Vampire Slayer, which aired from 1997 to 2003, changed the horror game when it gave one of its key characters a queer storyline. Bookish nerd-turned-powerful witch Willow Rosenberg (Alyson Hannigan) dropped hints about her sexuality in Season 3, and Season 4 introduced her female love interest, Tara (Amber Benson). Unlike many other attempts of this sort in media, Whedon and his team of showrunners allowed Willow's character to stay gay, rather than portraying her same-sex relationship as an experiment or a phase.
More recently, the 2018 horror film What Keeps You Alive prominently features a married lesbian couple, played by Hannah Emily Anderson and Brittany Allen. This chilling film lets a queer relationship simply exist, without drawing a lot of attention to it or making a big deal out of it. Sure, one of the women ends up trying to hunt down and kill the other—but, hey, we'll take what we can get!
And as far as podcasts go, there's the fairly new Scary Stories to Tell On The Pod, hosted by SNL writer Anna Drezen and gay comedian Andrew Farmer. Their show uses the Scary Stories To Tell In The Dark book series (written by Alvin Schwartz and illustrated by Stephen Gammell) as a springboard to dive into spooky American folklore and more. Often chided in their reviews as being "too gay," this writer would actually choose to describe it as "perfectly gay."
With all that being said, in honor of Gay Pride Month this June, we're focusing on the LGBTQ authors who embody the change they want to see in the world. Here are seven of the best voices, both established and rising, in LGBTQ horror literature that you should get familiar with right away. Maybe this time next year we'll be in an even better place, with a list five times as long.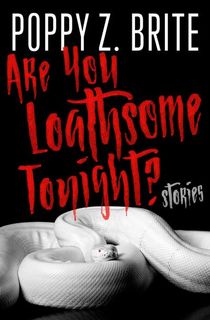 Are You Loathsome Tonight?
New Orleans-based author Poppy Z. Brite, who goes by the name Billy Martin in his day-to-day life, identifies as a gay man who "happens to have been born in a female body," according to a blog written on his website. He also happens to be one of the most prolific and innovative powerhouses within the LGBTQ Gothic horror genre. Filling his books and short stories with LGBTQ characters from all walks of life, Brite first made a name for himself with Lost Souls in 1992, which tells the story of bloodthirsty vampires in Missing Mile, North Carolina.
Related: 9 Horror Short Story Collections to Keep You up at Night
For the totality of the 90s, Brite turned out vampiric, erotic tales of otherworldliness within Southern LGBTQ communities, and then in 1997 broke up the horror streak with a biography on Courtney Love called Courtney Love: The Real Story, just for fun. If you're not sure where to jump in first, I'd suggest pulling Are You Loathsome Tonight?: A Collection of Short Stories, which was released in 1998 and has a bit of everything the author has to offer—minus Courtney Love.
In the Dream House
Carmen Maria Machado broke into the literary scene in 2017 with her debut short story collection, Her Body and Other Parties. A fast favorite showcasing a masterful talent, her book went on to win the Shirley Jackson Award, and Slate reviewed it as such: "In eight searingly original stories, Machado uses the literary techniques of horror and science fiction to expose the truth about our modern parables: that they're as grotesque and enchanting as any classic fairy tale."
Machado's follow-up, In The Dream House, is a fictionalized memoir that came out in 2019 to immediate success. This gut-wrenching book compares being in an abusive relationship to living in a haunted house. Most books I bring into my house get put out into my free library when I'm done, but not this one. This one stays.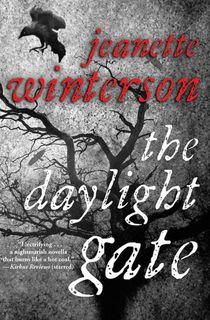 The Daylight Gate
Manchester-born writer Jeanette Winterson grew up in a strict Pentecostal Evangelist household, themes of which seep gloomily into her work. Named one of 20 "Best of Young British Writers" in the 80s, her debut semi-autobiographical novel, Oranges Are Not the Only Fruit, gripped readers with its story of an adopted child raised as one of "God's elect."
In 1994, Winterson was awarded the Lambda Literary Award for her book Written on the Body, and again in 2013 for her memoir Why Be Happy When You Could Be Normal? Her novella The Daylight Gate is based on the 1612 Pendle Witch Trials, and was published on the 400th anniversary of the incident. Of The Daylight Gate, The Guardian stated that "the narrative voice is irrefutable; this is old-fashioned storytelling, with a sermonic tone that commands and terrifies."
A Density of Souls
Not only is Christopher Rice a proud gay man who's made a living for himself writing impressively elegant supernatural thrillers, but he's also the son of Anne Rice. I have a tattoo on my left arm of a red heart with fang marks, and Anne Rice's name in the middle, surrounded by a banner. One night, while out at a bar in New Orleans, a young woman came over and grabbed my arm. "That's such a cool tattoo! Is that your mom?" "Anne Rice? No. I wish." I was stunned that someone would be allowed into New Orleans city limits without a fully formed understanding of who Anne Rice is. Sadly, only Christopher Rice and his dearly departed sister Michele get to lay claim to Anne as their mother.
Related: Vampires, Witches, and More: The 9 Best Anne Rice Books
Rice's 2000 debut novel, A Density of Souls, takes place in his family stomping ground of New Orleans, and follows four childhood friends who find themselves entangled in a murder mystery. It's a great place to start, but trust me when I say that you won't want to stop there. As you make your way through Rice's bibliography, make sure to pay special attention to Ramses the Damned: The Passion of Cleopatra, which he co-wrote with his mother.
Sacrament
When Clive Barker's breakout collection of short stories, Books of Blood, was released in the 80s, Stephen King was quoted saying, "I have seen the future of horror and his name is Clive Barker." You might also recognize Barker as the director of Hellraiser, as well as the writer of its source material.
Related: Hellbound Heart: The Best Clive Barker Books
One of Barker's finest books, the 1996 novel Sacrament, is a dark fantasy about a boy who pledges his life to prevent the extinction of animals. Heavily throughout are themes of death and decay as well as what it means to be human in general, and a gay man in particular.
The Drowning Girl
Irish-born author and paleontologist Caitlín R. Kiernan is one of the most prolific LGBTQ horror/fantasy/sci-fi writers around. Kiernan transitioned to female in their twenties, and now prefers gender neutral pronouns. Since the release of their first novel, The Five of Cups—written between 1992 and 1993, and published in 2003—they've gone on to write over a dozen novels and hundreds of short stories. With their vast and varied body of work, it's hard to pick a good starting point, but the 2012 novel The Drowning Girl is an excellent example of the writer's masterful talent for storytelling.
Set in Providence, Rhode Island, the book features an unreliable narrator in the form of a schizophrenic girl named India Morgan Phelps (also known as Imp). As she maintains a journal that she hopes will help her keep track of what's real and what isn't, Imp befriends a transgender woman named Abalyn Armitage, and falls deep into a world of love and madness.
The Gilda Stories
Published in 1991, The Gilda Stories is a supernatural novel with LGBTQ characters that was written by a black lesbian. The Black Lesbian Literary Collective describes it as "a series of vignettes about a Black immortal journeying across centuries while gaining perspective on life and living." Gomez won two Lambda Literary Awards for the book, one for fiction, and one for science fiction.
Related: 21 Underrated Horror Books That Have Been Waiting to Fuel Your Nightmares
As the self-described "foremother of Afrofuturism," the author has released just under a dozen other novels, and her fiction and poetry is included in numerous anthologies—including the first-ever collection of black speculative fiction, Dark Matter: A Century of Speculative Fiction from the African Diaspora.