While actual serial killers would be horrifying to encounter in real life, their psychological landscape, motives, and crimes often spark a hesitant fascination and fervent public interest. Due to the often-sensational nature of their awful crimes, serial killers are often launched into infamy and public prominence. Many have exploited this notoriety by writing to communicate about their crimes, plan their attacks, or make public statements.
These ten letters were penned by some of the most notorious killers, communicating with friends, family, fans, victims, and even law enforcement to convey their twisted plans, motives, and dark confessions. If you have a morbid fascination with the disturbing inner worlds of serial killers, you won't be able to look away from these ten killers' letters.
Donald Harvey
This letter was sent to a fan who wrote to Harvey in prison.
In the 1970s and 1980s, Donald Harvey worked as an orderly in facilities in Kentucky and Ohio. He killed approximately 37 patients during this time. The actual number of victims, according to Harvey, is thought to be far higher—more like 70. After connecting a victim to an empty air tank, his murdering spree "began by accident" and he was unable to stop, eventually "earning" the moniker "the angel of death."
The cold-blooded murderer never expressed regret for his atrocities. During one statement, he claimed that those patients were all about to die and that some of them might have survived a couple of extra hours or days, acknowledging that he played God.
The creepiest part of this letter: "Lord, Grant me the serenity to accept the things I cannot change, change the things I can, and the wisdom to hide the bodies of those people I had to kill because they pissed me off."
H.H. Holmes
Holmes confessed to 27 murders but it is estimated that he was responsible for the murder or disappearance of over 200 victims.
The sick serial killer Dr. H.H. Holmes created a "Murder Castle" in Chicago, wanting to murder as many people as he could. Long, meandering hallways in the 100-room structure would make victims feel lost. It also featured gas chambers, fake walls, and trapdoors. The organs were subsequently trafficked on the illicit market after Holmes supplied the corpses to scientific research facilities. He sent a thorough letter of admission to the Philadelphia North American daily paper on April 11, 1896:
"I was born with the devil in me. I could not help the fact that I was a murderer, no more than the poet can help the inspiration to sing. I was born with the "Evil One" standing as my sponsor beside the bed where I was ushered into the world, and he has been with me since."
Albert Fish
This letter gruesomely detailed his murder of abducted child Grace Budd to her mother.
Albert Fish, a disturbing serial murderer who preyed on young children and was suspected in at least five horrible child murders, was nicknamed as "The Boogeyman" for his predatory behavior. He abducted 10-year-old Grace Budd in 1928. Then, in an abandoned home in Westchester County, New York, he killed her and devoured her body.
Fish, who had a quiet, grandfatherly appearance, was a cannibal, a serial killer, and a kidnapper. In the 1920s, he only admitted to three murders, but he would later assert that he had murdered at least 100 children.
"When all was ready, I went to the window and called her. Then I hid in a closet until she was in the room. When she saw me all naked, she began to cry and tried to run downstairs. I grabbed her, and she said she would tell her mama. How she did kick, bite, and scratch. I (then) cut her in small pieces so I could take my meat to my rooms, cook and eat it."
Jack The Ripper
Ripper allegedly sent this letter to the Central News Agency in London.
London is still troubled by the frightening Jack the Ripper case today. The terrifying serial killer struck out at underprivileged neighborhoods near Whitechapel in 1888. His victims' bodies were found having their throats sliced open and their torsos mutilated.
"The next job I do, I shall clip the lady's ears off and send to the police officers just for jolly, wouldn't you. Keep this letter back till I do a bit more work, then give it out straight. My knife's so nice and sharp I want to get to work right away if I get a chance. Good Luck. Yours truly, Jack the Ripper."
The Beltway Snipers
This letter was found pinned to a tree outside the site of a recent sniper attack.
The "Beltway snipers" killed 10 individuals in Maryland and Virginia over the course of three weeks in 2002. (Seven more people were killed elsewhere.) Each victim was shot once by Lee Boyd Malvo and John Allen Muhammad from a distance. The murderers then disappeared. In a three-page note outlining their demands, they demanded $10 million in "unlimited withdrawals" or else the neighborhood's children's lives would be in danger. One sniper made reference to a murder case in Montgomery, AL, in a tracked phone call, which led to their eventual capture. As a result of fingerprint connections between the two murders, investigators were able to make an arrest. Malvo was given a life sentence, while Muhammad was executed by lethal injection.
The letter stated: "P.S. your children are not safe anywhere at any time."
Ian Brady
Brady sent a letter from prison to an interested journalist detailing his relationship with his partner in crime Myra Hindley.
Five kids between the ages of 10 and 17 were murdered by the "Moors Murderers," Ian Brady and Myra Hindley, in the early 1960s. On Saddleworth Moor in Manchester, England, three graves were found, but the perpetrators never disclosed where their other victims were buried. Hindley asserted that she participated in the atrocities against her will while under Brady's sway. He provides a different account, though.
"Hindley has crafted a Victorian melodrama in which she portrays herself as being forced to murder serially. We both habitually carried revolvers and went for target practice on the moors. If I were mistreating her, she could have shot me dead at any time. For 30 years, she said she was acting out of love for me; now she maintains she killed because she hated me—a completely irrational hypothesis. In character, she is essentially a chameleon, adopting whatever camouflage will suit and voicing whatever she believes the individual wishes to hear. She can kill, both in cold blood or in a rage."
Dennis Nilsen
This peculiar serial killer wrote this letter to himself six weeks after his arrest, taking an introspective tone.
Dennis Nilsen, who was frequently called the British Jeffrey Dahmer, was an apparently mild-mannered civil worker who murdered at least 12 young men and kept their remains for five years starting in 1978.
Between 1978 and 1983, Nilsen committed the heinous murders at Melrose Avenue and Cranley Gardens in the Muswell Hill neighborhood of north London. All of his victims were young men, ranging in age from 14 to 30. He would ritualistically wash their bodies after killing them before dissecting them.
It's interesting to note that six weeks after being detained for his crimes, Nilsen sent this "self-appraisal letter" to himself. Nilsen's letter, in contrast to other similar serial murderer confession letters, is somber and reflective as opposed to boasting.
"The greater the beauty (in my estimation) of the man, the greater was the sense of loss and grief. Their dead naked bodies fascinated me but I would have done anything to have them back alive. At least three of the attempts I managed to revive and felt like I had actually saved their lives. I have felt since my teenage days that I am a creative psychopath."
The Axeman of New Orleans
This letter was addressed to "Esteemed Mortal" and detailed the anonymous killer's plans for their next strike.
A mysterious man with an ax killed at least eight people in New Orleans in 1918 and 1919, most of whom were Italian immigrants or Italian-Americans. Making matters even more uncomfortable, the victims in the majority of these incidents were murdered using axes that belonged to them. The Axeman's identity is still unknown.
A letter from the Axeman addressed to "Esteemed Mortal" was printed in many New Orleans newspapers on March 13, 1919. He declared that he would carry out his plan to kill once again on March 19 at 15 after midnight, but he would spare anybody who was listening to jazz. Naturally, a lot of gatherings took place that night to fend off the Axeman, but no murders took place.
"I am very fond of jazz music, and I swear by all the devils in the nether regions that every person shall be spared in whose home a jazz band is in full swing at the time I have just mentioned. If everyone has a jazz band going, well, then, so much the better for you people. One thing is certain and that is that some of your people who do not jazz it out on that specific Tuesday night (if there be any) will get the axe."
Gary Ridgway
"The Green River Killer," wrote letters to his wife nearly every day after his 2001 arrest, eventually revealing a confession to his crimes in this letter.
After confessing to the 1980s and 1990s murders of 48 prostitutes and drifters in the state of Washington, Gary Ridgway earned the nickname "Green River Killer." What You Need to Know Regarding the Green River Man is a letter he composed in 1984 and mailed to the Seattle Post-Intelligencer about the murders. Before signing off as "callmefred," the killer wrote in frightening detail about necrophilia and ripping off victims' fingernails. It was a bold attempt, according to the police, to confuse the investigators. When DNA evidence linked Ridgway to the murders in 2001, his back-and-forth with the authorities came to a close. As part of his plea agreement, he evaded a death sentence.
"I made a prayer to God I will stop killing if I don't get caught, I had to live with all that in me all those years. I couldn't tell you. I was like an alcoholic dry for a time. Then fell off the wagon. I miss you so much."
The Zodiac Killer
The notoriously anonymous killer sent several cryptic letters.
The San Francisco Bay area was tormented by the Zodiac Killer throughout the late 1960s and the early 1970s. Although the Zodiac was only directly responsible for five murders, letters purporting to be from him claimed responsibility for approximately 40 homicides. His identity is still a mystery.
This eerie Halloween card was delivered to San Francisco Chronicle writer Paul Avery in 1970 by The Zodiac (or an impostor). For the newspaper, Avery was investigating the Zodiac case.
Four males and three women between the ages of 16 and 29 were the targets of the Zodiac Killer in the late 1960s in Benicia, Vallejo, Lake Berryessa, and San Francisco. His tyrannical reign resulted in the deaths of five people. He wrote the regional Bay Area media six letters, four of which contained cryptograms.
"I have killed 10 people to date."
For a deep dive into disturbing letters from serial killers, you'll want to read Letters from Serial Killers by Christopher Berry-Dee.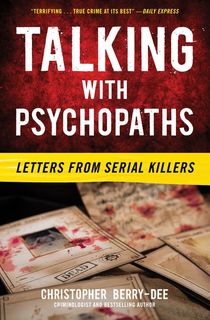 Talking with Psychopaths: Letters from Serial Killers