Ian Brady and Myra Hindley were no ordinary duo. Between 1963 and 1965, the couple abducted, raped, tortured, and murdered five young victims—ranging from 10 to 17 years old—in what is now known as Greater Manchester, England.
Their crimes were dubbed the "Moors murders," as they buried their victims' bodies on Saddleworth Moor. But after killing four children and teens, they decided to bring someone else in on their crimes: Hindley's brother-in-law, David Smith. Little did Brady and Hindley know, Smith would lead to their downfall.
Based in part on Fred Harrison's face-to-face interviews with Ian Brady himself, Brady and Hindley: Genesis of the Moors Murders is the unnerving true crime account of the heinous murders that shocked Britain, and the rest of the world, in the 1960s.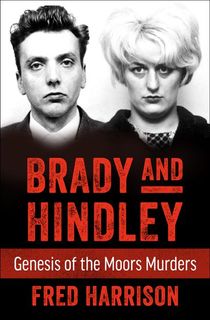 Brady and Hindley
Read on for an excerpt and then download the book!
Myra drove to Manchester Central and Brady walked to the buffet. It was closed. As he turned he saw a slim-hipped lad in tight jeans and suede jacket standing by the milk-vending machine. Edward Evans was an engineer by trade. Brady had first seen the 17-year-old youth in one of the gay bars some months before. He recognised him tonight as a likely lad for his purpose, and it did not matter how much money he had in his pocket.
"Fancy a drink, Eddie?" he asked. "You can come to my home. My sister's in the car outside. She'll drive us there."
"Aye," said the acne-faced youth, who was ready for a bit of fun after what had been a disappointing evening.
They walked quickly out to the car. "Myra, this is a friend of mine. We are just going back for a drink."
"Hi. Jump in," said Myra.
Edward eased himself into the seat next to the blond, and Ian sat directly behind him. Few words were exchanged in the half-hour it took to drive back to Hattersley.
Once in the house, Eddie was given a drink of wine while Myra popped upstairs to change into something comfortable. "Her killing clothes," as Smith was to call them.
Then Myra nipped across to the tower block with a message for Maureen to give to her mother. "Mo, tell our mam I'll call in tomorrow night for her to bleach me hair."
Maureen was puzzled that her sister had bothered to come across that late at night–almost midnight–for such a trivial reason.
"Dave, see me home through the houses, it's dark and I'm scared," said Myra as she took the handle of the door. David pulled on his jacket, picked up his dog stick and walked briskly across Wardle Brook Walk with his sister-in-law. The Test had begun.
Myra asked David to wait near the wall of the New Inn while she checked if Ian was doing anything. The landing lights flashed on and off three times–the signal: David ran up the slope and into the garden. Ian opened the front door. "Hello, want to see those miniature bottles?" he asked loudly.
David was always game for a swift drink, miniature or otherwise. He waited in the kitchen. Ian disappeared upstairs, and returned with three bottles which he placed on the table. Then he went into the front living room, picked up the axe by the fireplace and brought the blade down on the head of Edward Evans.
A scream, and Myra called "Dave, help him! Help him!"
David ran into the living room and saw his chum Ian crashing blow after blow onto the youth's head. Brady was holding the axe in his right hand. He was bending over, left hand on his knee to steady himself, and he took 14 measured blows with as little passion showing on his face as you would expect from someone chopping wood.
The youth would not lie still. This was not how it happened in the films–that surge of nausea in the stomach as a human being writhed in agony.
"Fuckin' cunt!" swore Brady, as if blaming the boy for forcing him into this murderous act.
"You dirty bastard!"
Methodically, he hacked away like a lumberjack until the bloody pulp collapsed on the floor. Then he smothered the face with a cushion and tied a cord around the neck to stop the gurgling sounds.
Smith stared in disbelief. "He's a gonner." He had drawn blood in his time, and the permanently-splintered bones in his right hand proved it. But this was something else. He could not see any rhyme or reason in it.
David Smith was unaware that the execution was performed exclusively for his benefit.
"This is the messiest yet," said Brady to Myra.
The baptism was over. Brady searched Smith's face as he set about swabbing the walls and the top of the door with soapy liquid. Smith and Myra cleaned the floor.
The body was bound up and rolled into a blanket. All the time, Brady scrutinised David Smith through half-closed eyes. He examined the boy's hands closely: they were not shaking.
"Eddie's a dead weight," quipped Ian as they carried him upstairs and dumped him in a bedroom.
Brady went to bed well satisfied with his night's work. Welcome, David Smith, Disciple.
Want to keep reading? Download Brady and Hindley: Genesis of the Moors Murders