On August 9-10th, 1969, Charles Manson ordered members of the Manson Family to carry out a string of brutal murders in Los Angeles, California that sent shockwaves through the United States and beyond. We now know of these killings as the Tate-LaBianca murders, a set of killings that claimed multiple lives and seemingly brought to an end the free love spirit of the 1960s.
Vincent Bugliosi documented the Manson Murders and the search for justice in Helter Skelter. The bestselling true crime narrative is a must read. For readers looking to continue their investigation into this notorious case, we present the following Charles Manson books. From gripping true crime books to works of fiction, these searing reads offer a nuanced look at Manson, the criminal he came to be, the trauma and destruction he left in his wake, and ways in which some of his survivors learned to heal.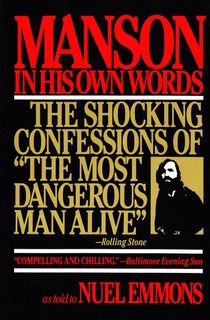 Manson in His Own Words
Delve into the mind behind the crimes with Manson in His Own Words, a book that seeks first and foremost to understand how such a heinous man came to be, and how we should move forward from here.
Distilled from seven years of interviews and private correspondence, this book tracks Manson's life from his early years to the world-altering murders committed at his orders.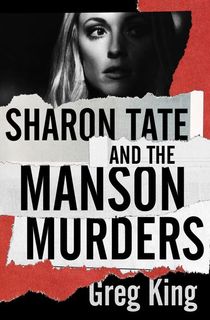 Sharon Tate and the Manson Murders
Amid the unending media frenzy surrounding the Manson Family and the Tate-LaBianca murders, we often lose sight of the actual victims who were killed on August 9-10th, 1969: Leno LaBianca, Rosemary LaBianca, Steven Parent, Jay Sebring, Abigail Folger, Wojciech Frykowski, and Sharon Tate. Tate was on the verge of a successful film career and was mere weeks away from having her first child when she was murdered that night. In Sharon Tate and the Manson Murders, author Greg King draws upon a wealth of rare material—from detective reports, parole transcripts, and Manson's correspondence, to new interviews with Tate's friends and surviving relatives of the murder victims—to deliver a comprehensive biography on Tate, giving a voice back to the victim.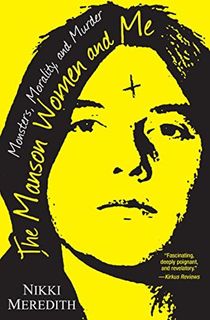 The Manson Women and Me
Years after the Tate-LaBianca slayings, award-winning journalist Nikki Meredith began visiting Manson Family members and convicted murderers Leslie Van Houten and Patricia Krenwinkel in prison. She wished to discover whether incarceration had changed them. Instead, Meredith soon found herself grappling with far deeper questions of identity and autonomy: what could cause these seemingly "normal" young women to commit such horrific acts of cruelty? Here, the author seeks to untangle such difficult questions by going directly to the source, taking readers on a dark journey into the very heart of evil.
Manson: The Life and Times of Charles Manson
For the most authoritative look at Charles Manson's life, bestselling author Jeff Guinn's book cannot be missed.
Manson is filled with newly-unearthed family photographs and sourced from interviews with Manson's distant relatives and Manson's close associates during his Manson Family years. Guinn traces Manson's criminal ways back to his childhood, placing him in the context of his own times in an attempt to understand how he came to be. Extensively researched and brilliantly crafted, anyone seeking to learn more about the Manson Family crimes and the man who made them happen will find much to examine in Guinn's bestselling narrative.
The Girls
Into the Manson-inspired canon comes this fiction novel by Emma Cline about a young girl who finds herself infatuated with a Manson-like cult in the summer of '69.
When Evie Boyd stumbles across beautiful, ethereal, freewheeling girls in a Northern California park, she's immediately intrigued. As the girls coax her into their circle, Evie, bored and wanting, soon finds herself isolated in the hills and under the spell of a charismatic leader. As she pulls further and further away from her old life, becoming all the more enchanted by the beguiling Suzanne, Evie will discover that she is teetering on the edge of something dark, dangerous, and violent.
Hunting Charles Manson
While today we have a far greater understanding of how the Manson Family operated and how its members carried out their murders, in the weeks and months following the Tate-LaBianca slayings, investigators were stumped. There seemed to be little evidence that connected the cases; the public, on edge, demanded answers.
Related: 9 Facts About Charles Manson and the Manson Family That Will Shock You
When investigators finally zeroed in on the culprits and Manson and his associates were arrested, their capture and subsequent trials fanned the flames of interest in the crimes. Now, in this compelling true crime book, bestselling author Lis Wiehl calls upon archives and interviews to reveal how a man like Manson could rise to infamy, and how eerily similar his culture was to our own.
Member of the Family
In this revelatory memoir, Dianne Lake, one of Mason's former "girls", reveals the inner workings of the Manson Family and the truth behind the psychological, emotional, and physical manipulation many suffered at Manson's hands.
At age fourteen, Dianne spent two years under Manson's abusive spell. Though she never took part in the group's crimes, she became instrumental in the prosecution's case against Manson after the arrest of the Family. Here, she shares her story—on her own terms.
The Long Prison Journey of Leslie van Houten
At 21 years old, Leslie van Houten was sentenced to death. She accepted her sentence with glee, wishing only that she had served her tormentor, Charles Manson, better. Her sentence was eventually converted to life in prison.
Now, at the age of 70, Leslie van Houten remains behind bars with no chance at parole. But as Karlene Faith would come to discover, the convicted murderer was more than the one-dimensional portrait of evil that often appeared in the media. As Karlene unpacks van Houten's life and the influence that Manson held over her, she works to understand the convicted murderer's motivations and where she stands today.
Restless Souls: The Sharon Tate Family's Account of Stardom, the Manson Murders, and a Crusade for Justice
Alisa Statman, a friend of the Tate family for over 20 years, and Brie Tate, daughter of Sharon Tate's niece, deliver in this book a moving and vulnerable account of the murder of Sharon Tate and its long-lasting impact on surviving friends and loved ones.
Statman and Tate take a look at interviews, private correspondence, home movies, and newly-discovered photos to piece together the life of the Hollywood star gone too soon. Filled with emotionally raw and difficult personal insights into the impact of her death, the trials, and the grieving process, this book cannot be missed.
This post is sponsored by Open Road Media. Thank you for supporting our partners, who make it possible for The Lineup to continue publishing the true crime stories you love.