With a pandemic on, many of us have been using this extra free time to catch up on our TBR piles—but that may leave you staring down a summer filled with lots of time and no twisty, thrilling new true crime books to read!
Luckily, there's no need to fret. Plenty of incredible new true crime books are hitting the shelves this summer, to keep those pages turning. That means new collections by established masters, such as Mark Bowden's The Case of the Vanishing Blonde, which collects a half-dozen of his most riveting investigations from over four decades, not to mention exciting debuts, cold cases, memoirs, and more.
Here are 13 page-turning new true crime books that we can't wait to read this summer. Which ones are you looking forward to?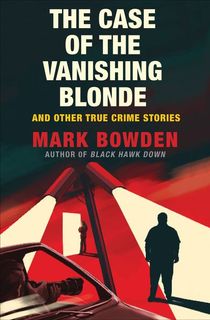 The Case of the Vanishing Blonde
The New York Times called National Book Award finalist Mark Bowden a "master of narrative journalism," and his most famous piece of investigative journalism, Black Hawk Down, was made into a movie that won two Academy Awards.
Related: Must-Read True Crime Books from #1 Bestselling Author Mark Bowden
In The Case of the Vanishing Blonde, Bowden presents six of the most harrowing cases that he covered in his long and storied career; tales of crime, passion, greed, and murder that span four decades and crisscross the nation to prove that, when it comes to crime, truth is often stranger than fiction, and nobody tells it better than the author The Denver Post called, "One of our best writers of muscular nonfiction."
Magnetized: Conversations with a Serial Killer
In September of 1982, four taxi drivers were killed in Buenos Aires over the course of one terrifying week. The killer was a nineteen-year-old named Ricardo Melogno, who gave no outward sign of being anything but withdrawn and taciturn.
More than three decades later, one of Argentina's most celebrated writers began visiting Melogno in prison and recording their conversations into this riveting book that not only uncovers the untold story of the brutal crimes, but also examines what life has been like for the killer, who remains incarcerated despite having served his entire sentence.
Code Name Madeleine
Noor Inayat Khan was an unlikely candidate to be a spy; the daughter of a noble family, her father was a Sufi leader. Khan was, herself, a pacifist. Yet, she also became the first woman sent into occupied territory as a wireless operator during the Second World War. Her family fled France when the Nazis invaded, and Khan voluntarily returned during crucial months of the war, the only wireless operator in France getting vital communications to London that helped the Allied forces on D-Day.
A high-value target for the Gestapo, Khan was eventually killed in Dachau shortly before the end of the war. Now, in this heavily-researched volume drawing from personal letters, interviews, and newly-discovered documents, her courageous story will finally be told in full.
Unspeakable Acts
Set for publication on July 28, 2020
Sarah Weinman, author of The Real Lolita, brings together a devil's dozen of some of the best true crime writing of the last decade in this spellbinding anthology of crime, murder, deceit, and obsession.
Among the unforgettable stories collected here are Michelle Dean's "Dee Dee Wanted Her Daughter to Be Sick," a viral phenomenon that became the basis for the hit Hulu series, The Act. Writing for Library Journal, Ahliah Brazler praised the collection's "nuance and sensitivity," writing that the essays within "consider the explosion of interest in true crime" and include "stories from the perspectives of victims, and tales that present new information about notorious killers."
Hell in the Heartland
Set for publication on July 28, 2020
"There is, in the best of us, a search for the truth, to serve the living and dead alike," Robert Graysmith, author of the obsessive true crime classic Zodiac, wrote about this new book from the author of Freedom's Child. "Jax Miller is one of those people and Hell in the Heartland is one of those books."
A massive trailer fire in rural Oklahoma in 1999 led to the total disappearance of two teenage girls. When Jax Miller began searching for answers to the case nearly two decades later, she found something stranger and more sinister than she could ever have imagined, including police negligence, a methamphetamine epidemic, and a string of horrifying murders…
The Heart and Other Monsters: A Memoir
Rose Andersen's sister Sarah was just 24-years-old when she died of an overdose in a small town with one of the highest rates of opioid addiction in the country. Trying to come to terms with her sister's death, Rose began journeying back through their childhood, recounting trauma, tragedy, and joys in this memoir that Booklist called "heartbreaking."
However, The Heart and Other Monsters is more than just a portrait of personal tragedy; it also explores the staggering realities of the opioid epidemic, and even murder, as Rose learns that her sister's death may not have been an accident…
Relentless Pursuit: My Fight for the Victims of Jeffrey Epstein
Told by the lawyer who represented more than twenty of Jeffrey Epstein's victims, this blow-by-blow account of a corrupt system that allowed a predator to operate and flourish tells the story not only of Epstein's criminal enterprises but also of the brave survivors and lawyers who helped to finally put Epstein behind bars in one of the most publicized cases of the last few years.
Your Blue is Not My Blue
When Aspen Matis met her future husband Justin while thru-hiking the Pacific Coast Trail from Mexico to Canada, she couldn't imagine what was coming. The summer after they met, they got married, and for three years they lived together, until, one day, Justin kissed her goodbye and departed for a friend's funeral, never to return.
In this gripping memoir, Matis explores the loss and confusion that followed her husband's disappearance, and the unfathomable secrets she learned while looking for him.
America's First Female Serial Killer
When "Jolly Jane" Toppan was arrested in 1901, she confessed to 31 murders and claimed that she wanted "to have killed more people—helpless people—than any other man or woman who ever lived."
Now, author Mary Kay McBrayer peels back the layers to reveal America's first female serial killer, the unlikely Toppan, a nurse who administered lethal doses to her patients even while she was described as always cheerful, helpful, and sweet in this heavily-researched work of historical true crime.
The Kidnap Years
In 1932, the kidnapping of the Lindbergh baby was called the "crime of the century," but as Edgar Award-winning author David Stout reveals in this heavily-researched new book, it was part of a forgotten epidemic of thousands of kidnappings that swept the nation during the Great Depression.
As he explores the methods, motives, and mise-en-scene of this nationwide rash of kidnappings, Stout creates a "fascinating crime book like no other" (Pulitzer Prize-winning journalist David Cay Johnson) that will "enthrall true crime fans." (Publishers Weekly)
The Sorrows of Mexico
Seven of Mexico's leading journalists come together to report on the crimes and tragedies that shake their country—sometimes to its core.
Exploring the repercussions of the so-called "war on drugs" that has devastated Mexico and become a brutal and chaotic disaster on both sides of the border, these brilliant essayists tackle everything from teenage prostitution on the streets of Mexico's cities to the "disappearance" of forty-three students, chronicling what it is like to report the truth at a time when doing so can be a death sentence.
Flash Crash
An investigative journalist for Bloomberg, Liam Vaughan tells the "extraordinary tale" (Wall Street Journal) of the so-called "Flash Crash" of 2010, in which markets lost a trillion dollars of valuation in mere minutes.
The trail of the trading scandal leads to the childhood home of Navinder Singh Sarao, a young man who played the markets like a computer game from his bedroom, raking in millions of dollars and, eventually, leading the FBI to his doorstep in this riveting true-life economic thriller.
Not a Gentleman's Work
In 1896, a ship named the Herbert Fuller left Boston bound for Buenos Aires. Before it reached its destination, however, it was hit by a terrible and gruesome murder, as the captain, his wife, and the second mate were all slaughtered in their rooms, chopped apart with the ship's axe. No one saw or heard the murders, but it didn't take long, once the Herbert Fuller returned to port with the survivors, for the courts to convict the ship's mixed-race first mate.
However, one other passenger, a Harvard man from an important family, was keeping his own dark secret, in this thrilling true story of murder on the high seas and its effect on maritime law.
This post is sponsored by Open Road Media. Thank you for supporting our partners, who make it possible for The Lineup to continue publishing the stories you love.