Lovecraft Country, a television miniseries based on Matt Ruff's novel of the same name, premiered on HBO on August 16th, 2020. The series focuses on the real-life horrors that people of color faced in Jim Crow-era America, while also bringing together the elements that made Ruff's novel a success: pulp fiction and the Lovecraft mythos. This is a win not only for horror fans, but for those who care about new narratives getting some well-deserved attention.
Set in the 1950s, Ruff's novel chronicles the misadventures of Atticus Turner, a 22-year-old Black army veteran who sets out on a road trip to find his missing father. Accompanying him are his friend Letitia and his uncle George, the author of The Safe Negro Travel Guide. Though there are otherworldly threats along the trio's path, the novel brilliantly positions racism as a horror worse and more immediate than any Lovecraft monsters.
Related: Everything We Know About the HBO Horror Series Lovecraft Country
Diverse takes on the Lovecraftian mythos are important because they do away with H.P. Lovecraft's notoriously racist views, upgrading his tales of terror for a modern audience so they can be enjoyed by everyone. Hopefully, HBO's adaptation of Ruff's book will bring more of these narratives our way. In the meantime, there is a horde of great horror books like Lovecraft Country that deserve to be read—and here are 13 of the very best.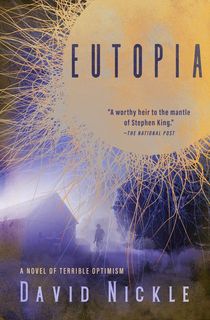 Eutopia
Set in 1911, Eutopia follows Jason Thistledown, the only survivor of a mysterious plague that ravaged Montana, and Andrew Waggoner, a Black doctor who was nearly lynched by the KKK. Both men are looking into the secrets of a small town in northern Idaho. Mixing racial tension and religious elements, this novel touches on the drawbacks of fierce optimism and utopian aspirations.
Related: What Do We Talk About When We Talk About Lovecraft?
The Ballad of Black Tom
LaValle is one of the top horror writers in the game, and The Ballad of Black Tom is one of his best. This brilliant novella of sorcery in Jazz Age New York won the Shirley Jackson Award, the British Fantasy Award, and the This is Horror Award for Novella of the Year in 2016. The narrative follows a Black musician who delivers an occult tome to a solitary sorceress, and in doing so opens a door that should've been left closed. The frightening things on the other side set their sights on Tom. Tense and smart, this novella is known as one of the best Lovecraftian takes of the last decade.
The Boatman's Daughter
Davidson's The Boatman's Daughter, which I reviewed for NPR, is full of magic, murder, and mayhem. While not entirely Lovecraftian, this weird, dark story of a young woman in the bayou fighting against a curse definitely shares a similar atmosphere. It also deals with race and class in thought-provoking ways, making it one of the top horror novels of 2020 and cementing Davidson as one of the best new voices in horror.
The Dream-Quest of Vellitt Boe
American Elsewhere
Wink, New Mexico doesn't appear on any map. And why should it? Quiet and uneventful, the suburban landscape doesn't exactly attract outsiders. But when ex-cop Mona Bright inherits her long-dead mother's home in Wink, she learns there is something dark lurking there. A hefty tome that garnered Bennett comparisons to Stephen King and Neil Gaiman, American Elsewhere brings the creepiness of Lovecraftian fiction to an idyllic suburb.
Winter Tide
One of those novels that directly ties into the work of H.P. Lovecraft but also manages to feel fresh and unique, Winter Tide deals with the aftermath of the government's 1928 attack on Devil's Reef. After being displaced from their home, Aphra and Caleb Marsh manage to survive harsh desert conditions. Despite the way the government treated Aphra, they need her help to prevent the Cold War from exploding. It's a mission that leads Aphra back to her roots, where she has to reconstruct the history of her people and protect them from another horrible conspiracy.
Related: 14 Dark and Twisted Cult Horror Movies You Need to See
I am Providence
Lovecraft's racism and anti-Semitism are undeniable, but sometimes discussing it with his fandom and with authors who count him among their influences only shows that prejudice is still alive and well. Mamatas' I Am Providence explores the tension between admiring someone's work and disavowing their reprehensible philosophy, and does so with plenty of sharp observations and a great sense of humor. Lovecraftian fiction is almost always very serious, and this novel breaks away from that brilliantly.
The Fisherman
One of the best narrative-within-a-narrative novels out there, Langan's The Fisherman is full of strange creatures that swim under brackish waters. Elegant and creepy, the novel follows Abe and Dan, two widowers who become friends thanks to their love of fishing. As they discuss odd rumors about their favorite creek, they are consumed by the history of the place and the unusual things that have happened there over the years.
Related: These Bewitching Folk Horror Books Will Haunt Your Dreams
The Croning
Barron is a modern horror fiction master, and The Croning best represents the Lovecraftian elements in his work. It also introduces a narrative that went a long way in helping him establish his own mythos. There is no easy way to write a synopsis of the dark tale of discovery that is The Croning, so I'll simply say that lovers of Lovecraftian fiction must read this masterful tale of cosmic horror by one of the most talented authors in contemporary fiction.
Related: 11 Books for Fans of H.P. Lovecraft
Darkness on the Edge of Town
This is a book that inspired me when I first read it almost a decade ago. If Lovecraftian fiction is about the unknown, about creeping darkness and imminent dangers we can't comprehend, then this is a perfect example of that. A small town wakes up to find a strange wall of inky darkness surrounding it…and closing in.
A Lush and Seething Hell: Two Tales of Cosmic Horror
This volume packs in two novellas, The Sea Dreams It Is the Sky and My Heart Struck Sorrow. Both have enough weirdness, darkness, and mystery to be called Lovecraftian. Also, Jacobs's prose shimmers in both, showing that elegance and creepiness can be the best combination when done well.
She Walks in Shadows
The importance of diversifying Lovecraft's mythos cannot be overstated. His influential mythos deserves a smart deconstruction and subsequent reconstruction, especially by talented authors who Lovecraft himself would have looked down upon when he was alive. A superb anthology, She Walks in Shadows features tales written by women from around the world that fully engage with the mythos. This one is not only great, but necessary.
Kraken
Sects, cults, magic, and tentacles. Enough said. This fast-paced, strange romp from Miéville takes the classic battle against evil in a bizarre direction that is at once Lovecraftian and pulpy, scientific and engaging.
Featured still from "Lovecraft Country" via Warner Bros. / HBO