Texas is known for a lot of things, but it turns out the Southern hospitality hasn't always been top notch. The Lone Star State consistently ranks amongst the top ten states for serial killer activity. Not only was it home to America's Jack the Ripper, but it was the birthplace of the Lover's Lane urban legend. Today, there's even a stretch of land called the "Texas Killing Fields," so named after its gruesome reputation as the perfect body-dumping site.
Given that the place is a goldmine of true crime stories, we've compiled a list of books that cover some of the most chilling murders in Texas. From tales of axe murderers to multiple-homicide cases gone cold, these crimes will keep you up at night—and have you seeing the Lone Star State in a different sort of light.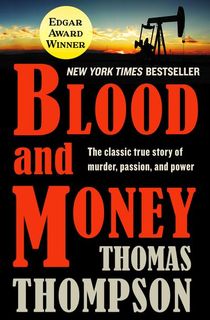 Blood and Money
Joan Robinson was a beautiful society girl, the daughter of a tycoon father, and the apple of a Texas town's eye. With two unsuccessful marriages behind her, she agreed "til death do us part" with John Hill, a respected plastic surgeon, in the fall of 1957. Unbeknownst to Joan, their parting was just around the corner—she died of an infection in 1969, after delayed medical attention. Joan's death would ultimately redefine "murder" in the Lone Star State.
In his Edgar Award winner, Thomas Thompson dives into the case that Ann Rule called one of "the most compelling and complex...in the crime annals." He assembles all of the separate pieces—the various conspirators, the landmark conviction of Joan's husband, and John's own murder in 1972—to reconstruct a crime that reigns as one of the most famous murders in Texas.
Related: Was This Woman's Mysterious Illness Actually Murder?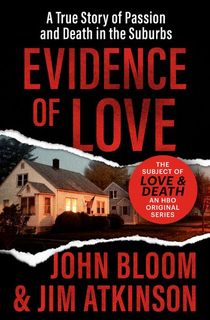 Evidence of Love
On Friday the 13th, 1980, Betty Gore was found butchered by an axe swung over 40 times. The crime scene—a utility room—was a blood-bath, and not something one usually saw in a North Texas suburb. The question on everyone's minds: Who could have such a vicious vendetta on Beth, a mother and fifth grade teacher?
Full of interviews with the victim and the criminal's families, Evidence of Love explores the dark depths of Betty Gore's relationship with her friend-slash-murderer, Candy Montgomery. With marital infidelity, fatal jealousies, and Candy's final act of savagery, the crime not only captured the interest of horrified Texans, but of Hollywood as well. Betty and Candy's story, as transcribed in Evidence of Love, also became an Emmy-winning television movie titled A Small-Town Killing.
Related: The Desperate Housewife Who Murdered Her Good Friend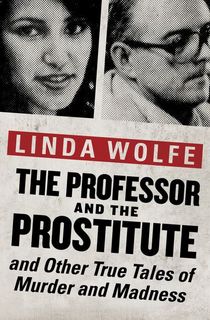 The Professor and the Prostitute
This collection of true crime accounts examines the psychological forces that propel a person—even the most unsuspecting—to commit heinous crimes. One story features the case of David Keeler: The 14-year-old Texan gunned down his parents after a Sunday service. As author Linda Wolfe speaks with the locals about David's upbringing—from his troubled older brother to David's private torments—she uncovers how a slow-building hatred exploded into parricide.
Related: Robert Chambers: The Preppie Killer
The Phantom Killer
You can't talk about murders in Texas without mentioning the Phantom Killer. He's the villain of one of the most popular campfire stories—the masked murderer who slaughters teens kissing in their cars. While the urban legend is full of exaggerations, some of it is based on fact. Between February and May of 1946, an unidentified serial killer attacked eight people, all couples, in Texarkana lover's lanes. Five of the victims were fatally wounded, and the terror that swept across the nation inspired the 70s horror classic, The Town That Dreaded Sundown.
Hailed by Kirkus as "the best available account" on the still-unknown killer, Presley's book offers fascinating insight into the crime that has fueled so many childhood nightmares.
The Midnight Assassin
Did you know that America's first serial killer was based out of Austin, Texas? The Midnight Assassin was brutal, often using knives or axes to complete his gruesome deeds, and targeted women of any race or class. But after a year-long spree, the killings suddenly ceased and he (or she) was never seen again...Some suspected that Jack the Ripper, who murdered his "canonical five" not long after Assassin's disappearance, may have been the killer's new alter-ego. But whether that's true or not, the mystery makes Skip Hollandsworth's book about 1880s Austin—and its elusive moonlight monster—a page-turner.
Related: The Servant Girl Annihilator: America's Jack the Ripper
Who Killed These Girls?
Over two centuries after the Midnight Assassin's reign of terror, Austin was struck yet again—this time, by a quadruple homicide. In December of 1991, four teenage employees of a yogurt franchise were found gagged, bound, and with bullets through their heads. The killer(s) still remain at large today, though the dead ends didn't stop Beverly Lowry from seeking answers in Who Killed These Girls? The acclaimed writer pores over all the perplexing details—including the false confessions and recent DNA findings—to create a true crime book that, according to Ann Patchett, is "as good as any depiction of a murder case since In Cold Blood."
Related: Cruelly Slain: The Brutal Austin Yogurt Shop Murders of 1991 Remain Unsolved Decades Later
Careless Whispers
One decade before a cult put down roots in Waco, Texas, the city was the site of three murders—those of Jill Montgomery, Raylene Rice, and Kenneth Franks. Panic swept across the state, though it manifested differently in Sergeant Truman Simons: When the frustrated police let the case turn cold, he launched his own investigation with few leads and even fewer supporters.
Carlton Stowers' Edgar Award winner chronicles Simons' pursuit of David Wayne Spence—and his two partners in crime—who Simons identified through the "careless whispers" of witnesses. Though the book is an account of murder and evil, it's also a story of heroism, courage, and one man's dogged belief in justice.
Deliver Us
Even Stephen King couldn't make this one up. The story of the Texas Killing Fields may seem like the plot of a horror film, but it's another part of the state's gruesome history. Since the 1970s, the bodies of over 30 women have been found on the 25-acre property near Interstate 45. The slayings are said to be the work of multiple serial killers—but who are they?
In Deliver Us, Kathryn Casey sheds light on this ongoing Texas mystery, daring to question why such little progress has been made since the first victim, 14-year-old Brenda Jones, was found decades ago. From interviews with suspects to a re-evaluation of the evidence, Casey brings the world one step closer to understanding how such grievous acts of violence have gone unpunished.
This post is sponsored by Open Road Media. Thank you for supporting our partners, who make it possible for The Lineup to continue publishing the true crime and creepy stories you love.
Featured still from "The Town That Dreaded Sundown" via Blumhouse Productions