Horror has long been a genre built around the experiences of white men. Even when books in the genre lean toward final girls and woman-centric scares, a lot of the voices are still coming from male authors. And when publishers finally broaden their horizons to embrace stories of different cultures, it is, yet again, with men at the forefront. Intersectionality is a vital component of the human experience, and yet the unique and masterful voices of women of color—Black women in particular—are still relegated to the sidelines.
Related: 13 Essential Black Horror Movies
We at The Lineup want to do want we can to shine a spotlight on voices in horror that deserve to be heard. Whether it's an author who has become a staple in popular fiction or a rising mouthpiece of a generation, these Black women have penned some of the most essential works in horror fiction. Here are 10 reads you can't miss.
My Soul to Keep
To Jessica, David is the ideal husband: smart, loving, and youthful down to his core. And then violent and bizarre deaths begin to befall the people close to her. In turn, David—who has always felt a little unreachable to Jessica, despite all his great qualities—makes a chilling confession. Over four centuries ago, he and others in an Ethiopian sect sacrificed their humanity for the gift of eternal life.
The other immortals have decided it's time for David to leave his family in Miami and return home. But David will do anything to keep his wife and daughter with him forever. Even if it means invoking a forbidden ritual and robbing them of their souls.
Related: 25 Female Horror Writers Who Will Haunt Your Bookshelves Forevermore
Beloved
Outside of Dickens, you won't find a more classic ghost story than this. Certainly not one that speaks so completely to the heart of humanity and grief.
Sethe grew up on the Sweet Home farm as a slave. It was a beautiful place where horrific, ugly things happened to her, day after day. After years and years of suffering, she escaped at last to Ohio. Although that awful place may have been left behind, Sethe still feels trapped there, even 18 years later. And the haunting memories of her past have nothing on the lingering presence of the baby she lost. A nameless child whose tombstone bears only the word "Beloved."
Cirque Berserk
It was the summer of 1989, and Shadows Creek, Florida was the site of a horrific massacre. A group of teens wreaked bloody havoc at the local carnival, Cirque Berserk, and seemingly vanished after taking the lives of a dozen people. No one ever knew their motives, where they disappeared to, or even how many of them were even involved. But legend says they still stalk the carnival grounds in search of new victims.
30 years later, Sam and Rochelle are two best friends on the most boring senior trip imaginable. Until they hear about the horrors of Cirque Berserk. Hoping for one last great adventure together, Sam, Rochelle, and their friends amble off to Shadows Creek to find out if the urban legends are true. What they'll find beyond the gates will provide a night of betrayal and bloodshed.
Related: 8 Emerging Horror Authors Who Are Changing the Face of Horror
Let's Play White
Are short stories more your speed? In the title story of this collection, Walter dreams of the respect, wealth, and common decency that being white brings a person. He can never truly change the skin he lives in, but like so many others like him seem to do, he could always try playing white. Would it open up a world of opportunity, or just bury the pain beneath more layers? As the tale unfolds, everything from race, privilege, personal choice, and life and death fall into question.
This gripping collection contains tales of utter despair, stories of the metaphysical, and a darkly humorous walk through a zombie-esque apocalypse. These remarkable tales give voice to the overlooked, and exemplify how difficult worlds bring out the very best and worst of humanity.
Flowers for the Sea
With all the sizzling tension of a classic horror read like Rosemary's Baby and the vast, exciting worldbuilding of a sci-fi/fantasy novel from the likes of Octavia E. Butler, this debut novella by Zin E. Rocklyn is a gem amidst the genres.
Their kingdom has flooded, and the survivors that remain have gathered alone on an ark. Their resources grow thinner every day, and outside hungering beasts with sharp fangs close in on them. One of the struggling refugees is Iraxi, a despised commoner who spurned the advances of a prince. She carries a child within her who may be more than human, and the child may have bestowed upon her a fate more dark and powerful than she can contemplate.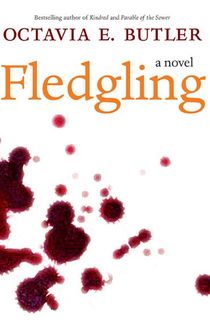 Fledgling
To anyone looking at her, Shori would appear to be a typical 10-year-old girl. Plagued with amnesia, she has no reason to think any different, either. But as she begins to notice her own inhuman needs and skills, she discovers her true identity is that of a genetically modified 53-year-old vampire. While she struggles to piece together the scraps of her stolen life, she must also learn who seeks to destroy her and all she holds dear.
The Year of the Witching
The Prophet's word is law in the lands of Bethel. And with her mother's union with a man of a different race, Immanuelle Moore's life itself is blasphemy. With her whole family legacy cast into disgrace, all Immanuelle can do is keep her head down, remain submissive, worship the Father, and follow the Holy Protocol into complete conformity, as all other women in the settlement do.
Related: 14 Witchcraft and Occult Books to Inspire Your Inner Witch
But everything changes when one mishap finds Immanuelle in the forbidden Darkwood that surrounds Bethel. It is the place where the first prophet brought an end to four powerful witches, and their spirits still linger behind. The dead witches gift Immanuelle with the journal of her dead mother, which reveals the woman once sought sanctuary in the wood. And as more grim truths about the Church unfold, she begins to understand just how dark the roots of Bethel are.
How to Recognize a Demon Has Become Your Friend
A jealous ghost across the street, an American Indian with dimension-shifting dreams, insatiable cannibals—some short story collections really do have it all. For an accessible, hilarious, and absolutely gripping read, this book by the first African-American to receive the Bram Stoker award is an obvious choice. After all, we all have demons. What we choose to do with them is up to us.
White Is for Witching
Dover, England is a closed-off town which houses the odd family home of the Silvers. It has been the home of four generations of Silver women—Anna, Jennifer, Lily, and now Miranda. She has lived there alongside her twin brother, Eliot, ever since their father made it a bed-and-breakfast. But the house is full of hidden passages and buried secrets.
Related: 7 Under-the-Radar Authors Who Will Terrify You
The women of the family have always had a strange bond. It's a connection that goes beyond the typical, a pull over one another that transcends time and space. When her mother, Lily, abruptly passes away, Miranda is afflicted with strange ailments. She starves away at the hands of an eating disorder. Ominous voices haunt her. And when she brings home a friend, the hostility of her private town manifests physically within the Silver home.
My Sister, the Serial Killer
Ayoola is a woman of remarkable beauty. She is the favorite child of the family. She also happens to be a sociopath. And if the third boyfriend of hers to end up dead wasn't stabbed in self-defense as she so claims, then she may be a serial killer.
Her sister Korede is the only thing keeping Ayoola safe from her own bloody choices. She knows the best practices for cleaning up blood, how to move a body most efficiently, and she has the presence of mind to stop Ayoola from posting pictures on social media when she's supposed to be worried about her "missing" boyfriend. It's an incredibly thankless job.
Korede's bright spot in life is the love she has for a handsome and kind doctor she works with at the hospital. She spends her days fantasizing about the moment he'll she's the perfect woman for him. But when he asks her for her sister's number, Korede must finally face what her sister has done—and just how much she's willing to do to protect her.
Related: 10 Best Horror Books of 2018