On October 31, 2008, filmmaker Kurt Kuenne premiered the documentary Dear Zachary: A Letter to a Son About His Father at Slamdance Film Festival. The film went on to win jury and audience awards at numerous film festivals and was named one of the best films of the year by Slant Magazine, The Oregonian, Time Out Chicago, and the National Board of Review of Motion Pictures.
The documentary began as a project intended to honor the memory of Kuenne's childhood friend Andrew Bagby, who had been murdered in 2001. At the time, Bagby had just ended a relationship with Dr. Shirley Jane Turner—a woman more than a dozen years his senior, and the prime suspect in his violent death.
A few months after Bagby's death, Turner gave birth to their son, whom she named Zachary. When Kuenne was putting together the documentary, he expected that the film might help the infant get to know the father he would never meet.
However, in 2003—a month to the day after Zachary's first birthday—Turner drugged both herself and her son and jumped from a wharf into the Atlantic Ocean in a tragic murder-suicide. With its intended recipient now gone, Dear Zachary simultaneously became a memorial and a cry for justice, with the critics' consensus at Rotten Tomatoes calling it "both a touching tribute to a fallen friend and a heart-wrenching account of justice gone astray, skillfully put to film with no emotion spared."
When Dear Zachary was released on DVD, Kuenne sent 400 copies to every single member of Canadian Parliament. In 2009, MP Scott Andrews introduced Bill C-464, commonly known as "Zachary's Bill," which obligates members of the judiciary to take the safety of children into account in bail hearings. The bill passed with unanimous support and was signed into law in December of 2010.
Related: 10 Eye-Opening True Crime Books by Mindhunter Author John Douglas
But what, exactly, were the tragic events that led to the passage of Zachary's Bill? For Kuenne, the answer to that question began in childhood. As they were growing up in their home state of California, Kuenne and Bagby often made home movies together, clips of which eventually found their way into Dear Zachary. As the two got older, Bagby helped to fund Kuenne's film projects with money that he was saving for medical school.
As devastated as he was by the deaths of Andrew and Zachary, Kurt Kuenne was far from the only one touched by both tragedies. Andrew's parents, David and Kathleen Bagby, had moved from the United States to Canada in an attempt to gain custody of their grandson in the wake of their son's murder. They persevered through long, drawn-out, and complicated custody and extradition hearings—even as they struggled with their own grief—only to be met with further heartbreak.
In the wake of the shocking turn of events, Andrew's father, David Bagby, wrote a true crime memoir that is described as "a eulogy for a dead son, an elegy for lives cut tragically short, and a castigation of a broken system."
First published in 2007, Dance with the Devil: A Memoir of Murder and Loss follows Andrew's family as they cope with his death, the short-lived hope of reuniting with his infant son that ended in the worst way imaginable, and the pain and frustration that follow their attempts to wring justice from a complex and often compromised system.
Related: Must-Read True Crime Books from #1 Bestselling Author Mark Bowden
As most true crime memoirs do, Dance with the Devil explains what the victims were like in life, and the profound effects that their deaths had on those left behind. This raw, gut-wrenching book also walks the reader back to the start of the action, when the ill-fated chain of events first began to unfold.
In 1999, while he was studying at Memorial University in Newfoundland, Bagby began dating Shirley Turner. Bagby's family and friends later said that they were uncomfortable with the relationship, not merely due to the age difference and to Turner's two prior divorces, from which she had three children, but because of Turner's off-putting behavior.
As it happened, Turner had a history of unusual behavior. While she was serving her medical residency, her supervising physician, who would later describe her as a "manipulative, guiltless psychopath," said that she frequently became hostile, "yelling, crying, and accusing me of treating her unfairly."
She had also been accused of stalking an ex-boyfriend, a medical resident who, like Bagby, was over 10 years her junior. When he broke up with her, he said that she called him incessantly, left threatening voicemails, struck him in the face, and followed him from Newfoundland to Pennsylvania, where she took a cocktail of over-the-counter drugs outside his apartment in an apparent suicide attempt.
That same year, Turner started dating Andrew Bagby. It didn't take long before the relationship began to sour, and the couple appeared to be drifting apart. Turner's work took her to Iowa, while Bagby served out medical residencies in New York and Pennsylvania.
Related: 11 True Crime YouTube Channels Every True Crime Aficionado Needs to Watch
By October of 2001, Turner told Bagby that she was three months pregnant, which she later confessed was a lie intended to keep him from leaving her. Infuriated, Bagby broke up with her, and she boarded a plane back to Iowa. However, it was around this same time that their son, Zachary, was actually conceived.
The day after her flight arrived back in Iowa, Turner began a 16-hour return trip to Pennsylvania to confront Bagby, bringing a handgun with her. She showed up at his house, across the street from the practice where he was serving his residency. Bagby's co-workers described him as "agitated" that day, and his supervising physician advised him not to meet with Turner alone.
However, his coworkers' worst fears were confirmed the next morning, when Andrew Bagby's body was found by a park ranger in Keystone State Park. He had been shot five times in the face, chest, buttocks, and the back of the head. By the time investigators issued a warrant for Turner's arrest, she had fled the country and returned to her home province of Newfoundland.
As her extradition hearings began, Turner was allowed to make bail, which she paid for with the help of her psychiatrist. While out on bail and fighting extradition, Turner gave birth to Zachary.
Just five months after Zachary's birth, Turner returned to jail, only to be released once again by the same judge, who argued that she didn't need to be held behind bars because the murder she was accused of "was not directed at the public at large."
Related: 12 Harrowing Books About Cults and Survival
Eight months later, Turner purchased a lethal amount of Lorazepam, drugged both herself and her infant son, strapped him to her chest, and jumped into the ocean at Conception Bay South in Newfoundland. They both drowned.
While it can be difficult to wrap one's head around the senseless, preventable deaths of Andrew Bagby and his son, Zachary's Bill is intended to bring positive change out of the tragic situation. Scott Andrews, the MP who introduced the bill, said that he hoped it would give the Bagbys "some sense that someone has heard their cries," and show that Canada would "change the law to make sure something this tragic will never happen again."
Meanwhile, Andrew Bagby's friends and family have shared their stories with the same intention in mind. For readers interested in the emotional impact of violent crime, Dance with the Devil is a vulnerable, devastating book that cannot be missed. You can download Dance with the Devil today, and stream Dear Zachary on Amazon Prime.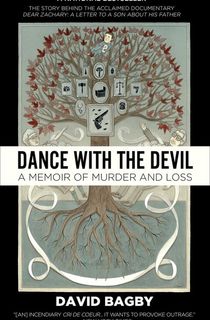 Dance with the Devil
Immortalized in the spellbinding documentary Dear Zachary, this angry, raw, and brutally honest memoir of murder and loss chronicles a system's failure to prevent the death of a child.
Promotional still from "Dear Zachary: A Letter to a Son About His Father" via Oscilloscope Laboratories