One of the most successful and enduring writers of the "horror boom" that occurred between the 1970s and the early 1990s, Robert R. McCammon may be best known for his novel Boy's Life. But throughout his career, he has written three other New York Times bestsellers, received a multitude of accolades—including several Bram Stoker and World Fantasy Awards—and drawn countless comparisons to Stephen King.
Born in 1952 and raised by his grandparents in Birmingham, Alabama, McCammon followed his own path when he studied journalism at the University of Alabama instead of taking over the family furniture store. He wrote advertising copy for Birmingham businesses and newspapers until the publication of his second novel, Bethany's Sin, in 1980. After the publication of Gone South, his 11th novel, McCammon retired from writing for 10 years, citing the changing publishing industry and a desire to spend more time with his family. However, he eventually returned to writing in 2002, bringing us the Matthew Corbett series and other novels that blend horror with historical fiction, mystery, and more.
Related: The Scariest Books You've Ever Read
Today, McCammon still lives in his hometown of Birmingham. Many of his books are colored by his experiences in the American South, often charged with the atmosphere of the eeriest Southern Gothics. It's a quality of his storytelling that has helped him develop a unique brand of horror—one that showcases the frightening aspects of the supernatural and the occult, but does not forget the nightmares of everyday life.
Want to see what all the fuss is about? Look below to see the 13 essential Robert McCammon books that will haunt your dreams.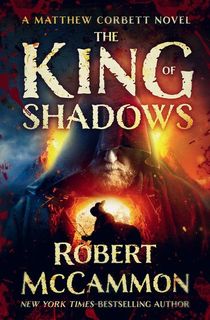 The King of Shadows
The latest in the adventures of Matthew Corbett takes place in 1704, as he searches for a mirror that can shatter one's mind. Matthew and Hudson Greathouse travel to Italy in search of Brazio Valerani, the son of the sorcerer who created this dangerous object. But their quest for answers finds them stranded on an island called Golgotha—a place as dangerous as it is beautiful.
The men receive a warm welcome from the islanders, but the more they settle in, the looser their grip on reality gets. And as reality slips away, so too does their identity. Matthew struggles to keep his wits and focus on the mystery awaiting him on the other side of the island. But the other side of the island also houses an active volcano and an elusive creature.
Cardinal Black
McCammon continued his terrifying streak with the seventh installment in the Matthew Corbett series. This novel sees Matthew Corbett, the "Early American James Bond," volunteer to help a woman whose mind is deteriorating under the influence of a forced drug experiment.
Corbett enlists an unlikely ally to help him track down a stolen potion book containing the antidote that will save her. McCammon's novel is a riveting read for both die-hard fans of the series and newcomers alike.
Related: Check Out the New Covers for Robert McCammon's Matthew Corbett Series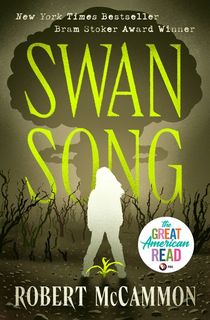 Swan Song
McCammon's first New York Times bestseller and co-winner (along with Stephen King's Misery) of the 1987 Bram Stoker Award for Best Novel, Swan Song is a "long, satisfying look at hell and salvation" (Publishers Weekly). Set after the nuclear apocalypse, it tells the story of several seemingly unrelated characters as they trek across the decimated American landscape. Only the eponymous Swan—a young psychic haunted by a bleak vision of the future—knows how they all tie together. She is the key to their survival, but can a 9-year-old girl truly stop the force of pure malevolence threatening to destroy all of civilization?
Related: 7 Enduring Cult Horror Books
They Thirst
They Thirst transplants the macabre trappings of Hammer Film's Horror of Dracula from Eastern Europe to the City of Angels. Master vampire Prince Vulkan has established his base of operations in Kronsteen Castle, the former home of a murdered movie star. His plan of action? To transform all of L.A. into an army of the undead. As his bloodsucking henchmen take to the city streets, an eccentric cast of characters—including a vengeful orphan, a dying priest, a TV actor, and a tortured homicide detective—must fight for their humanity and their survival.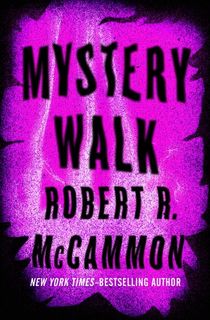 Mystery Walk
McCammon's first novel published in hardcover, Mystery Walk follows two psychics from different worlds: Billy Creekmore, a young Native American from Alabama schooled in his tribe's ancient mysticism, and Wayne Falconer, son of a fervent southern tent evangelist. Linking the pair is an ominous dream. Soon, this shared vision takes shape, and Billy and Wayne must face the nightmarish darkness.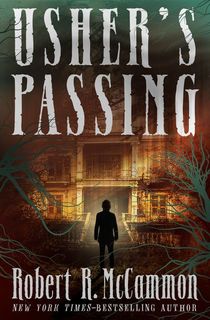 Usher's Passing
What if Edgar Allan Poe's "The Fall of the House of Usher" was based on true events? That's the premise of McCammon's 1984 novel, which introduces us to the latter-day descendants of the Usher dynasty. It has been years since horror novelist Rix has stepped foot in his family's sprawling ancestral home. But when his father dies unexpectedly, the prodigal son must return once again, and confront the cursed Usher legacy: His family is hiding a terrible secret, and Rix suspects it involves the children who have vanished from the surrounding North Carolina mountains.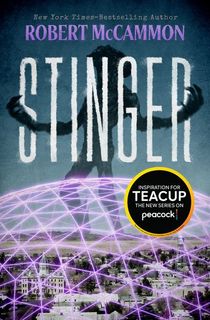 Stinger
Nominated for the Bram Stoker Award (it lost to The Silence of the Lambs; hard to fault it there), The Philadelphia Inquirer called Stinger "the ultimate horror novel." After a UFO crash lands in West Texas, an otherworldly stranger arrives shortly thereafter, bringing news of an evil alien bounty hunter named Stinger. When Stinger encloses the area within an impenetrable dome, the residents are left at the mercy of his predatory search—and band together to protect his prey. Stinger marked McCammon's second stop on the New York Times bestseller list.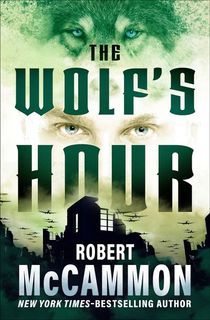 The Wolf's Hour
A Russian ex-pat working for the British Secret Service, Michael Gallatin has been tasked with uncovering a Nazi plan designed to thwart the D-Day invasion. The fate of the world is at stake, but luckily Michael has a secret weapon: he's a werewolf. With mere hours before the Normandy landing, Michael must unleash the beast within him onto the Third Reich, and in doing so, face his true nature. The Wolf's Hour is an example of McCammon's ability to masterfully blend genres, combining horror, fantasy, historical fiction, and mystery into one thrilling novel.
Related: 9 Underrated Horror Books That Have Been Waiting to Fuel Your Nightmares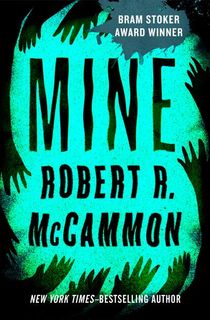 Mine
Called a "page-whipping thriller" by Kirkus Reviews, Mine won Robert McCammon his second Bram Stoker Award. A novel of motherhood and madness, it centers around two very different women: Mary "Terror" Terrell, a psychopathic radical wanted by the FBI, and new mother Laura Clayborne. Their divergent lives collide when Mary, compelled by an obsessive delusion, kidnaps Laura's baby—sending them both on a deadly chase that will take them to the brink of insanity. And maybe even beyond.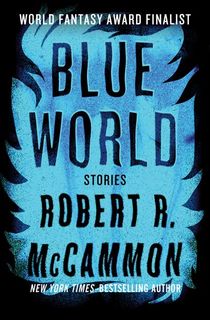 Blue World
This collection of short stories and one novella is an emotional rollercoaster that is sure to chill you to the bone. Among the creepy tales packed within these pages is the eponymous novella, featuring a priest who finds he has difficulty sticking to his vows when he meets a beautiful adult film star who has come to pray for her murdered friend. There's also the story of a psychotic boy who can control bees with his mind ("Yellowjacket Summer"), the town that takes Halloween a little too seriously ("Strange Candy"), and "Nightcrawlers," which was adapted into a 1985 episode of The Twilight Zone.
Related: 9 Horror Short Story Collections to Keep You up at Night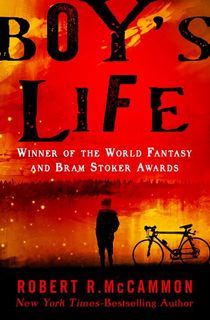 Boy's Life
Set in a fictionalized version of 1960s Alabama, Boy's Life is a Southern coming-of-age horror story as only Robert R. McCammon can tell it. Complete with murder mysteries, ghost cars, possibly-magical bikes, river monsters, and even a dinosaur, the novel mixes sharp observations about day-to-day life with deep meditations on magic and growing up. It not only won McCammon his third Bram Stoker Award, but also the World Fantasy Award, and ensured his position in the pantheon of great horror novelists.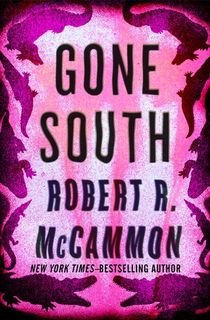 Gone South
The last novel McCammon published before his hiatus from writing, this book is about a Vietnam War veteran on the run. Suffering from his exposure to Agent Orange and desperate when his car is repossessed, Dan Lambert kills a loan officer in a moment of rage and flees to the Louisiana bayou. On his trail are two unlikely bounty hunters: an Elvis impersonator and a Siamese twin. This is a thrilling tale of outsiders and a broken man.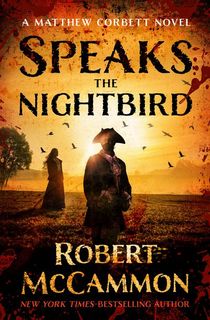 Speaks the Nightbird
The first book in the Matthew Corbett series, we find the protagonist investigating charges of witchcraft in the Carolinas in 1699. Matthew has serious doubts that Rachel Howarth is guilty of the murder and deviltry of which she's been accused in the small settlement of Fount Royal. Racing to uncover the truth before Rachel is hanged for her crimes, Matthew unearths village conspiracies, the discovery of which put his own life in danger. What does this tiny, devout village have to hide? And is it too late to push back the tide of evil?
This post is sponsored by Cemetery Dance Productions and Open Road Media. Thank you for supporting our partners, who make it possible for The Lineup to continue publishing the creepy stories you love.