Born in 1960 in El Paso Texas, Richard Ramirez grew up to be one of the most feared American serial killers, murdering thirteen victims by the time he was twenty-five. His vicious crime spree throughout California was marked by brutal and horrific violence, satanic symbols, and a wreckage of human damage.
Ramirez began his reign of terror in the Spring of 1984 after moving to California a couple of years prior. With evidence linking him to a murder as early as April of that year, Ramirez carried out senseless and graphic home invasion attacks for more than a year. Sneaking or breaking into his victims' houses in the middle of the night, Ramirez was dubbed "The Night Stalker."
After forcing his way into his unsuspecting victims' homes, Ramirez would often ransack the house for any valuables, shoot or bind its occupants, and senselessly rape, beat, and mutilate his victims, leaving gruesome and disturbing crime scenes in his wake. He inflicted all types of horrors on his victims from slashing a woman's throat to near decapitation, to hacking victims with knives and machetes, to beating victims with his bare hands, and even on one occasion, shocking an eighty-one year old woman with an electrical cord.
In one of his most appalling murders, Ramirez broke into the home of Vincent and Maxine Zazzara in Whittier, California. He shot Vincent as he slept, and when interrupted by Maxine, he shot her multiple times, before mutilating her body and gouging out her eyes.
Beyond graphically disfiguring those he attacked, Ramirez was also known for his references to Satanism. He left drawings of satanic pentagrams at a number of his crime scenes, and was known to mention Satan to his victims, some of whom survived his brutal invasions to tell the tale.
Related: Serial Killer Survivors: 5 People Who Lived to Tell Terrifying Tales
As Ramirez's attacks ramped up in the Summer of 1985, Ramirez began attacking multiple houses in a single night. He gripped the area with fear, as news of the vicious killing spree received widespread coverage in the press.
But after an attempted home invasion was foiled by a 13-year-old boy, the police were able to track down the stolen car Ramirez had been using. Pulling a fingerprint from its rear view mirror, the police identified Ramirez as "The Night Stalker" and circulated a mugshot they had on file throughout area news outlets. Once the public was aware of what Ramirez looked like, it was not long until a group of bystanders recognized Ramirez–at which point they chased him down and held him, until the police arrived to apprehend him.
Related: The One, Tiny Mistake That Finally Took Down The Night Stalker
Unrepentant for his crimes, Ramirez showed up on his first day of court with a pentagram drawn on his hand and shouted "hail satan!" through the courtroom. In spite of the fear he instilled in his jurors and the area at large, Ramirez was convicted of thirteen murders along with his other crimes, and sentenced to death in 1989. One of the most terrifying serial killers in recent memory, the books below are essential reading for those looking to gain insight into Richard Ramirez and his chilling crimes.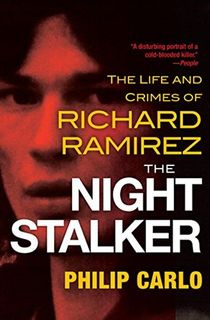 The Night Stalker
The preeminent book on Richard Ramirez, The Night Stalker dives deep into cruel serial killer's life. Featuring interviews with Ramirez, Philip Carlo's carefully researched account pulls back the curtain on the twisted killed and his incomprehensible acts. Though his reflections offer little consolation, the chilling look into the mind of the man responsible for thirteen murders is uniquely gripping, compelling, and terrifying. With sixteen pages of jarring photographs to complement the captivating real-life terror, the New York Daily News refers to The Night Stalker as "an astonishing portrait of a killer not seen since In Cold Blood."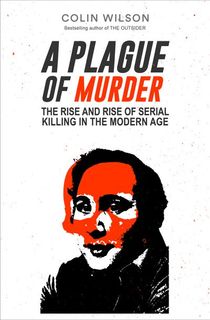 A Plague of Murder
With insightful psychological profiles of a variety of notorious serial killers, from Jack the Ripper, to the Boston Straggler, to "The Night Stalker" himself, criminologist Colin Wilson argues that serial killers, as we understand them today, are recent phenomena. Exploring the origins of serial killers, what pushes them to kill repeatedly, and how experts might better anticipate their actions, Wilson offers an insightful look into the minds of cold-hearted killers.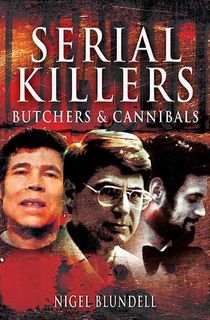 Serial Killers: Butchers & Cannibals
The gruesome nature of many of Ramirez's crimes, earned him a spot in Nigel Blundell's Serial Killers: Butchers & Cannibals. Filled with the stories of more than twenty of the most sadistic killers, Blundell focuses in on criminals whose heinous acts didn't stop when their victims died. Going beyond the well-known names like Ed Gein and Jeffery Dahmer, Blundell's grisly book travels throughout history and around the world to share the stories of less known killers, along with more infamous murders.
Related: 33 True Crime Books About the World's Most Notorious Serial Killers
Letters From The Night Stalker: A Decade of Correspondence with Richard Ramirez
After corresponding with Richard Ramirez for ten years while he was locked up on death row, Marquis H. K. shares his insight into the serial killer. Having built a decade long relationship with Ramirez, Marquis H. K. reveals the man behind the ghastly killings, as only a handful who knew him could. Chronicling his riveting exchanges, and incorporating newspaper records, interviews, and Ramirez's artwork, Letters From The Night Stalker offers a unique perspective and adds depth to a story so often bound up in the headlines.
Satan's Summer in the City of Angels: The Social Impact of the Night Stalker
Beyond killing and mutilating thirteen victims, Richard Ramirez held an entire city captive with fear. Gripping Los Angeles with terror in the Summer of 1985, Richard Ramirez had an unprecedented effect on the city and its millions of residents. Sharing the stories of those who live through the unforgettable summer when Ramirez's killing spree spun out of control, Satan's Summer in the City of Angels offers a glimpse into the way everyday lives were altered and shaped by the horror Ramirez stirred up.
Night Stalker
Tracing his shocking acts from Texas to California, Clifford Linedecker paints a vivid portrait of Richard Ramirez's merciless and gory killings, in all their hard to stomach detail. Recounting his incomprehensible crimes, ultimate arrest, and highly publicized trial, Linedecker offers true crime enthusiasts a must read account of one of the nation's most terrifying serial killers in recent memory.
Satan's Serial Killers: The Night Stalker Richard Ramirez
Delving into his past, his fascination with Satanic rituals and symbols, and his monstrous crimes, P.J. Varley details Ramirez's life path and the wreckage he left behind him. Sparing no brutal account or sickening detail, Varley's gripping book is not for the faint of heart.
Ultimate Richard Ramirez Collection
Having pulled together a slew of original sources, Ultimate Richard Ramirez Collection includes a variety of articles, interviews, letters, transcripts, artwork, and other materials related to the serial killer. With more than 150 pages, the book uniquely captures records of the more than year long crime spree and offers a glimpse into the man responsible for the madness.
The Night Stalker Killer: Life of Serial Killer Richard Ramirez
The thirteenth book in his Serial Killers series, The Night Stalker Killer: Life of Serial Killer Richard Ramirez sheds light on the killers shocking crimes. Exploring his troubled upbringing and his exposure to violence at an early age, Smith's account grapples to understand what might lead someone to rob, rape, and kill others. Only further complicated by drugs, satanic worship, and gratuitous violence, The Night Stalker Killer paints a full picture, ugly as it is, of Richard Ramirez.
Serial Killer Groupies: Why Some Women Love Serial Killers and are Sexually Aroused by Hardened Criminals
One of the more peculiar aspects of Richard Ramirez's arrest, trial, and incarceration was the adoration he received from women around the world. Referred as "Ramirez Groupies" in Philip Carlo's The Night Stalker, R.J. Parker explores these women, both in the case of Richard Ramirez, and more broadly. Diving into psychological motivation behind such strange behavior, Parker offers insight into these women that so often play a part in true crime stories, but are so rarely the focus.
The Wikipedia Encyclopedia of Serial Killers: An A–Z Guide to History's Most Heinous Murderers
Where do you go to answer all of your burning serial killer questions? If the answer is Wikipedia, then save yourself your next search. Recently released, The Wikipedia Encyclopedia of Serial Killers compiles detailed entries on the some of the world's most notorious criminals. After combing through the platform's multitude of articles, Wikipedia's editors have created an expansive and thorough collection for true crime fans. Combining photographs and letters with information on killer's backgrounds, crimes, and legal proceedings, The Wikipedia Encyclopedia of Serial Killers provides an informative look into the lives and crimes of the most terrifying serial killers–with a jarring account of Richard Ramirez's twisted acts appearing between that of Dennis Rader and Gary Ridgway.
This post is sponsored by Open Road Media. Thank you for supporting our partners, who make it possible for The Lineup to continue publishing the true crime stories you love.