Did you forget to give your best friend a present in time for Hanukkah? Did you just realize that you skipped over your brother-in-law on your Christmas shopping list? Have no fear! Well, maybe a little fear is appropriate if you're shopping for a horror fan.
But leave the terror to the ghouls and goblins and ease your holiday anxieties with this list of great last-minute horror gifts. From movies to apparel and grand gestures to stocking stuffers, here are ten great suggestions that will arrive right on time!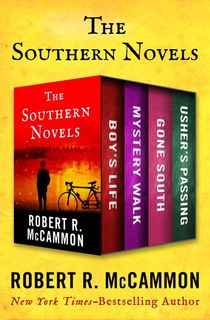 The Southern Novels
Remove the stress of shipping time math entirely by giving the gift of chilling digital reads instantly to your loved one's e-reader.
Robert R. McCammon is one of the most influential horror writers in literature, and this four-book bundle features his terrifying Southern Gothic reads. From the Bram Stoker Award–winning novel Boy's Life, in which a boy and his father's peaceful Alabama life takes a dark turn after the discovery of a corpse in a lake, to Usher's Passing, in which a horror novelist faces the ancestral madness woven in Poe's "The Fall of the House of Usher" in modern-day North Carolina, there's no collection of novels more unsettling.
A Creepy Crate Subscription
Why not give the gift that keeps on giving? With Creepy Crate, subscribers receive a box every other month full of collectibles, accessories, apparel, and books centered around the horror and true crime genre. There's no better time to subscribe, as for a limited time you get an additional free box when you join, giving you the gift of seven crates for the price of six! Download a gift card for Creepy Crate now and plop it under the tree.
The Shining: Escape from the Overlook Hotel
Fans of the classic Stephen King novel and Kubrick-adapted film The Shining can now immerse themselves in the mysteries and terrors of the Overlook Hotel with this unique board game. This game can be played alone or with up to six people. Players 17 years of age or older solve puzzles and use special abilities to try and find their way out of this escape room style game which takes 100 plus minutes to play through!
The Dark Pictures: Little Hope
For gamers who enjoy decision-based horror games like Until Dawn and Man of Medan, the latest release from The Dark Pictures Anthology, Little Hope, is a great follow up. Available for PS4 and XBox One, players must try and save a professor four college students trapped in an abandoned town as horrifying apparitions relentlessly hunt them. Play alone or with up to four friends!
Universal Classic Monsters: Complete 30-Film Collection
If you're looking to impress a horror fan with a big purchase, look no further. This 30-disc set contains all the classics that shaped the horror movie industry. Besides early hits from Dracula to Werewolf of London, this set contains hours of additional bonus content like behind-the-scenes footage and expert commentaries. Don't miss out on this collection of iconic horror history contained in one gorgeous box set, complete with a 48-page collectible book.
If you know a horror fan who loves to flaunt their creepy killer knowledge, nab one of these awesome shirts! The Halloween® Safety Tee combines novelty, humor, and a slasher classic to let everyone know just how cool the wearer is. If Halloween isn't your loved one's cup of tea, follow the link to the site and peruse the other great options! Shirts from this retailer tend to ship in two to three days from purchase.
How to Survive a Horror Movie
Seth Grahame-Smith—producer of horror-hit It (2017) and writer of Pride and Prejudice and Zombies—penned this essential guide to making it out of a horror movie alive. With simple instructions on how to determine what kind of horror film you're in, How to Survive a Horror Movie can guide you through an array of situations. Whether you're in a zombie apocalypse or getting hunted down by a possessed automobile, Grahame-Smith teaches you how to navigate through ominously dim lighting and portending music surges.
Funko Pop! figures are a fun and simple gift for every horror-nerd. From the new adaptation of Pennywise to more core classics like Freddy and Jason, there's a Pop! for everyone. If you know your loved one's favorite movie, take a browse through Amazon and they're almost guaranteed to have the fiend you're looking for. Pinhead, Chucky, Jaws, Annabelle, Hannibal, The Creeper, Frankenstein, Regan—the list goes on and on!
Freddy Krueger Glove Chopsticks
3D Skull Silicone Jello and Ice Mold
If you're giving a gift to someone who's a fan of the macabre in general, try these 3D skull molds. Sold separately or in a set, they can be used for ice, jello, chocolate, and even soap. Great for chilling drinks and chilling spines, this food grade silicone is also both microwave and oven safe!
Featured photo background: Aditya Vyas / Unsplash