They say you should never judge a book by its cover, but what about its length? You might assume a shorter work packs less of a punch than its lengthier counterparts—but that's simply not the case. Nowhere is this more apparent than in the horror short stories below, which deliver maximum scares while keeping page-counts to a minimum. We're talking nightmare-inducing, hair-raising tales from horror masters like Stephen King and Clive Barker—plus anthologies that'll make you wish the nights weren't so long and dark. Read them all at once, or savor them one freaky chapter at a time. Whatever your approach, you'll see that, just like that old lady with the seemingly kind smile, you should never underestimate a short story...
Witching Hour: Vices and Virtues
Each story in Witching Hour: Vices and Virtues tackles one of the Seven Deadly Sins or one of their virtuous contrasts—envy vs. kindness; lust vs. chastity, for example. But as the authors reveal, neither is especially "good," and the line between them isn't as clearly defined as we've been led to believe. In Stacey Broadbent's gluttony-based tale, "Sins of the Flesh," Piper's dinner date with Mark involves a course she never expected—and she's all too willing to expand her palate. Its opposite is explored in Maggie Jane Schulers' "A Sorcerer's Road to Temperance," in which a bartending witch-heroine uses her powers to improve the lives of others (and by consequence, her own). But things take a turn when she starts to fall for her employer, barreling towards a cliffhanger ending that'll keep you awake way past your bedtime. Stick around for the other 13 entries on how our human weaknesses can lead us to commit inhumane acts of evil...
Related: Forgiveness Won't Be Easy in This Horror Short Story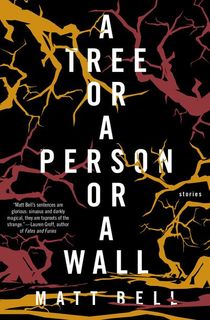 A Tree or a Person or a Wall
Author Matt Bell has routinely demonstrated that he's more than willing to break from convention—and that he can do it well. Here, he seamlessly borrows from a multitude of genres, spinning disturbing (even gory) stories that shed a terrifying light on everyday horrors and fears. The novella Cataclysm Baby is just one of many notable entries: Structured as an A-Z catalog of baby names, it offers 26 post-apocalyptic vignettes as fathers reflect on their deformed, animal-like spawn. The dark reimagining of Red Riding Hood, "Wolf Parts," is another skin-crawler. Thematically reminiscent of Angela Carter's horror work, it sees the fabled Perrault character experience a variety of gruesome encounters with the Big Bad Wolf—which are all occurring at the same time. A Tree or a Person or a Wall is filled with similarly absurd and unsettling happenings, so it'll satisfy your craving for a quick, sinister, and mind-bending read.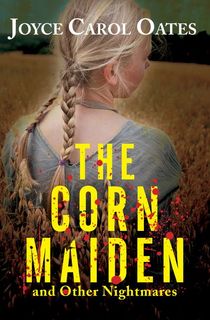 The Corn Maiden
The namesake of this seven-story collection is a little like the 2014 Slender Man stabbing: Obsessed with the "Corn Maiden" legend and certain it's real, three young students kidnap 11-year-old Marissa, whose blue eyes and fair hair make her the perfect human sacrifice. The abduction sets a series of creepy events into motion, as the girls lock Marissa up in a basement, gaslight her into thinking a nuclear war has occurred, and prepare her for a Native American ritual. Oates serves up other tales of evil and corrupt children—from the good vs. bad twins of "Death-Cup" and "Fossil-Figures" to the jealous older sister in "Nobody Knows My Name"—in addition to stories about revenge, grief, and trepanning (*gulp*).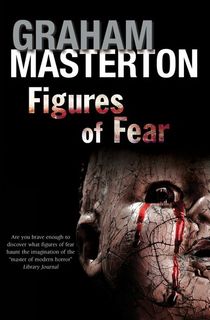 Figures of Fear
Horror master Graham Masterton has constructed 11 tales around the things that have terrorized us for centuries. A bedroom becomes much more frightening when the lights go out. The wardrobe from C.S. Lewis' children's classic isn't just a portal to Narnia—it's haunted. And when Bill's brother is tragically killed, he must go face to face with the evil spirit that has it out for his family. Masterton effectively breathes life into these creepy "figures of fear," coaxing them out of our imaginations and into our reality—all thanks to his ability to tap into age-old fears that, even as adults, we can't fully shake.
Related: Master of Horror: 8 Terrifying Graham Masterton Books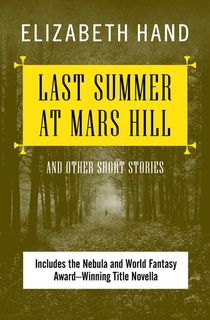 Last Summer at Mars Hill
From the Stephen King-esque Black Light to the haunted house tale Wylding Hall, Elizabeth Hand has proven to be an expert of dark fantasy. She puts her skill to great and effective use in Last Summer at Mars Hill—a collection of twelve stories named after her World Fantasy Award-winning novella set in a spiritualist colony. In "Prince of Flowers," a klepto working for a natural history museum steals artifacts best left untouched, and "The Boy in the Tree" centers around creepy child-experiments best left undone. More scares come in "On the Town Route" when a girl, having accompanied her boyfriend on his ice cream truck-driving shift, witnesses something frightening at the end of a dark road...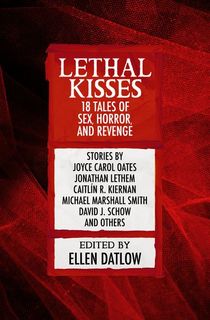 Lethal Kisses
Lethal Kisses is a smorgasbord of unnerving tales by talented writers—all curated by horror anthologist Ellen Datlow. Richard Christian Matheson (yes, he's the son of the author behind I Am Legend) tells the story of a man who, much to the confusion of his doctors, hears agonized voices emanating from his own body. In "Anamorphosis," Bram Stoker Award winner Caitlín R. Kiernan depicts a tortured psychic, whose collaboration with the police on a missing persons case leads to a very gory example of "justice served." Meanwhile, a graphic tale by the aforementioned Joyce Carol Oates stars a nameless protagonist with an unhealthy relationship with sex, control, and violence. Lethal Kisses certainly isn't for the faint of heart—but should you have the stomach for it, it's a standout collection of dark fiction.
Books of Blood
Clive Barker is one of the reigning kings of modern horror, and that's partly due to his Books of Blood series. For him, there's no such thing as "too scary" or "too over the top," as evidenced by the stories in this career-launching first volume: Hop aboard "The Midnight Meat Train," where passengers are unknowingly headed for a disgusting destination: the stomachs of hungry cannibals. Hauntings are at the core of the nominal "Book of Blood" and "The Yattering and Jack"—from a home that's a popular pitstop for the dead to a demon who's tasked with driving a man insane. And if you like pigs now, you'll be singing (or oinking?) a different tune once you read Barker's story of possession, "Pig Blood Blues."
Skeleton Crew
You know you're in for goosebumps and nightmares whenever you open a Stephen King book, and Skeleton Crew certainly delivers on both fronts. You'll find a collection of scary, must-read gems in this 1986 Locus Award winner—including two tales set in Castle Rock and his famous monster-centric novella, The Mist. Plenty of other horrors await you in the remaining 19 tales, like a rafting trip gone wrong, a toy monkey you'd definitely want to return, and a quest for survival that gets so gruesome, even King says he possibly took things too far.
This post is sponsored by Witching Hour Press. Thank you for supporting our partners, who make it possible for The Lineup to continue publishing the creepy stories you love.