Mother Nature can be terrifying. Tornados, earthquakes, volcanoes—these natural disasters can be so devastating, those who survive it never recover. But what about unnatural disasters? Climate change? Extinction? Deforestation? Humanity's short-sightedness has brought about plenty of unfortunate consequences.
Eco horror aims to push the envelope of those consequences, giving readers a taste of what happens when nature fights back. We've all seen Jeff VanderMeer's Annihilation passed around TBR lists, so let's go down the less-traveled road. Here are seven eco horror books that will really grow on you.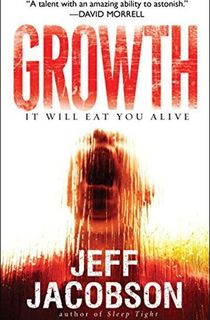 Growth
Corn is America's most vital crop. To improve yields, scientists have genetically modified a strain of corn that repels all pests. Little do they know, this strain also contains the DNA of a rare fungus. A fungus that is highly infectious and incredibly deadly.
The fungus starts by eating its way through a person's skin. Next, growths develop across the body. At last, the flesh splits open, releasing quick spreading spores into the air. But that's not the worst of it. When you die, the fungus uses your body to kill.
The people of Sutter Creek, Illinois have planted the seeds of their own destruction, and a small-town sheriff is the only one standing in the way of their unchecked ruin.
Chlorophobia: An Eco-Horror Anthology
This incredible short story collection includes work from Sonora Taylor, Keely O'Shaughnessy, G.B. Lindsey, Ian A. Bain, and more. Eco horror at its finest, these stories contain terrifying tales of nature fighting back. From a new plant species deep in the rainforest to a killer fog coming in off the sea, you'll start reconsidering the way you treat the Earth.
Eden
Between the pollution of the seas, the devastation of the rainforests, and the innumerable animal species dying off, humanity has but one last hope to save the planet: The Virgin Zones. These 13 sprawling areas of land have been given back to nature, kept free of people and their interference.
Dylan, his daughter Jenn, and the rest of their group of adventure racers sneak their way into Eden, the oldest of the Zones. But Jenn is hiding something dangerous: her mother, Kat, has already found her way into Eden. Jenn is desperate to find the woman who abandoned them years ago, but can she survive what awaits the group within this place of primeval nature?
Sealed
Expectant mother Alice and her partner, Pete, leave the city amidst rumors of a horrifying skin-sealing epidemic. While Alice is eager to leave behind the pollution of an urban area, Pete is eager for the space for Alice to let go of her obsession with this new sickness. Yet as they set up in their new home in the mountains, safety might be far from view. As the world around her erupts into desperate violence, just how far is Alice willing to go to protect her unborn child?
Seeders
After reclusive plant biologist George Brookes mysteriously dies, his heirs rush to his estate on a remote Canadian island. Here they will be stranded for two weeks until the supply boat returns. But will they live that long?
During his stay, George's friend Jules Beecher pokes around in the laboratory and discovers his mentor's remarkable breakthrough—communication between plants and humans. But over the course of a few days, the group experiences strange and violent changes. No one is more affected than Jules, who spirals into obsession over George's journal and the dark secrets of the woods. George's daughter, Isabelle, soon realizes that the malignant presence on the island may have been unleashed by her father.
Field Notes from a Nightmare
Mankind has committed many crimes against Mother Nature, and now the Earth will wreak its vengeance. These 18 chilling tales cover an array of eco horror, from incredible indie authors like Eric Raglin, Joe Koch, Sara Tantlinger, and more. Also included are remarkable illustrations by David Bowman!
The Beauty
Mixing disturbing dystopian themes with body horror, The Beauty takes place in a world that no longer has women—at least not in the Valley of the Rocks. This society of men and boys relies on their storyteller, Nate, to recount a time before the death of all women. A time before they dwindled down to the last generation.
Then everything changes. Nate emerges from the woods with an intriguing secret. In the place where the women's bodies lie buried, strange mushrooms now grow. These mushrooms have attractive shapes and a desire which at first intrigues the men. But as a horrifying venereal disease causes unsettling changes, not everyone is prepared for what this fungus has wrought.