The world's in rough shape. We're damaging the environment at an alarming rate, and for every initiative that people take to lower emissions and pollution, there are twice as many continuing to live as wastefully as ever. The emergence of cli-fi, or climate-centric science fiction, reflects the dire situation we've found ourselves in. This branch of literature has grown in the last decade, so much so that it has begun to bleed into other genres, including horror—and for good reason. What could be more horrific than seeing the world around us on fire?
Now, more than ever before, is a time to read books that examine what's at stake. Be it drought, a devastating red tide, or nature itself reclaiming what humanity has taken, these eco-horror books about climate change act as an urgent call to wake up and save our dying planet.
Annihilation
If you haven't read Jeff VanderMeer's bestselling Southern Reach Trilogy, what are you waiting for? This trilogy is a complete must, and was responsible for elevating VanderMeer into mainstream success. At the center of the story is a mysterious region of land, called Area X, that's been cut off from the rest of the world. A secret agency has led numerous expeditions to explore the elusive and menacing place, but all of them have ended in failure.
Related: 13 Pandemic Horror Books to Keep You Occupied During the Coronavirus Outbreak
Throughout the trilogy, readers are introduced to a situation where nature fights back, evolving and morphing into a strange beauty that doubles as a nightmare. All three books are short novels, capable of being read like any page-turning thriller. Speaking of thrills, the first book, Annihilation, was adapted into a gripping film starring Natalie Portman.
Godshot
To call this book timely would be an understatement. Bieker's debut novel is a unique blend of literary fiction and dystopia, with a punishing drought that brings environmental disaster barreling down on its cast of characters. Lacey May and her alcoholic mother live in Peaches, California, where they've succumbed to the allure of a cult in their desperation. Pastor Vern is there to help guide them into a "new world," claiming God will provide water. It's an utterly harrowing situation, with the image of a scorched Earth especially vivid. The mother-daughter relationship adds a fresh spin to the apocalyptic doomsday cult narrative, especially when Lacey's mother is banished from the community and the young teenager takes it upon herself to find her.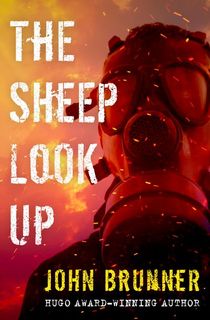 The Sheep Look Up
One of my all-time favorites, this ecological disaster novel from 1972 has only increased in timeliness and prescience. The Sheep Look Up weaves together many narratives to reveal the full picture of a dying planet. We're talking about the poisoning of life's essentials: People can't walk outside without a mask, water has become undrinkable, and the food we know today has become a delicacy, with synthetics being the only affordable choice. Worst of all, people are newly affected by countless super-viruses that no longer respond to antibiotics.
In the 1970s, all of this apocalyptic talk was theoretical, but now, Brunner's book is reading more like a transcript from the future. If you can only read one book on this list, read this one. And if you find yourself becoming a newly-converted Brunner fan, check out his other eco novel, Stand On Zanzibar, which focuses on the effects of overpopulation on society and the Earth.
Ice
Anna Kavan's cult classic envisions an Earth that's entirely frozen over, with humanity close to extinction. Focusing on secret organizations and vast ecological destruction, this novel is incredibly surreal, and its atmosphere is something truly rare. Evocations of ruins and tundra and all sorts of apocalyptic terror inform the mysterious psychodrama within these pages. The narrative itself takes place on the road, as a woman drives about in search of a "glass girl" with silver hair.
Kavan died of heart failure shortly after the publication of this novel, and has since become something of an enigmatic figure herself. One thing's for sure, Ice is a book that takes climate change to highly psychological and personal heights.
Wilder Girls
Think of this breakneck quarantine thriller as Lord of the Flies meets Contagion. When a highly infectious virus called "the tox" spreads, a group of students are stranded at Raxter School for Girls. The virus has wiped out all the teachers and most of the students, leaving those still alive in a waking horror. The CDC promises to deliver supplies to the survivors, only to leave the girls to fend for themselves for the next year and a half. Meanwhile, the virus comes in waves, each one deadlier than the last. Those that survive are not without a reminder of their loss, with glowing hair, body disfigurations, and more. This book is in every way harrowing, the sort of read that makes you second guess if you've washed your hands lately.
Related: 12 Dark and Extraordinary Pandemic Books to Make You Feel Less Alone
Available on November 17, 2020
Stillicide
Water is precious, and the scarcity of this life-giving resource is a pressing issue that takes center stage in Welsh author Cynan Jones's latest novel. In Stillicide, water has become completely commodified, a political vehicle for those seeking vengeance or power. Meanwhile, temperatures are rising and the polar ice caps are melting. Soon an Ice Dock will be under construction, displacing many people. The streets are full of protesters, including a master marksman, a young boy fleeing the city with a dog, and a woman on her deathbed. This is a pulverizing read, not least because the story Jones tells could very well be our own a few years from now.
Gun Island
The sweeping narrative of Amitav Ghosh's novel tackles a number of sociopolitical issues, taking special care with climate change and disaster. Deen Datta is a rare books dealer whose quiet life is upturned when he is asked to track down the obscure tale of the "Gun Merchant," typically only told and passed on verbally. He travels the world, which acts as a springboard for the novel's epic, transcontinental scale.
Related: 13 Best Jonathan Maberry Horror and Paranormal Books
Flanked on all sides of Deen's quest are climate change issues, from how humans and animals are displaced by natural disasters to how even organizations working to save the planet often have nefarious ulterior motives. The frequent jumps from past to present will make you wonder if we're essentially repeating the same mistakes. It's a compelling, heady read that'll leave you with all kinds of ecological concerns and questions.
Things We Didn't See Coming
It's a sight that has become all to familiar: a family hurriedly packs their car, in a rush to leave the city. It's the eve of the millennium and something bad is about to happen. Told from the perspective of someone who has wandered the Earth for decades, Things We Didn't See Coming depicts a natural disaster that has decimated humanity, leaving lawlessness and a viral plague in its wake. Each of the nine chapters pertains to key points in the wanderer's life as he adapts to the never-ending threats of a dead land. Steven Amsterdam's perspective on the government—how it works to keep society in order, and the ways in which it can fail—is particularly compelling.
The Migration
Yet another natural disaster narrative, Helen Marshall's The Migration is an addictive blend of apocalyptic tropes that helps to deliver a very personal story about a family falling apart. Sophie Perella is a senior in high school when her younger sister, Kira, is diagnosed with a mysterious immune disorder. Imagine the confusion a family must go through when their loved one's affliction is like a ghost, invisible and without remedy. Even worse, apparently those that die from the disorder don't stay dead. As the sea levels rise and reports of geopolitical upheaval flood the news, Sophie can't tune out the tragedy unfolding right in front of her. The Migration is a frightening look at mass destruction and the violent ushering in of a new age.
Related: Devils, Demons, and Cryptids, Oh My: 12 Monstrously Good Hunter Shea Horror Books
Sewer, Gas & Electric
I've been a fan of Matt Ruff's fiction since his first novel, Fool on the Hill. He has a knack for reinventing himself with each new book. His second novel, Sewer, Gas & Electric, tackles dystopian science fiction. In this bizarre, frightening, and sometimes even funny narrative, the year is 2023. A massive Tower of Babel is being constructed in Manhattan in a haphazard attempt to distract and divert attention away from real social issues, as the masses below fester in disease-ridden streets strewn with garbage. Ruff even adds in a double-crossing and a flash of spy intrigue to keep things interesting. Toss in Ayn Rand, Walt Disney, and robots and you have the nuttiest ecological novel on this list.
Featured image: Christopher Burns / Unsplash