What does the embalming process look like? How do forensic scientists bring killers to justice? If I donate my body to science, what experiments might a researcher conduct on my remains?
These killer books stare death in the face, offering answers to questions many readers are too afraid to ask.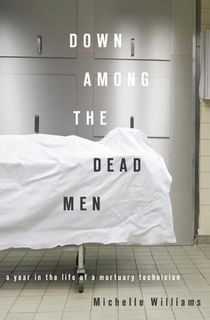 Down Among the Dead Men
Michelle Williams never expected to land a job as a mortuary technician, but it turned out to be one of the best experiences of her life. This memoir from Williams chronicles her first year in this career field—and she doesn't hold back. Packed with tons of short anecdotes involving some of the strangest deaths you'll ever read about, this book is a standout. Some of these stories include a man who was so large he needed to be transported via a cooling truck, or a jogger who decided to do some quick push-ups in the middle of the night on a street—only to be run over by a passing car. Although a bit morbid, Williams never fails to keep things light-hearted as she dives into every thrilling detail involving her peculiar career.
Forensics
This text from award-winning author D.P. Lyle is the perfect guide for aspiring crime writers who are trying to incorporate forensic science into their novels. The book is broken down into comprehensive chapters that cover a specific aspect of a crime scene, all while easily explaining how to utilize them in your writing. Referencing real-life cases, Forensics offers the scientific details behind dead bodies, examining evidence, and DNA in order to make sure your whodunit novel is tightly written. This is pretty much going to be your best bet if you want to accurately portray a crime scene without having to see the bloody mess for yourself.
Related: The Mysterious Circumstances of Natalie Wood's Death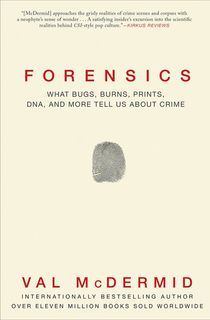 Forensics
As an accomplished Scottish crime writer with multiple bestsellers, Val McDermid is no stranger to this genre. In this informative piece, McDermid breaks down the history and usage behind forensics in order to bring readers a compelling piece that will take them through every step of a crime scene. Complete with interviews with some of the most brilliant forensic scientists out there, McDermid will teach readers how maggots, DNA, and other tiny details on a dead body can help investigators bring killers to justice.
Death's Acre: Inside the Legendary Forensic Lab the Body Farm Where the Dead Do Tell Tales
Spanning two acres and containing 1,300 human skeletons in various states of decay, the University of Tennessee's Anthropological Research Facility—also known as the Body Farm—was the first outdoor forensic research center in the world. This book penned by the man behind the facility is as close as you'll come to a tour. Follow Dr. Bass as he revisits his most bizarre cases, takes you through the forensic process, and describes the grisly details of human decomposition.
Related: Welcome to Tennessee's Body Farm, Where New Forensic Research Could Revolutionize How We Estimate Time of Death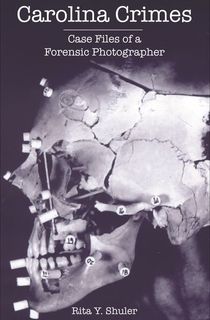 Carolina Crimes
Rita Y. Shuler is a former forensic photographer who has seen her fair share of brutal crime scenes. Over the course of her twenty-four year career, Shuler has first-hand experience in the world of forensic science, and she doesn't hold anything back in Carolina Crimes. In this graphic yet comprehensive text, Shuler covers a handful of South Carolina's most horrific crime scenes involving axes, kidnapping, and murder. Including photos, gruelling details, and a break-down of how DNA technology is used to track suspects, Shuler's book is one that readers won't soon forget.
Stiff: The Curious Lives of Human Cadaver
Roach's survey of the posthumous body opens with this intriguing fact: "The human head is of the same approximate size and weight as a roaster chicken [.]" It's a good indicator of what's to come. Both humorous and informative, Stiff invites you to explore the 2,000-year history of the living and their dead, from medical experiments and plastic surgery seminars to transportation safety researchers in need of human crash-test dummies.
Working Stiff: Two Years, 262 Bodies, and the Making of a Medical Examiner
Just a day in the life of New York City forensic pathologist Dr. Judy Melinek would be fascinating. This memoir, written with her husband, treats you to two years of her medical examiner training—the autopsies, the death scenes, the graphic details of sights and smells, and a powerful account of the recovery effort after 9/11.
Related: Chasing Darkness: How True Crime Writer Billy Jensen Started Solving Murders
Does This Mean You'll See Me Naked? Field Notes from a Funeral Director
Funeral director Robert Webster has seen it all during his 30 years as a funeral director—from keepsakes buried with the deceased (fishing rods, Playboy magazines, recently-euthanized pets) to the matter that bodies leave behind (blood, fecal matter). In this fascinating memoir, Webster offers a revealing glimpse into his life among the dead, answering questions about embalming, cremation, and the business of burials.
Spook: Science Tackles the Afterlife
Can we measure the soul in ounces? Can we record the sounds that spirits make? Roach continues to indulge her morbid curiosity with Spook, focusing this time on the soul, not the cadaver. As Roach writes in her introduction, "This is a book for people who would like very much to believe in a soul and in an afterlife for it to hang around in, but who have trouble accepting these things on faith." Instead of faith, Roach relies on scientists, engineers, mediums, and psychics eager to prove—or disprove—life after death.
This post is sponsored by Open Road Media. Thank you for supporting our partners, who make it possible for The Lineup to continue publishing the creepy stories you love.