For most people, London in the 1960s is a montage of images—girls in mini-skirts and white pantyhose, Mick Jagger releasing butterflies in Hyde Park, Carnaby Street fashionistas in Granny Takes a Trip sunglasses, the Beatles playing on the roof of Apple Corps. That was one side of things, for sure. But while the spotlight shone on the hip and the happening, criminals of every type were busy in the shadows.
Here are eight gripping true crime books that show a darker perspective of London during this happening era.
Related: Murder Weapons, Death Masks, and Severed Arms: A Glimpse Inside London's Black Museum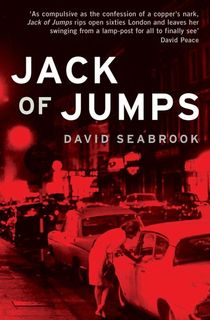 Jack of Jumps
Between 1959 and 1965, eight prostitutes were murdered, stripped naked, and dumped in West London. The similarities of the so-called Hammersmith Nude Murders to those of Jack the Ripper seventy or so years earlier were striking, and the British press dubbed the new serial killer "Jack the Stripper." Like the Ripper, the Stripper was never caught. Speculation on who he might have been has included politicians, police detectives, a former boxing champion and—because what crime in the 1960s aren't they linked with?—the Kray Twins. Seabrook is a gifted writer, adept at conjuring the darker, dirtier side of sixties London. He's empathetic to the unhappy victims, and has plausible ideas of his own on who the killer might have been.
Related: Portrait of a Killer: 6 Chilling Jack the Ripper Theories
The Profession of Violence
The Kray Twins were a pair of publicity hungry gangsters from London's East End. Reggie was the smart one, Ronnie the sociopath. While other gangsters shied away from the limelight, the murderous brothers courted publicity. Eager to share their life story, they hired John Pearson to write it for them (Pearson was the biographer of Ian Fleming, and the Krays loved James Bond).
What emerged was not the inspiring tale of a couple of latter day Robin Hoods the two gangsters had hoped for. Instead, Pearson leads the reader into a dark, claustrophobic world of random violence and escalating insanity in which Ronnie, decked out in a velvet smoking jacket, listens to records of Winston Churchill's wartime speeches, while plotting to slaughter those who have crossed him. By turns chilling and blackly comic, it may not have been the book the Krays wanted, but it's definitely a masterpiece.
Jumpin' Jack Flash
Pim digs deep into swinging sixties legend in his acidly vivid biography of David Litvinoff, a fast-talking, sharply-dressed Jewish Cockney thug who became a charismatic presence in bohemian London. Born in the East End and blessed with a face straight from a Francis Bacon canvas, Litvinoff handed out violent beatings on behalf of gangsters, had his portrait painted by Lucien Freud, lead a gang of juvenile pickpockets in Chelsea's King's Road, shared a flat with Eric Clapton, and had his face slashed with a razor on the orders of the Krays. George Melly, a brilliant chronicler of Britain in the sixties, described Litvinoff as "a dandy of squalor." The Rolling Stones' Keith Richards—a friend—said he lived "on the border between art and villainy." Pim does a fabulous job of capturing Litvinoff's mercurial personality, and separating the facts from the web of wild myth this extraordinary character wove around himself.
Related: Blasts from Crime Scenes Past
The Train Robbers
The 1963 Great Train Robbery was Britain's crime of the century. Carried out with precision by a gang lead by the suavely handsome Bruce Reynolds, it netted the thieves the staggering sum of £2.6 million ($3.7 million). The immaculately planned heist might have come straight from a caper movie were it not for the fact that two of the train staff were beaten so badly they never recovered. There are dozens of books (and several films) on the robbery, but Read's work—first published in 1978 and based on hours of interviews with the thieves and the police officers who hunted them—is arguably the best. An experienced journalist and award-winning novelist with a strong sense of morality, Read brilliantly captures the heart-pumping rush of the robbery without ever losing sight of the terrible toll it took on the victims.
Related: Hands Up! 10 Heists that Netted Millions (and Billions)
Gone Shopping
The 40 Elephants were an all-female gang of professional shoplifters (or "hoisters," as they were known in London) operating out of South London, with roots going back the Victorian era. Gone Shopping tells the story of the gang's most famous member, Shirley Pitts. A tough, indomitable hoister, Pitts made a grand living throughout the sixties leading gangs thieving high-end fashion from London's smartest stores, as well as those in Paris, Rome and Geneva. The daughter of a bank robber and sister of a kidnapper, Pitts served just three years in jail for her crimes, refused to rat on any of her fellow thieves, and became the first woman in England to escape from police custody.
Related: Best True Crime Podcasts To Debut In 2021
When she died, Pitts was buried in a £5,000 ($7,000) Zandra Rhodes dress the British press whispered had been stolen specially for the day. Gamman's biography is filled with rasping Cockney wit and gleeful humour, yet it's also tinged with sadness and regret. Pitts, a mother of three, was deprived of a stable home in a life lived permanently on the run.
The Hustlers
Though the Kray Twins might have attracted all the publicity and headlines, the most successful gangster in London in the 1960s was their mentor, the much quieter and more business-like (though no less violent) Billy Hill. When gambling was fully legalized in Britain in 1961, the fashionable place for aristocrats to go and lose money quickly became The Clermont Club in glitzy Mayfair. Soon Hill and his card sharps had moved in to pull off one of the biggest scams in UK history, reputedly fleecing the club and its clients of over £1 million ($1.4 million). Douglas' scintillating account of Hill's con is a Cockney-version of The Sting, in which Lord Derby and the soon-to-be-infamous Lord Lucan rub shoulders with safecrackers, a croupier named Louis the Rat and Hill's infamous bodyguard, "Mad" Frankie Fraser.
The Shepherds Bush Murders
On quiet Sunday morning in August of 1966, a police vehicle containing three plain clothes officers approached a station wagon in a side street in West London. Inside were a trio of armed robbers. One of them, Harry Roberts, pulled out a revolver. A minute later, the three policemen were dead. When captured, Roberts, who'd already spent seven years in prison for beating an old man half to death during a home invasion, showed no remorse. The death penalty had been abolished in Britain a year before the triple murder, but an unrepentant Roberts would serve 48 years in jail for his crime. Russell-Pavier does a wonderful, measured job of retelling the story of this horrible and senseless crime, and carefully places it in the wider context of a changing Britain. For an older generation, the triple murder came to symbolize all that had gone wrong with English society in the brave new world of the 1960s.
An English Affair
One of the most iconic images of swinging London is Lewis Morley's 1963 black and white photograph of a naked Christine Keeler sitting astride an Arne Jacobsen plywood chair. The 21-year-old model had just become infamous. In the summer of 1961, she'd had an affair with John Profumo, Britain's Secretary of State for War. No one would likely have cared if Keeler hadn't also been romantically entwined with another man, Yevgeny Ivanov, a KGB spy. Stir into this sexy mix a pair of warring Newspaper barons, a high society chiropractor with MI5 connections, a couple of petty criminals from London's West Indian community, and the English capital's most notorious slum landlord, and you have the ingredients for a scandal that eventually lead to the resignation of the British prime minister. It's a sensational tale of a nasty establishment cover-up that saw one innocent man imprisoned and another hounded into committing suicide. Davenport-Hines tells the story with intelligence, wit, and just the right amount of outrage.
Related: 11 True Crime YouTube Channels Every True Crime Aficionado Needs to Watch