The Tarot Cafe is a seven-volume manhwa—the Korean version of Japanese manga—written and illustrated by Korean author, Sang-Sung Park. This gorgeous fantasy-horror series revolves around Pamela, an 800-year-old clairvoyant immortal.
Pamela can see both the past and the future. She uses her gift in her café in modern England, where she reads tarot for a living. During the day, her patrons are humans, but after midnight, she reads tarot for a variety of supernatural creatures.
What Pamela really wants, however, is to be reunited with her deceased lover. For Pamela, immortality is a curse, not a gift. Pamela is on her quest to end her life. As an introduction to Pamela's astonishing journey, the list below is an overview of the complete seven-book Tarot Cafe series.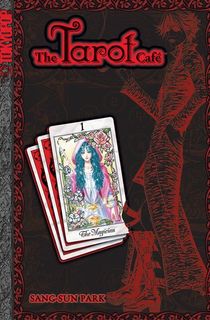 The Tarot Cafe
The first installment in The Tarot Café series introduces readers to Pamela, her profession, and her plight. This volume also introduces Belus, the mysterious and cynical being who's made a pact with Pamela to restore her mortality. Pamela's customers in this volume include a vampire, a love-struck cat, and even a magician with a humanoid doll.
Readers gain insight into Pamela's good nature as she assists the supernatural creatures with their karmic traps and lost loves, but it eventually becomes clear that there is a dark secret Pamela must deal with before she can move on to her next life…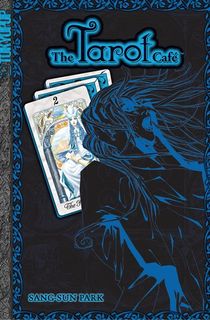 The Tarot Cafe
In the second volume, we meet Aaron, an accidental werewolf with a tragic past who seeks the answer to his problems. Until he finds it, Aaron has decided to work as Pamela's assistant at the Tarot Café. They develop a close friendship, which reveals more about Pamela's generosity and kindness despite her unhappy circumstances.
Readers will also discover a snapshot of Pamela's life before she started the Tarot Café, which was rife with prejudice and persecution. We also learn that 700 years ago, Pamela's mother made the ultimate sacrifice in order to save her daughter; despite the centuries that have passed, however, the fear that overtook Pamela's mother isn't really gone.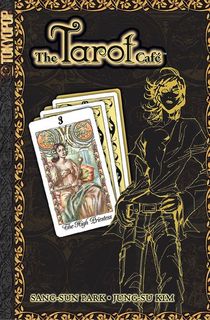 The Tarot Cafe
The Tarot Café volume three continues Pamela's story, elaborating further on her relationships with Aaron and Belus, while introducing even more paranormal creatures. This includes a sultan who desires to know what happened to his first love, an impoverished student who's fallen in love with a lake fairy, and two particular 700-year-old dragons who want to rekindle an ancient friendship. Alecto and "Ash" enter the picture, although Ash may not be who he seems...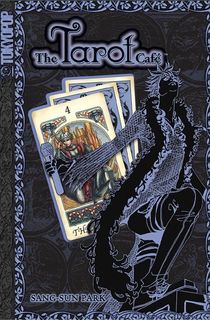 The Tarot Cafe
Book four reveals more about Pamela's gift and the origins of her immortality. This includes details about her relationship with Ash and how she met Belus. Their stories continue to develop alongside the stories of the café's patrons.
Pamela is visited in her dreams by a spirit in the afterlife, Shandy, who wishes to reconcile with his sister, Fay. Although Fay was the cause of Shandy's death, he will do whatever it takes to make peace with her. Additionally, a rising music star who made a dangerous deal with a devil comes into the café seeking Pamela's help.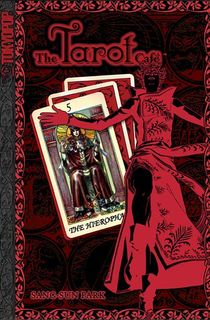 The Tarot Cafe
In volume five, Pamela voyages to Scotland to learn more about her dark past. While there, she uses a perfume that is intended to reveal her hidden memories. Pamela is then forced to relive her most painful memory over and over again, with no end in sight. The only person who can help her is Belus, who must get the answer to stopping it from Ash before it's too late.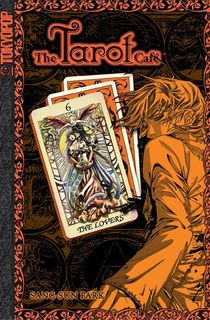 The Tarot Cafe
Volume six sees Alecto journey to the underworld where a three-headed soothsayer reveals a dark prophecy: if Alecto reveals his feelings to Pamela, there will be dangerous consequences. And while Pamela and Belus try to find Alecto, the Demon Berial is having fun playing with their lives. Finally, Alecto and Pamela run into a disaster from which neither of them can escape.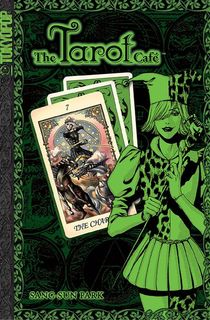 The Tarot Cafe
Belus is dying. In order to save him, Pamela must venture to Hell to visit Belial's Dark Castle and settle their feud once and for all. Pamela ignores the warnings she receives while traveling there, and her world is turned upside-down when Belus reveals a secret that changes everything she once thought was true…
The final installment of this series will leave readers breathless, as the information gathered from the first six volumes is twisted on its head to reveal a sinister plot that dictated Pamela's life from the very beginning.