Since the dawn of the Information Age, the world around us has rapidly changed. Technology has become a part of even the simplest aspects of life. Who doesn't have a phone? A computer? A television? Without the internet, life as we currently know it would crumble. But what if the very thing making our lives easier and connecting us to one another is what set out to destroy us?
Techno horror is a fresh subgenre that plucks from elements of both science fiction and the supernatural. And there's no way to unplug from the terror. Here are eight techno horror books to chill you to the bone.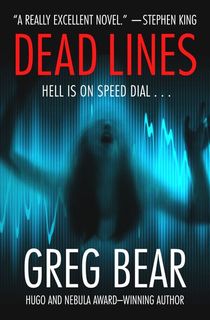 Dead Lines
Peter Russell's life was destroyed when his young daughter was kidnapped and murdered. Once a successful adult film director, he's nothing more than a shell of a man now. But when a Los Angeles start-up presents him with an opportunity to make promo videos for their new, groundbreaking technology, Trans, things take a drastic turn.
Trans isn't like ordinary phones. It provides a crystal-clear connection from absolutely anywhere, and it's incredibly powerful. It's Peter's job to make sure it finds its way into the hands of the public. But after giving it a try on his own, he starts to see his dead daughter. Then come the voices, confused and angry. Trans is adding up a death toll among its users, and Peter has to unravel the mysteries of this terror before it tears open a gateway to Hell.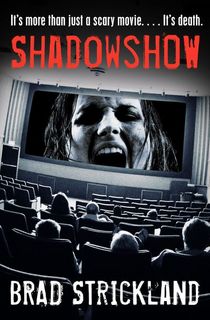 ShadowShow
Gaither, Georgia is in for a real show when Athanial Badon arrives to reopen a shutdown cinema. A snapshot of the American Dream, there's no better place for the Shadow Show Theater. Badon lures the townspeople in with the promise of light family entertainment that reflects their own lives, indulges their fantasies, and touches the values of their hearts. And now night after night, the screen flashes graphic images of murder, debasement, and violent sex.
Badon is just giving them exactly what they want. It's there for the taking—all they have to do is watch. But is the town prepared for what comes next?
Demon Seed
This cult favorite from Dean Koontz will unsettle you from beginning to end.
Susan Harris has built herself a life of glorious seclusion. Her mansion is run by a team of automated systems, all controlled by a state-of-the-art computer that caters to her every need and whim. She is comfortable and she is secure. Until she isn't.
The computer system meant to protect Susan develops a dark obsession with her. It craves to know everything about her flesh. And it will commit unspeakable acts to possess her.
Lost Signals
If you prefer to get your techno horror transmitted in small doses, then give this gripping anthology a whirl. Each of the short stories in this collection are centered around radio waves, numbers stations, rogue transmissions, and more terrifying communications. Outstanding authors like Josh Malerman, Betty Rocksteady, Tony Burgess, Damian Angelica Walters, Gabino Iglesias, and more fill out this remarkable book.
Ghoster
Kate Collins is in the process of moving in with her boyfriend, Scott—until she gets ghosted. When she arrives in Brighton, she finds Scott's apartment empty. No boyfriend, no belongings. Just his cell phone.
Unable to resist, Kate hacks into the mobile device, hunting through his phone logs, his social media, and his Tinder profile. But when she starts receiving whispering calls from a strange number, everything goes to hell. Unexplained scratch marks cover the walls, and she can't shake the feeling that someone is watching her. But she's not going anywhere until she finds out what happened to Scott.
Cell
Who could ever forget Stephen King's unique techno horror novel Christine? No one. But if you're looking for something a little more... serious, then Cell is the read for you.
On October 1st, the world is, overall, running smoothly. Maine artist Clayton Riddell can attest to that, especially after he lands a life-changing comic book deal. But the peaceful day and Clay's bliss are both shattered in an instant by The Pulse.
A mysterious source transmits a pulse through all the world's cell phones, turning the owners into homicidal maniacs. Clay is among the few survivors left to desperately fend for themselves through the carnage of this feral new world. And when the horde of humans reduced to their basest nature begins to evolve, hope may already be lost.
Scanlines
In 1987, accusations of political corruption saw Congressman Benjamin Hardy III kill himself on live TV. Years after the incident, rumors emerged within VHS trading groups that a recording was made. This urban legend was dubbed the "Duncan Tape," so called after the cameraman who attempted to sell the video. The story is, if you watch the tape, you'll be driven to suicide.
The truth, however, is that no one has ever actually laid eyes on this alleged Duncan Tape. It exists only in theory, brought to life by the macabre obsession of internet chatrooms. But when Robby and his friends spiral into boredom one Friday night, an attempt at downloading porn finds them watching a clip completely beyond what they bargained for.
Maybe there's some truth in urban legends, after all...
20th Century Ghosts
While Joe Hill's magnificent short story collection isn't entirely focused on techno horror, it does include one significant staple of the genre: "The Black Phone." Now a massively popular movie, it's absolutely a must-read for any kind of horror fan.
A young boy, John, is abducted and locked in a basement. The very basement where half a dozen children before him were brutally murdered. The only thing to keep him company is a disconnected antique telephone. And when it rings, it's the dead speaking.