All Hallows Eve, otherwise known as Halloween, is more than just a night when we wear costumes threatening tricks in exchange for treats. It's also when many believe the veil between the spirit realm and our own thins, opening the door for the dead or other malevolent beings to come through.
But not all ghosts wait for Halloween night to communicate with the living, and many hauntings have been reported throughout the centuries all over the world. Some entities are content to simply exist amongst the living, but others like to taunt—they will push, grab, and even bite visitors who dare intrude on their domain. We've compiled the eleven most haunted houses in the world where ghosts, demons, and spirits refuse to move on.
Castle of Good Hope, South Africa
This castle was built in the mid-1600s by the Dutch East India Company, originally serving as a replenishment station for ships. Now, it's one of Cape Town's more notable historical monuments—and a center of paranormal activity. The oldest existing colonial building in South Africa, there are no shortage of spirits spotted here.
It is believed that one of the ghosts lingering behind in the castle is that of Governor van Noodt, a vicious ruler who allegedly died of a coronary incident while ordering a hanging. It's said that Noodt was cursed by a man set to be executed, sealing his soul within the castle for eternity. Guests are also likely to see a tall man stalking the ramparts, or a "Gray Lady" weeping in the halls.
Rose Hall, Jamaica
Near Montego Bay sits the striking Georgian plantation of Rose Hall. Built in the 1770s, the property was originally owned by a man named John Palmer. The estate had sprawling fields of sugar cane—and hundreds of slaves to maintain them. Things only got worse for both the slaves and Palmer when he married an English-born woman named Annie.
In order to gain control of the plantation and Palmer's wealth, Annie poisoned him to death. She also earned the name "White Witch" by the slaves for her practice of voodoo, her torture of her slaves, and the murder of two more husbands. She's said to have murdered a significant number of male slaves on the plantation as well, but after the spiteful slaying of a slave's family, the slave in question murdered Annie. She is laid to rest on the property in a stone tomb, but the grounds and its guests are still tormented by her vengeful spirit.
Winchester House, California
After her husband and child died, Sarah Winchester moved to California and began building the Winchester House. She believed she had to maintain construction in order to appease the spirits of those who died from the Winchester rifle. When she passed away, the house had been worked on nonstop for over 38 years, with strange features like staircases rising into ceilings, doors leading to nowhere, and non-working bathrooms meant to serve as decoys.
Now a museum, guests and employees have claimed witnessing multiple supernatural events. There's Clyde, the Wheelbarrow Ghost, who has been seen working on the fireplace in the Grand Ballroom or pushing a wheelbarrow around the grounds. The basement remains chilly no matter what time of year it is. And guests claim feeling tugs on their clothing, hearing footsteps, or seeing figures appear in windows and hallways. Not just one of the most haunted houses in the world, it's one of the more well-known.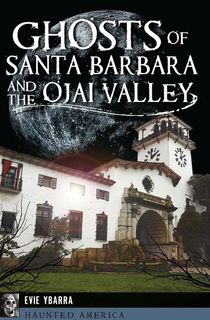 Ghosts of Santa Barbara and the Ojai Valley
If you want to read more about eerie real-life hauntings in California, this book is just the ticket. Filled with mysterious apparitions, haunted highways, and specters in cemeteries and gardens, Ghosts of Santa Barbara and the Ojai Valley is sure to send chills down your spine.
Dragsholm Slot, Denmark
Built in the 13th century, Dragsholm Slot has served many functions over the years. What began as a fort turned into a prison—only to be blown up and rebuilt into a more modern castle. Today it's been updated and opened as a hotel with a Michelin Star restaurant, even though it's known as one of the most haunted houses in Europe.
There are reportedly hundreds of ghosts and poltergeists roaming the halls and grounds of Dragsholm, giving it the name, 'The House of 100 Ghosts'. Some of the more famous ghosts are Ejler Brockenhuus, 'The Mad Squire', a former royal confident often heard rambling incoherently; the Earl of Bothwell, the 3rd husband to Mary Queen of Scots, who rides in a horse-drawn carriage through the courtyard; the White Lady who still cries after her father entombed her in a prison cell and left to die; and The Lingering Bishop, one of the many ecclesiastical prisoners who was tortured and died in his cell.
Poenari Castle, Romania
While Bran Castle is marketed as home of the infamous Vlad the Impaler––the historical figure connected with Dracula––the ruler actually had several residences. Poenari Castle is by far the most imposing. It sits at the top of 1,400 steps, giving it an eagle's nest view over the River Arges and the valley beyond. It is said Vlad's first wife threw herself off of the battlements rather than be captured by the invading Ottoman army.
Over the years, people have claimed to witness floating lights drifting through the ruins, inexplicably low temperatures in certain areas of the castle, and the smell of rotting flowers in rooms with nothing but stone. Others say they've been assaulted, even bitten, while staying the night on the grounds.
The Ancient Ram Inn, England
The Ancient Ram Inn was originally built as housing for masons, workers, and enslaved people as they constructed a nearby church. It later became the home of the first recorded vicar in 1154—before turning into an inn and pub. Built on a Pagan burial ground with intersecting ley lines that trace directly to Stonehenge, old superstitions believe the land to be infused with dark energy.
Visitors claim they've heard a baby crying in the "Men's Kitchen", which is where the burial ground allegedly exists. Others report being pushed up a steep staircase by invisible hands. People have reported seeing multiple apparitions, including a cavalier striding across a room, two monks standing in a corner, and a phantom shepherd and his dog guarding a door. Other encounters are far more violent, including one man being flung across a hall and multiple claims of succubus (a demon who has sexual intercourse with sleeping victims) visitations in the middle of the night.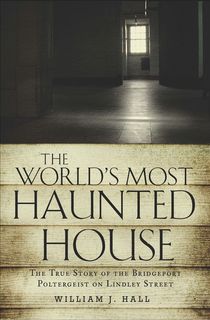 The World's Most Haunted House
Can't get enough of haunted houses? Neither can we. That's why we inhaled The World's Most Haunted House: The True Story of the Bridgeport Poltergeist on Lindley Street. It's hard to argue with over 40 hours of previously unreleased recordings of interviews with first-hand witnesses of this unsettling case—which included flying furniture, floating appliances, and malevolent entities. For the first time, the full story is told—and William J. Hall doesn't hold back anything.
Mont Cristo Homestead, Australia
Known as the most haunted house in Australia, Mont Cristo Homestead has a long history of tragic events tied to the ghosts that continue to inhabit the property. Christopher Crawley built the farm on an isolated hill in 1884. During their time on the farm, the Crawleys witnessed one maid commit suicide. Additionally, another maid chained their illegitimate son to a bed, a young stable boy was lit on fire to be taught a lesson, and their grandchild was dropped on the steps and killed.
People have reported seeing lights shining throughout the house when there was no electricity, observing a figure standing on the balcony, and hearing chains rattling and screams. Others claim they can feel hands resting on their shoulders or an ice-cold hand in their own when no one else was around. People say they've become intensely nauseated, overwhelmingly sad, and have witnessed mist rolling through the house.
Leap Castle, Ireland
Leap Castle dates back to around 1250 and boasts being Ireland's most continued inhabited castle. It also has a bloody history. The name originally translates as 'Leap of the O'Bannon's', named so because of two feuding brothers jumped off a rocky outcrop to determine who would rule the clan. A priest was murdered in the chapel and hundreds of skeletons were found in an oubliette hidden behind a wall.
Over the years, several ghosts have been seen. 'The Red Lady' walks around carrying the dagger used to kill her baby and then herself. Two little girls, Charlotte and Emily, run through the halls, with Charlotte calling Emily's name. The murdered priest lurks in the stairway near the chapel, and there have been multiple reports of a creature the size of a sheep that smells like a rotting corpse and has a human face, with black holes for eyes.
Qiu Mansion, China
The Qiu brothers started as migrant workers in the early 1900's, but they made their fortunes after World War I. They decided to build identical mansions side by side in in the middle of Shanghai. Their homes were elaborate, and their surrounding gardens housed many exotic creatures. But then they both mysteriously disappeared. Without an heir, their homes fell into disarray and the gardens became overgrown.
One of the mansions was razed, but in 2009 plans to dig up the foundation and move the other were complicated by strange events. Workers showed up at a local hospital with unidentified bite wounds, even though no animals could be found. One worker reportedly became possessed and tried to kill his foreman with a hammer, claiming lizards made him do it. And a neighbor claims a dragon climbed outside the building. Though the mansion was successfully relocated, apparitions have been reported moving around the second floor late at night.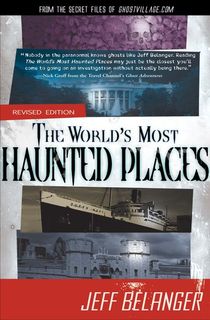 The World's Most Haunted Places
Want even more haunted places across the world? We've got you. Check out The World's Most Haunted Places, which explores battlefields, asylums, national monuments, catacombs, ships, towers, museums, restaurants, and more. If you're like us and you want to believe, this is the book that just might get you there.
Banff Springs Hotel, Alberta, Canada
The hotel opened in the late 1800's and was one of Canada's first railway hotels. The original building was destroyed in 1926 and replaced in 1928. The hotel is operational to this day, though it supposedly hosts some permanent guests like the Ghost Bride, who can be seen drifting through the ballroom with flames rising from her dress, and Sam the Bellman, who still accompanies guests to their rooms––as long as they don't talk to him or try to give him a tip.
Many rooms are reportedly haunted, with guests claiming pillows being ripped from beneath their heads and hands shoving them out of bed. One room in particular holds a gruesome history where an entire family was murdered. Guests who stay in that room have been woken by screaming, with bloody handprints on the mirror that can't be cleaned—but then disappear. Now boarded over and inaccessible, the family is still seen lurking outside the hallway.
Château de Fougeret, France
The Château de Fougeret is one of the most documented haunted houses in France. Built sometime between the 15th and 16th centuries, the Château was purchased in 2009 in need of major repairs. While renovating, the owners discovered multiple anomalies, leading them to invite paranormal investigators to the property.
As of today, dozens of ghosts, poltergeists, and other reportedly supernatural phenomena have been documented in various forms. The scrape of iron across the floor of the old weapon's room, ghosts tied to portraits found in the archives, books thrown across rooms, handles turning on their own, and more have been videoed, photographed, and witnessed over the years. The unexplained noises of children playing, voices whispering, and women crying are frequently experienced by visitors. A child was even reportedly slapped by a ghost nanny after misbehaving.