Many of my thrillers are set where I grew up: the world-famous Catskill resort area in upstate New York. For 10 weeks in the summer, business people, store keepers, salesmen, and the like worked grueling hours to make a living. But before and after the "season," the villages and hamlets resembled more of what they really were: a slow, quiet, and seemingly uneventful world that reveled in its rural temperament far, far away from the urban hustle and bustle.
But buried in this seemingly idyllic setting were some very horrendous events.
One of the most famous murders was committed by a young married woman, Kate Boyd Taylor, in 1906. This was still a time when marriages were frequently arranged. Women had few prospects to pursue and were expected to marry and raise a family. Often, they were married off in their teens.
Such was the case for this diminutive young woman, who was practically delivered to Orson Taylor, a man 15 years her senior, who had been married and lost his first wife to typhoid fever. Everyone said he was too mean to catch it himself. "Even germs were afraid of him."
Related: A Man in the Attic: The Deadly Affairs of Walburga Oesterreich
On paper, Taylor was a prime catch. He had a small dairy farm and sold milk and eggs to local merchants. Outside of the small hamlet of Hurleyville, New York, he had inherited the property from an uncle who was killed in a hunting accident when Orson was a 19. His uncle's wife had died the previous year—the Taylor men were infamous for losing their wives—and the couple had no children.
Kate Boyd was a comely, quiet, and bright young girl, who really hoped to become a teacher. She assisted at the grade school, but was unable to further her education. Her family was quite poor and there were two other daughters. Her father's concern was to set them up in some sort of a life, and the rumor was that he promised Orson Taylor a dowry on a payment basis to get Orson to marry Kate.
Reluctant, but obedient, Kate Boyd married Orson Taylor in June of 1906, and very quickly found herself to be more of a slave than a wife. Besides caring for the home, she had to take on the hard labor of the dairy farm. Those who talked about her after her arrest described her as "a woman who aged years in months."
Related: Amelia Dyer: Victorian England's Cruelest Baby Farmer
Orson was not a social man. He participated in few, if any, community functions. He had no real friends, just some dairy farmers with whom he held any sort of relationship, so it was not hard to understand why he wasn't missed for some time. Ironically, it was Kate's father who went to the police chief to report not that Orson was missing and the farm was failing, but that his daughter had some suspicious bruising on her face and neck.
It took a while, but Chief Elmore finally visited the Taylor farm and saw how rundown the property had become. He grew suspicious when Kate told him that Orson had gone to visit a cousin in New York City.
He also recorded that she was not "seeming of sound mind," and returned with a county detective. What they discovered shocked them. Only part of Orson's body remained in a crate in the backyard. Kate had been cutting up his corpse slowly and baking it in the wood stove. She confessed to stabbing him in his sleep.
Further investigation revealed that she had been abused, but the jury found her guilty of first-degree murder anyway. Most were shocked that someone so slight in figure could carry out the murder of her husband and then, instead of burying him, cook him up in a woodstove. She wrote to one of her sisters from prison and told her that she wanted "Orson to go up in smoke and not pollute the earth."
Related: The Erdington Murders: Two Eerily Similar Slayings—157 Years Apart
The murder and the aftermath shocked this semi-rural community, which would later become a vacation wonderland. Once developers started flocking to the area, enchanted with its purity and innocence, stories like Kate Boyd Taylor's were buried in the minds of old-timers and forgotten.
But in time, as is often the case, something gruesome became funny: People still claim to this day they can smell Orson Taylor's corpse when the breeze picks it up.
Andrew Neiderman is the author of 46 thrillers, the most famous being , and the exciting thriller, . He is well-known as the ghostwriter of the V.C. Andrews franchise, which he has carried from under 30 million books worldwide to over 106 million.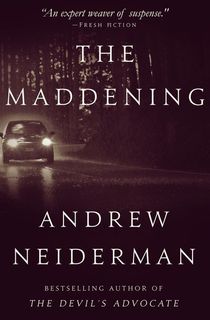 The Maddening
Stacey Oberman made the worst mistake of her life when she followed the garage mechanic's advice and turned off the main highway. When her car breaks down in a rainstorm, she and her five-year-old daughter seek refuge in a nearby farmhouse—only to become "playmates" in a violent whirlpool of unrelenting terror.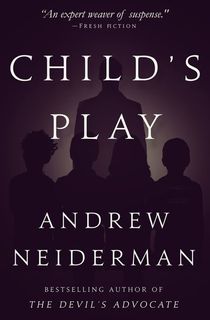 Child's Play
They were four perfect little children. Alex had taught them well. They helped with the house, set the table for meals, and went straight upstairs after dinner to do their homework. They did as they were told.

Sharon didn't miss the glances that passed between her husband and the foster children. From the day they arrived, they had looked up to Alex, worshiped him. Why, it even seemed they were beginning to act like Alex—right down to the icy sarcasm, the terrifying smile, and the evil gleam in their eyes when they looked at her.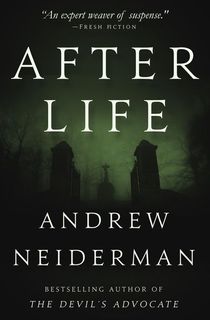 After Life
A car accident claims Jessie's vision, leaving the young woman in the dark, struggling to piece her life back together. One year later, she has made progress, moves with her husband, Lee, to the peaceful village of Gardner Town. Once there, though, Jessie's blindness heightens her awareness of the strange and terrible things going on in the community. Only Jessie can hear the beckoning voices from the cemetery. Only Jessie thinks there's something terribly wrong with her husband's new boss.
And then a local woman makes a chilling, desperate request: When your husband dies, don't let them bring him back.