When it comes to haunted books, houses are by far the most popular medium. We get it. A house is supposed to be a sanctuary, so the idea that it would turn against you is menacing on multiple levels. Plus, they're big and creepy. A haunted house is the ideal setting for horror at its finest.
The thing about good horror though, is it can take the mundane and make it heart-stopping, spine-tingling, and chill-inducing. In a word: terrifying. And there's a special kind of scary when it comes to these everyday objects. Things like picture frames, cars, and jewelry, are suddenly ominous. Anyone can stumble across them and be terrorized by them. Anyone like you.
We dug through attics and basements, perused countless garage sales, and browsed way too many online auctions to find twelve horror books with haunted objects so frightening you'll rethink your stance on minimalism.
Related: A Thrift Store in Texas Has Had a Haunted Couch in Its Stock for Ten Years
Heart-Shaped Box
Judas Coyne likes collecting things. He has sketches from serial killers, a trepanned skull, and a used noose, among his more famous items. So obviously he has to bid on a ghost at an online auction. When the item arrives in a black, heart-shaped box, it's not only the spirit of a dead man, but his suit. Except it belonged to the stepfather of one of Coyne's groupies. One who committed suicide after Coyne callously used her and forgot she existed. But her stepfather never forgot. And he's hell-bent on revenge.
Related: From 20th Century Ghosts to NOS4A2: Where to Start with Award-Winning Horror Author Joe Hill
Christine
When Arnie Cunningham sees a broken-down 1958 Plymouth Fury for sale, he has to have it. He's always been the shy, invisible kid at school. But "Christine" changes everything. Suddenly, Arnie has enough self-assured confidence to go after and win the prettiest girl in Libertyville High. But as the car mysteriously restores itself, his best friend Dennis notices that confidence isn't the only part of Arnie that's different. Trying to save Arnie, he discovers the car has a murderous history. And she will run down anyone that gets in her way.
Related: Master of Horror: 10 Best Stephen King Books
We all know how deep the love for your first car can be. But there's a fine line between owning the car and the car owning you. King tears that line down and takes you full throttle into a spectacular nightmare of love, possession, and revenge.
The Amulet
After a terrible rifle range accident, Dean Howell is left in a vegetative state. His wife, Sarah, works long hours at an assembly line only to come home to Dean's angry mother. Jo blames everyone for Dean's accident, but she holds one man in particular responsible. But when Jo gives him a strange piece of jewelry, people start dying in shocking and horrific ways. Sarah knows the necklace is behind the violence, but no one will listen. As the bodies stack up, Sarah has to find the amulet—or die trying.
Filled with a ton of imaginative deaths, The Amulet is a gore-filled good time.
The Blackstone Chronicles
A doll. A locket. A handkerchief. These are some of the objects that begin appearing on the doorsteps in Blackstone after the town decides to destroy the vacant asylum. Each has a story, a power, and the ability to harm. Told in a series of six parts, The Blackstone Chronicles weaves a terrifying story about the history of the asylum and the evil the town wants to bury beneath it.
Ring
Remember the days of VHS tapes? The horror of discovering your favorite movie was recorded over by a football game or after-school special. Ring leans into this very real but mundane terror in all the best ways.
When four teenagers mysteriously die of heart failure, journalist Asakawa discovers an old videotape in the cabin they stayed at seven days prior. The tape has a chilling message recorded on it: anyone who watches it has exactly one week to complete a task—or die. But the part with the task is recorded over. With less than seven days, Asakawa embarks on a desperate journey to figure out what was on the tape. Before time runs out.
The Fervor
In the middle of World War II, Meiko and her daughter Aiko are torn from their Seattle home and forced to live in an internment camp in the middle of Idaho, far away from the public eye. It doesn't matter that Aiko is American-born. Or that Meiko is married to a pilot fighting overseas. They're Japanese. And that was enough. But to make matters worse, a terrifying illness is spreading through the camp. One that causes violence, paranoia, and even death. Across the country, strange objects are falling from the night sky. And death follows.
Related: Where to Start with the Award-Winning Author Alma Katsu
By blending actual history with the supernatural, Katsu weaves a powerful story that illuminates how easily hate can spread and the terrible ramifications of demonization.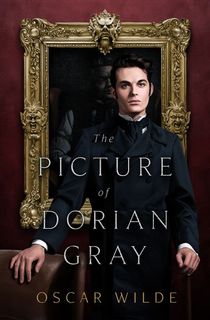 The Picture of Dorian Gray
What would you do for eternal youth and everlasting beauty? Dorian Gray knows. He'd do anything—including selling his soul. In exchange, he gets a full-length painting of himself. No matter what misdeeds he commits, or how atrociously he behaves, he retains his exterior beauty. But the portrait contains every sin, every blemish, every atrocity. Dorian keeps it hidden from the world until the day comes when he can't hide the monster he's become anymore.
A classic, gothic tale that delves into the darker side of morality, The Picture of Dorian Gray is an intense story about how far someone will go to hide the darkest parts of themselves.
Annabelle
All little girl's like to play make-believe. And Jessica isn't any different. When she finds a dollhouse in an old, abandoned mansion, it's the perfect sanctuary for her imagination. Sometimes the dolls moved. Other times they whisper to her. But they never use her real name. They only ever call her Annabelle. And they won't let anything to her—again.
There is nothing more terrifying than haunted dolls. Nothing. And if you don't believe us, read this book. Annabelle is a slow-build horror story with an ending that is guaranteed to make sure you never look at dolls and dollhouses the same.
This Thing Between Us
Remember the viral videos of Alexa recording your conversations? And the warning that your toaster could spy on you? Gus Moreno definitely does, and he's decided to make our technological nightmares come to life in his disturbing debut.
The "Itza" was advertised as the world's most advanced smart speaker. Thiago didn't think it was that interesting, but Vera thought it would be fun. Until strange things begin happening around the condo. Music at weird hours, lights turning on in empty rooms, and packages with odd items arriving without explanation. But then Vera is killed and Thiago keeps waking to Itza talking to someone in the living room. He flees to remote Colorado but quickly discovers he can't run from grief. Or guilt. Or the evil spirit determined to be set free.
The Heirloom
It was called the Devil's Chair. An old, mahogany chair with intertwined and cascading human bodies carved into the wood, antique specialist Rick Dellatolla knows it's something special the second he sees it. But after he takes it home, strange things start happening. Their garden shrivels, the family starts losing track of time, and the dog dies. Tracing everything back to the chair, Rick tries to destroy it before it's too late. But the chair has other plans.
If you've ever been the type to go antiquing on the weekend, just remember: some things just don't make great hand-me-downs.
Secret Santa
Lussi Meyer wants to work in publishing. So, it doesn't matter that Blackwood-Patterson isn't the perfect fit. Or that she has to find the next horror superstar—or else. She takes the job. But the office comradery isn't exactly friendly. When she gets a bizarre object in her Secret Santa gift exchange, she thinks things might change. Until people start dying. Lussi has to try and figure out who her secret Santa was, and what her gift actually means. Or it might not just destroy the company. It might just take her soul.
Secret Santa is a delightfully gory and sharply funny story for anyone who thought "The Office" just didn't highlight the horror of corporate life enough.
The Picture Frame
Blake Price is an incredibly successful mystery writer, often being lauded as the next Agatha Christie. But personal tragedy pushes him and his family into seclusion. Trying to combat grief is difficult, so Blake tries to distract his son with a treasure hunt on their property—only they found something. At first, Blake thinks the antique picture frame is a sign that their luck has changed. But it's soon obvious that the frame is evil. And it won't stop until it fulfills its terrible mission.
There's just something so sinister, so personal, about a haunted picture frame, and after you read this book, we promise you'll second-guess ever using one again.