I love secrets. That's why there's nothing more alluring to me than a fictional secret society. And in my opinion, the creepier, the better. It doesn't matter if the society is hiding magic, or simply operating covertly in the real world, keeping to the shadows as they plot for power and control.
There's no better way to spend my time than with a tenacious protagonist willing to untangle a dark mystery some mysterious organization is hiding. If there's a secret society involved, I am hooked. Throw in a solid mystery, and I'm out of the office until the book ends.
Whether you're looking for a horror or a thriller, a fantasy or dark academia, I've got you covered. Here are ten books with creepy secret societies at the heart of the plot.
A Sleight of Shadows
Among the skyscrapers of New York City, the Unseen World exists. And within it, a secret society of power-hungry magicians. But all that power led to corruption. A decrepit void that almost destroyed the Unseen World, and to save it, Sydney sacrificed herself. Or, the parts that mattered to her. Now, as Sydney struggles with her loss, magic itself becomes unstable. And the price for magicians to wield it, unbearable. To save magic, Sydney once again has to do the impossible. If she chooses to.
Ninth House
Galaxy "Alex" Stern never expected to be part of the incoming freshman class at Yale. The only survivor of a gruesome, unsolved multiple homicide, drug-dealing boyfriends, and dead-end jobs, she's more likely to be described as criminal—not academic. Desperate to leave her old life behind, Alex finds herself tasked with monitoring Yale's secret societies as part of her admission. Home to many powerful and famous people, these "tombs" have a long history at the University. But their affiliation with the occult are more than mere rumors. And their goals are far more nefarious than Alex ever dreamed.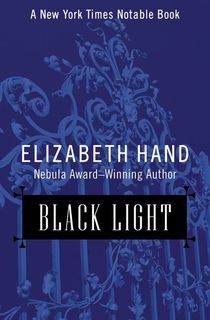 Black Light
Charlotte "Lit" Moylan is no stranger to fame. The daughter of famous television actors and granddaughter to the legendary director, Alex Kern. He's coming home for her graduation party, so it promises to be an event the whole town will remember. But Kern's guests are more than mere Hollywood elites. Some are disturbing, wrapped in an ancient darkness. A confrontation is building. And the group sworn to stop this ancient power will do anything—including sacrificing an innocent girl—to stop them.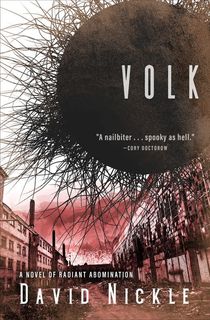 Volk
At the turn of the nineteenth century, two men face monsters in their Idaho hometown. Years later, they both face the same horrors they barely survived. Jason Thorn is a veteran pilot, now flying passengers in North Africa. When a flight is diverted to Bavaria, where Dr. Andrew Waggoner has been trying to unravel the secrets of the monstrous parasite Juke. But German eugenicists are also experimenting with the organism. And both men will once again have to face their nightmares to stop a group from reshaping humanity to their twisted ends.
Babel
When cholera orphans Robin Swift, the mysterious Professor Lovell brings him to London. He trains in multiple languages, preparing for when he enters Oxford and their Royal Institute of Translation—or Babel. But the tower does more than translate, it also studies the magic of silver-working. And that's made the British Empire powerful.
Soon, Robin finds himself struggling between two opposing factions: Babel and the mysterious Hermes Society. They want to stop the relentless expansion of British imperialism. But when Britain declares war on China, Robin has to make a choice. Can he make meaningful change inside the Empire? Or is violence always necessary?
The Da Vinci Code
Harvard symbologist Robert Langdon is woken in the middle of the night while visiting Paris. The curator of the Louvre was murdered inside the museum. His body and the surrounding area covered in mysterious symbols. Working with French cryptologist Sophie Neveu, they discover a set of clues hidden in the work of Leonardo DaVinci. But the curator was part of a secret society charged with protecting one of history's most guarded secrets. And while they race to discover the ancient truth, a faceless adversary threatens to bury it forever.
Hide
Mack is an expert at survival. It's why she's alive and her family isn't. And when she sees a flyer advertising a contest that could change her life forever, she knows she can't turn it down. Besides, how hard can it be? All she has to do is hide in an abandoned amusement park for a week without getting caught. But when the other contestants start disappearing one by one, she starts to think the only way they'll survive is by sticking together. The only thing she can't account for is the secret organization behind the game. And they are going to make sure the contest proceeds according to plan.
The Honeys
Marshall "Mars" Mattias was always the second twin, outshined by Caroline. Until she died in a horrific accident. Trying to understand not just when they grew apart, but what led up to her death, Mars goes back to the one place he swore he'd never return: the prestigious Aspen Conservancy Summer Academy. His sister's friends, a group named The Honey's for the beehives they maintain, are beautiful and terrifying. But Mars is sure they know why Caroline died. The closer he gets, the more he's convinced there's something wrong with the entire camp. And the Honey's are at the heart of it all.
Her Majesty's Royal Coven
Her Majesty's Royal Coven was established by Queen Elizabeth as a covert government agency. At the beginning of their adolescence, four girls take the oath. But decades later, only Helena is still there and is the reigning High Priestess. But when a young warlock is captured, he threatens to destroy the HMRC entirely. The four women have to put their own opinions and beliefs aside as they struggle over whether it's more important to uphold tradition or do what is right.
The Cartographers
All Nell Young ever wanted to be was a cartographer. But at the start of her career, her father, Dr. Daniel Young, cruelly and publicly fired her, destroying her reputation. All over a map. When he dies, she finds the same map hidden in his desk. And she has to know why.
Soon, she discovers the map is extremely valuable and exceedingly rare thanks to a mysterious collector hunting down and destroying every copy in existence. Now he wants hers. Nell won't give it up without a fight, especially when she learns it holds a dark family secret. If there's one thing Nell knows, it's that there's power in a map.