Readers open the pages of a horror book for myriad reasons. Some want to be terrified. Others want to fight the monster. And some want to face the darkness so they can find the light. There are plenty of stories brimming with hope despite the grim horrors that unfold within their stories. Here are eleven horror books that shine for the hope running through them.
We Sold Our Souls
On the cusp of success, heavy metal band Dürt Würk dissolves as lead singer Terry Hunt decides to go solo and becomes a megastar. The rest of his bandmates are left to obscurity in rural Pennsylvania. Twenty years later, former guitarist Kris Pulaski is tired, broke, and miserable. Until she finds out that Terry's success was because he sold his soul—and hers. She grabs her former bandmates and heads across the country to confront Terry. The world may have lost its soul, but she's going to get hers back.
My Heart is a Chainsaw
Teenage Jade Daniels loves slashers. She's particularly fond of the movies where the killer moves with purpose: revenge. She lives in these blood-drenched worlds so much, that she can't help but see the history of small-town Proofrock through that splattered lens. But when bodies actually start piling up, Jade knows exactly how the story is going to unfold. As she fights to bring the final girl, Letha Mondragon, up to speed, pieces of Jade's past come to light. She needs the killer to bring revenge to her town. Because beneath her horror-loving veneer is a traumatized girl who only wants someone to see how she was hurt.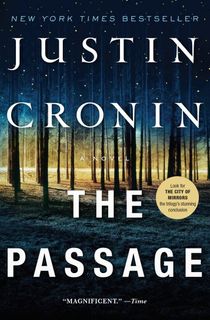 The Passage
The end of the world took barely thirty minutes. One horrific military experiment gone awry, and a new world was born. One ruled by darkness and driven by fear. FBI Agent Brad Wolgast made a mistake. In the wrong place at the right time, his sole focus is keeping six-year-old Amy Harper Bellafonte from the monsters hunting her. She was part of the failed experiment. And she might be mankind's only hope. Across the span of decades, traversing miles of terrain, and encountering survivors with a fierce drive to survive, Amy eventually has to make her way back to end what should have never started in the first place.
The Book of Accidents
When Nathan Graves was a boy, he kept the secrets of his abusive father and never told anyone what happened in his house. In the same town, Maddie saw something she shouldn't have through the dolls she made in her bedroom. Now, Nate and Maddie are married and have come back to the town they moved away from, that they tried to forget. And strange things are happening again. This time to their son, Oliver. The family soon finds themselves at the heart of a battle between good and evil. But this time the family has a secret weapon: love.
Hidden Pictures
Mallory Quinn is just out of rehab when she finds a job looking after five-year-old Teddy for Ted and Caroline Maxwell. Living in the cottage behind their affluent home in Spring Brook, New Jersey, it's like she has a second chance. And everything is perfect. Until Teddy draws a man dragging a woman through a forest. His parents insist it's nothing but a vivid imagination, but as the drawings become more and more detailed, Mallory is convinced they're the work of a ghost. As she tries to decipher their meaning, she's forced to confront the trauma of her past and save Teddy—before it's too late.
Bird Box
Out of nowhere, something arrives. It's terrifying and if you look, you'll be driven to deadly violence. No one knows what it is. Where it came from. Or when it will leave. Five years later, Malorie lives by the river with her two young children. She teaches them everything they need to know to survive. But the journey won't be easy. It's twenty miles down the river in a rowboat. And they have to stay blindfolded the entire time. One wrong move and they all die. And something is following them.
A House With Good Bones
Sam Montgomery can't shake her brother's warning that something isn't right with their mom. She tries to brush her worries away as she embarks on an extended visit, one she's excited about. But the second she steps inside the house, Sam realizes things aren't what they used to be. The walls are white. Her mom jumps at every noise. There's a jar of teeth in the garden and vultures circle overhead. To figure out what her mom is so afraid of, Sam has to dig for the truth. But some things should stay buried.
Kindred
Dana, an African-American woman, just celebrated her 26th birthday when she is ripped out of the present and thrown into antebellum Maryland. Immediately she stumbles on a drowning white boy and saves his life. Only to be thanked by looking down the barrel of a shotgun. She's thrust back to the present in time to save her life, but her time travel experiences aren't at an end. Each time she's sent back, she encounters the same young man. And soon realizes that to save her future self, she has to change events of the past.
Stargazers (My Dark Library #1)
It started with a forum post that was too bizarre to be real. "My neighbor has been staring at the moon for hours." But by the morning, more accounts joined, describing friends, family, strangers looking at the stars wide-mouthed and vacant. And when the sun rises, they're changed. War veteran Henry Sylva only cares about one thing: his family. Surrounded by enemies—both stargazers and human monsters alike—Henry relies on military instinct to save his family. Because whether it's the end of civilization or a new beginning, they're all that matter.