If you're here, it's because you saw and loved Mark Mylod's new film The Menu. That twisted dining experience and dichotomy reversal (or explosion?) was just an amuse-bouche, and now you're ready for the next course.
I'm right there with you: after their first dish was brought to the table and it was weird and wild and maybe just a chunk of sea floor on a plate, I was fascinated. I love a culinary adventure, and this list includes a sampling of horror cookbooks, horror novels about food, histories about starvation, and all kinds of delicacies in between. Here are ten books to read if you loved The Menu.
My solemn vow to you as you read this article is that I will never, ever use the word "mouthfeel."
Horror Caviar: A Cookbook Photography
Your fascination with The Menu tells me that you love cinema, horror, and food, and there's no better way to explore that connection than with A24's gorgeous "cookbook photography." The book features dishes inspired by 29 different horror movies, culinary contributions from 25 culinary experts, and prose from Carmen Maria Machado and Ti West. Go ahead and add this one to your holiday wishlist.
Deceptive Desserts: A Lady's Guide to Baking Bad!
I've loved Christine McConnell since I saw her Bridezilla wedding cake, and this book provides not only the recipes she uses for concoctions like Facehugger pastries and literal ladyfingers, but also step-by-step crafting instructions on how to imitate these masterful artworks that she's created. (Christine also has a Patreon site where she releases new creations.) Her designs might not have quite the same gravity as some of Chef Julian Slowik (Ralph Fiennes)'s—like The Mess, for example—but they'll certainly leave you transfixed.
Death for Dinner Cookbook: 60 Gorey-Good, Plant-Based Drinks, Meals, and Munchies Inspired by Your Favorite Horror Films
For plant-based recipes based on your favorite horror films, this cookbook is for you. Zach Neil started the Beetle House restaurants (based on Tim Burton's films) and released The Nightmare Before Dinner as their accompaniment. These recipes focus on being delicious and plant-based, but their plating is really where the horror comes in—unlike Chef Slowik, Neil won't have you serve a painter's palette of bread sauces with no bread.
Horror Movie Night Cookbook: Volume 1
This book's recipes focus on pairings of food with your favorite classic horror films. What should the viewer eat while watching Jaws? Scream? Psycho? Richard Sargent will teach you. But never forget: if an adult offers you a glass of milk with dinner like it's a normal thing… girl, you in danger.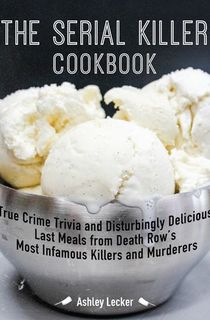 The Serial Killer Cookbook
When someone tells you "You're going to die tonight" by their own hand, and then offers you a meal, that meal better be the meal of a lifetime. In The Serial Killer Cookbook, Ashley Lecker provides the insight and the recipes of death row's Last Meals, from Kentucky Fried Chicken to cheeseburgers.
Eat the Rich
If you were kind of into the concept of sticking it to the one-percenters in The Menu, if you were kind of like, "Oh you like this dish? Choke on it," then Eat the Rich is sure to be a taste you acquire. In this graphic novel (yes! Graphic!), Joey goes to spend the summer with her boyfriend in Crestfall Bluffs, an idyllic wealthy town with a ruthless past… and present. She learns their secret, and she has an impossible decision to make with that information.
The Silence of the Lambs
If you haven't read the novel on which the film adaptation is based, now's the time. The ever-courteous cannibal, Dr. Hannibal Lecter, helps the FBI-agent-in-training Clarice Starline solve a series of grisly murders. Like Margot Mills (Anya Taylor Joy) knows in The Menu, to understand a crime, one has to first understand the criminal.
Gingerbread
Usually, when people say that a dish is transportative, they don't mean it literally. This novel, though, expands the stronghold that gingerbread has in fairytales into its own fable. Perdita's family grew up in Druhastrana, a country that Wikipedia says does not exist. The key to finding it (and her mother's maybe-imaginary friend Gretel) could be in her family's secret gingerbread recipe.
The Invention of Sound
When the first horrific thing happens in The Menu, the professional critics admire the performance. They're sure that's what it is: it's so real that it must be a successful portrayal of desperation, not an actual body horror on display as art. Only the artists know about the horror that goes into that type of perfect presentation. Mitzi's work as a Foley artist leads her to something adjacent. She's in search of the perfect scream. What lengths will she travel to find it (and record it) for the sake of her art?
The Wonder
When the English Nurse Elizabeth Wright gets called to the home of a little girl in the rural Irish midlands just after the Great Famine, she expects to administer healthcare. Instead, a self-appointed committee of officials has hired her to observe a little girl whose family says she has not eaten since her eleventh birthday. Her survival, they say, is a miracle in line with those who are canonized as saints. The Nurse has to determine whether the apparently healthy child is actually starving or if it is a hoax. You can now feast your eyes on this narrative as well, since the novel has recently been adapted to screen starring my second favorite scream queen (after Anya Taylor Joy), Florence Pugh.
I hope you've enjoyed these courses. *CLAP* It's time to make your final selections—or as I like to call purchasing my new books: dessert.