Evil incarnate in the form of a clown, creepy sewer chases, the intrepid Losers' Club—from its unforgettable premise to its beloved characters and unshakable visions of terror, Stephen King's It has it all. Expertly tapping into our undying fear of clowns (anyone remember 2016's inexplicable clown sightings?), the 1986 horror novel is one of the best books in the history of the horror genre, a standout in King's stellar literary career, and a must-read for any true horror fan.
But you can only read all 1,138 pages of It so many times before you're in need of new nightmares. That's why we're here with a list of scary-good books that will scratch that itch. From unnerving tales of carnival creeps and terror-eating demons to a true crime account of America's real-life killer clown, you'll float too after reading one of these books for fans of It.
Carrie
The most obvious place to turn to for more fiction like It is the same master of horror who wrote It in the first place. Stephen King has written dozens of classic horror novels (like The Shining and Pet Sematary) and more than a few wonderful coming-of-age stories (like The Body). But the best combination of the two—besides It, anyway—may be King's disturbing debut novel, Carrie.
Let the Right One In
Let the Right One In is a superb Scandinavian horror novel by Swedish author John Ajvide Lindqvist. Like It, Let the Right One In is about children in a quiet town (in this case, a seemingly normal suburb in Sweden), and doesn't hesitate to subject young protagonists to some serious scares. This book is gruesome, eerie, and just the fix for horror fans who love It. And just like It, Let the Right One In has found new life on the silver screen. Two adaptations of Lindqvist's book exist—the must-watch Swedish adaption Let the Right One In and the still-quite-good-for-an-American-remake adaptation Let Me In.
Geek Love
Dunn's National Book Award-winning novel is often lumped in with other spooky carnival-related books, but Geek Love isn't really about evil clowns, haunted carnivals, or other paranormal entities. Here, the horror comes from the mistreatment Dunn's child protagonists receive at the hands of their parents, who intentionally disfigure and deform their own children to build a traveling "freak show." Like It, Geek Love is deeply interested in childhood trauma and traverses two different time periods in order to create a complete portrait of the lasting effects of abuse.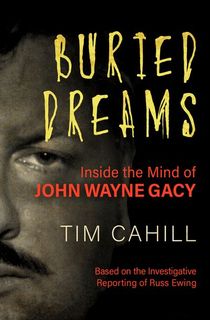 Buried Dreams
The titular monster of It can take the form of anything that scares its victims, but it's best known for materializing as Pennywise the Dancing Clown. It's a great choice, because everyone knows that clowns are scary as hell. The red-nosed jesters have been traumatizing impressionable children for decades, if not centuries, but real-life clowns are mostly harmless—mostly. The infamous exception is John Wayne Gacy, a real-life serial killer dubbed the "Killer Clown." Gacy murdered at least 33 boys and young men while living a double life that included performing as a clown at charity events. This excellent book from Tim Cahill covers the true story with all the tension and terror of a horror novel.
Related: Inside John Wayne Gacy Jr.'s Real Life Murder House
The Lost Girls of Camp Forevermore
Although not a horror novel, The Lost Girls of Camp Forevermore shares a focus on coming-of-age fiction and childhood trauma with Stephen King's It, examining the nightmarish hold that some memories have on one's psyche well into adulthood. The traumatic experience that the titular Lost Girls have when they find themselves stranded overnight in the wilds of the Northwest is frightening and disturbing in a way that only realist fiction can be. Though it won't quite terrify you like the other books on this list, you'll find the events of The Lost Girls of Camp Forevermore are unsettling and stay with you long after you turn the last page.
The Pilo Family Circus
You want creepy clowns? You've got it. Like Stephen King, Will Elliott clearly has an understanding of the long-term distress that these funnymen can inflict upon innocent children. The Pilo Family Circus makes extensive use of the creepy-clown motif when its protagonist, Jamie, almost runs one over—and then finds himself pursued by no fewer than three sinister clowns who seem intent on recruiting him to "join the circus" by passing "an audition." Sound ominous? Jamie is about to find out that this threatening trio is the least of his worries...
Sawkill Girls
In It, readers cheer for a group of childhood friends as they team up to take on an unimaginably scary entity. Sawkill Girls has a similar vibe. Marion, Zoey, and Val are three girls living on the tiny island of Sawkill Rock. There aren't many places to hide in their small community, but someone—or something—is operating in secret. Girls are disappearing from the town, and the police seem helpless to stop the horror. Brought together by their connections to the disappearances, the three protagonists join forces to take matters into their own hands.
Something Wicked This Way Comes
Ray Bradbury's talents transcended genre limitations; the highly influential author penned tales of sci-fi, fantasy, mystery, and a horror. Something Wicked This Way Comes follows the story of two young boys who discover the dark secrets of a traveling carnival that has stopped in their town. Like Stephen King's It, Bradbury's Something Wicked This Way Comes is just as concerned with childhood friendship as it is with the horrors lurking in small-town America.
Related: The Fascinating True Stories Behind 10 Famous 'Freak Show' Performers
Summer of Night
It's imaginative monster isn't the only noteworthy aspect of the novel—a huge part of It's appeal comes from the ways in which the young characters interact. All of us remember running around with a gang of friends, and It recreates those moments while livening up the action with spooky and supernatural elements. Simmons's Summer of Night works in much the same way. It follows a group of five preteen boys in a town under threat from an ancient evil. The heroes team up to take on the menace, just like the gang in It.
The Boys of Summer
Despite sharing the same title, this isn't the history baseball book that catches up with the old Brooklyn Dodgers players late in their lives (though I've recommended that book, too). This is a horror novel set in Texas, and it has a lot in common with Stephen King's It. Like King's novel, Cox's book follows a group of friends first as children, and then—after a time jump—as adults. In Cox's novel, the drama hinges on the unsettling changes one character sees in the world after awakening from a coma, and the disturbing ways in which his childhood memories fail to line up with those of his close friends.
Related: 20 People Share the Creepiest Things That Happened to Them as Kids
Twilight Eyes
Many of Dean Koontz's novels are described as suspense and thriller books, but these labels fail to capture the eerie complexity of the author's best work. Other genres often creep into Koontz's fiction, and that's certainly the case with the horror-inspired Twilight Eyes. Like It, Twilight Eyes makes fear the point as well as the purpose: here, demons feed on and are fueled by human terror. The demons of Koontz's Twilight Eyes are invisible—except to the strange and powerful eyes of the main character.
We Have Always Lived in the Castle
There's no way that we were getting through a list of horror reading recommendations without mentioning Shirley Jackson. Jackson's incredible horror novels and short stories are among the best of genre, and We Have Always Lived in the Castle is no exception. The family ties and younger characters make this particular Jackson novel arguably the best fit for big fans of Stephen King's It—though you could hardly go wrong with The Haunting of Hill House, The Lottery, or any of Jackson's other horror novels and short story collections.
White is for Witching
Like Stephen King, Helen Oyeyemi has no qualms about putting young children at the heart of a dark and terrifying story. Oyeyemi's White Is for Witching is set in an English bed and breakfast, where Miranda Silver lives with her fraternal twin, Eliot, and her father. Women in Miranda's family have always been haunted by something supernatural in the house, and each passing day brings Miranda closer to the dark forces that are after her.