There is something so satisfying about a themed anthology: a vertical slice of a singular subject, a book that fully encapsulates the examination of a specific topic filtered through dozens of unique voices and perspectives. It's like diving into a shattered mirror, each fractured shared reflecting a fresh angle of terror.
Anthologies are also treasure troves for discovering authors you might not cross paths with otherwise—and perhaps you'll find an addictive new favorite.
When you pick up a great horror anthology, the table of contents (also known as the TOC) is like stepping into a long hallway—untold darkness masking every door and turn.
We gathered up some of the best themed horror anthologies in recent years.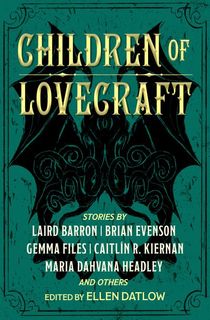 Children of Lovecraft
H.P. Lovecraft is one of those foundational authors of cosmic horror, helping form the essence of what the genre might offer, and helping set the tone from which countless authors would do such dark themes. A master of horror herself, Ellen Datlow edited Children of Lovecraft, a book that offers a wide range of stories inspired by Lovecraft. From a story by Gemma Files about an exterminator to a story by Richard Kadrey about detectives and a serial killer, this anthology dazzles because, among other things, it manages to be an homage to Lovecraftian horror as much as it is a display of how much cosmic horror has evolved and become entirely its own new breed.
Dark Matter Presents Human Monsters: A Horror Anthology
As someone that writes and tends to flock to anything psychological horror, especially when the source of the horror is human, rather than supernatural, Human Monsters was a day-one, must-read for me. Featuring 35 new stories from writers like Nat Cassidy, Stephen Graham Jones, Emma Alice Johnson, and more, the anthology is a dazzling display of just how much can be found around the corner, in our friends and family, among our usual haunts, the communities and cabals that we routinely call "home." In Human Monsters, Hartmann and Saywers have curated and edited a pitch-perfect examination of how scary we, as human beings, are, both to ourselves and to others.
Found: An Anthology of Found Footage Horror
Love it or hate it, found footage horror often is some of the most effective stories when it comes to breaking the fourth wall and/or suspending disbelief. It's because the wall may already be broken down and dismantled that found footage causes such a vivid and vicious response from readers. In Found, editors Cull and Iglesias gathered 18 stories of found footage horror that act as a perfect example of just how dynamic the subgenre can be. From a story about TV turning viewers into zombies by Clay McLeod Chapman to a clever rendition by Bev Vincent that demonstrates how found footage extends seamlessly into social media and online broadcast channels (like Twitch), this anthology gets the mind racing and might just sway those that are on the fence about found footage horror.
Black Cranes: Tales of Unquiet Women
An anthology designed to be a deep and resonant look at the outsider and experiences of "otherness," editors Lee Murray and Geneve Flynn have assembled 14 different stories from 14 Southeast Asian authors, all seeking to explore societal roles and standards in the face of individuality and self-representation. From a story tapping into Filipino folklore by Rin Chupeco to a story by Angela Yuriko Smith that explores the constant battle between self-identity and technology, Black Cranes is a masterful depiction of an anthology tackling difficult themes and allowing the cast of stories and their authors a chance to breathe and offer a unique experience.
Children of the New Flesh
David Cronenberg goes down in history as one of the pioneers of what we now call body horror. That undeniable gross-out and squeamish subgenre where our own vessels become our enemies, a source of trepidation, Children of the New Flesh is an anthology of nonfiction essays acting as a detailed inspection and also a sendoff to the early works of the pioneer. Editors Chris Kelso and David Leo Rice gather authors such as Brian Evenson and Tobias Carroll, Joe Koch and Kathe Koja, to lend their research and expertise with all-things Cronenbergian. The end result is a tome that achieves someone impressive: It will make fans out of those readers that may not have been as familiar with Cronenberg (outside of the venerable name-brand films like Videodrome and The Fly).
Screams from the Dark: 29 Tales of Monsters and the Monstrous
In this anthology edited by Ellen Datlow, the thematic resonance here are in the monsters that go bump in the night. From demons to vampires and everything in between, the main course here is in the monster that becomes the centerpiece of so many tales of horror. In Screams from the Dark, dozens of authors—including Brian Evenson, Cassandra Khaw, Priya Sharma, and more—all tackle an overarching question: What makes a monster a monster? The end result is a great mix of stories, about the familiar monsters and the ones that have grown in proverbial size as our world continues to surprise us with the horrors of ecological disaster, the Covid-19 pandemic, and more.
Featured photo: Vladimir Agafonkin / Unsplash