Found footage as a film genre exploded into popular consciousness with 1999's The Blair Witch Project and continued to score at the box office throughout the '00s and '10s with films like Paranormal Activity and VHS. Studios loved the fact these flicks could be made on the cheap, while audiences connected with their gritty, visceral nature. But the idea behind found footage is in no way new. The film genre owes much to the epistolary novel—a form of fiction composed of letters, which lends a certain vérité to the tale. Frankenstein and Dracula are not necessarily meant to be read as "novels" by Shelley and Stoker, per se, but as discovered caches of documents describing improbable, but very real, events.
So, found footage.
With the success of the aforementioned Blair Witch and Paranormal Activity (along with a host of imitators), a new literary micro-genre has formed—found footage horror, books informed by the film genre which was in turn informed by epistolary novels. Kind of a homecoming, if you will. True Detective's Rust Cohle famously said, "Time is a flat circle," but genre is too.
How exactly does one pull off found footage in a book—when there's no actual footage to speak of? Read on and find out!
Anybody Home?
While not "found footage" in the traditional sense, this fast-paced and compulsively readable home invasion novel still reads like it, partly via the use of video footage (characters watch themselves and others on CCTV). But Seidlinger's real innovation here is the concept of "the camera." Without giving too much away, this particular camera is not a literal one but a metaphor for the things our collective consciousness remembers about horrific events. Anybody Home? reads less like a novel and more like a discovered document of something very real and terrible, just like found footage films.
Night Film
In Night Film, a disgraced journalist probes the suicide of daughter of a reclusive and infamous film director. Scott McGrath's deep dive into the world of the enigmatic auteur Cordova is told in part through newspaper clippings, screenshots of websites, and transcripts, conveying the same sense of discovery employed in the best found footage films.
Lost Films
Full disclosure, this anthology contains one of my own stories ("A Festival of Fiends"). While not all the stories are strictly found footage, each deals with film in surprising ways. "In-A-Gadda-Da-Vida on 8-Track" by Bob Pastorella revisits one of the most disturbing scenes ever caught on broadcast TV, while Andrew Novak's "This Cosmic Atrocity" takes us to some bizarre places when a lost Simpsons episode surfaces. Other memorable stories include "Stag" by Kristi DeMeester, "Elephants That Aren't" by Betty Rocksteady, and "A Lather of Flies" by Brian Evenson. With each story having a different angle, there's something for everyone here.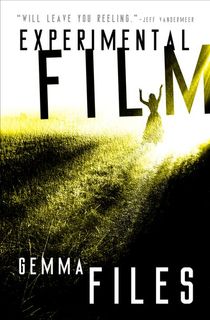 Experimental Film
Gemma Files' Experimental Film concerns a historian searching for traces of Canada's first female director and the short films she made, all depicting the Slavic myth of Lady Midday—a demon that appears at noontime to tempt fieldworkers with water and rest, but delivers something far worse to those foolish enough to accept. Filled with fascinating anecdotes about Canadian film and early movie technology, EF is a unique experience and one of the best horror novels of the past decade.
Bonus: for another found footage Files story, told through emails and transcripts and concerning a bizarre video clip, check out "Each Thing I Show You Is a Piece of My Death."
Security
Not so much found footage as "finding footage," Wohlsdorf's voyeuristic novel bears witness to a demented slasher rampaging through a chic Santa Barbara hotel, told from the perspective of the omnipresent security cameras. Setting the events at a slight remove, where we observe but are powerless to stop the violence, is an arresting technique, and Wohlsdorf ups the ante with very unique—and effective—formatting that demands to be experienced first-hand.
House of Leaves
In the twenty years since its release, House of Leaves has attained a sort of legendary status within the horror community, and for good reason. Its 700 pages are stuffed with multiple narratives, books-within-books, and sometimes necessitate turning the book sideways—or even upsidedown—to read. A completely singular experience that still pushes the envelope when it comes to what the novel form can do and be.
Found: An Anthology of Found Footage Horror
"Between April and August 2021 eighteen horror writers disappeared. Gathered together for the first time, these are the stories they were writing at the time of their disappearances."
Finally, as one can tell from the above riff on the opening of Blair Witch, we have the most literal example of a found footage horror book--an anthology that's utterly jam-packed with them! Featuring many of contemporary horror's best, including Bev Vincent, Clay McLeod Chapman, and Ali Seay, Found stretches the genre in different directions while still remaining true to the core concept. Standouts include "Spew of News" by Clay McLeod Chapman, "The Novak Roadhouse Massacre" by Alan Baxter and "Disappearances at Coal Hill" by Nick Kolakowski.
And seriously, can you imagine a better cover?