True crime fans have something new to be excited about. The highly anticipated adaptation of Joe Sharkey's book Above Suspicion is finally coming out on VOD May 14, 2021, then making its way to Blu-ray and DVD on May 18.
The story tracks the real-life downfall of FBI agent Mark Putnam, whose tumultuous, two-year affair with his female informant ends in murder. Actor Jack Huston stars as Mark, while Emilia Clarke—known for her role in Game of Thrones—is his impoverished lover, Susan Smith. Rounding out the cast are Johnny Knoxville (Jackass), and Thora Birch (American Beauty.) The official trailer for the film can be seen below.
Newly assigned to the bureau in Pikeville, Kentucky, Putnam is tasked with bringing down a serial bank robber. He recruits Susan, as her involvement in the local drug scene could be a valuable asset. But while her connections to the criminal underworld are useful to the investigation, Mark and Susan's attraction to one another threatens to derail their hard work. When their professional partnership turns into a full-blown affair, Susan starts infiltrating Mark's personal life. But despite his attempts to get Susan to leave him alone by paying her off, it seems she won't go down without a fight...
Related: Excerpt: The Disturbing Story of the FBI Agent Who Strangled His Informant
As writer Joe Sharkey describes in his book, they did fight—disastrously. On a night in 1989, an explosive argument about Susan's accidental pregnancy culminated in her murder. Knowing that a child would destroy his marriage and his career with the FBI, an enraged Mark strangled Susan and dumped her naked corpse into a ravine. He confessed to the crime one year later, whereupon he received a 16-year sentence for first-degree manslaughter (although thanks to "good behavior," he only served ten).
The famous case has plenty of elements for true crime aficionados to sink their teeth into—from Sharkey's detailed account of Mark and Susan's fraught relationship to his condemnation of the FBI's use of informants. To get the full Above Suspicion story, download a copy of the book below before watching the film.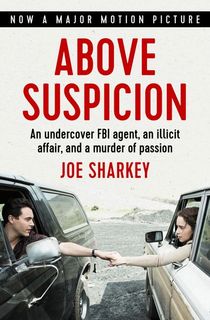 Above Suspicion
The "uncommonly trenchant account of the only known FBI agent to confess to murder" (Kirkus Reviews).
When rookie FBI agent Mark Putnam received his first assignment in 1987, it was the culmination of a lifelong dream, if not the most desirable location. Pikeville, Kentucky, is high in Appalachian coal country, an outpost rife with lawlessness dating back to the Hatfields and McCoys. As a rising star in the bureau, however, Putnam soon was cultivating paid informants and busting drug rings and bank robbers. But when one informant fell in love with him, passion and duty would collide with tragic results.
A coal miner's daughter, Susan Smith was a young, attractive, struggling single mother. She was also a drug user sometimes described as a con artist, thief, and professional liar. Ultimately, Putnam gave in to Smith's relentless pursuit. But when he ended the affair, she waged a campaign of vengeance that threatened to destroy him. When at last she confronted him with a shocking announcement, a violent scuffle ensued, and Putnam, in a burst of uncontrolled rage, fatally strangled her.
Though he had everything necessary to get away with murder—a spotless reputation, a victim with multiple enemies, and the protection of the bureau's impenetrable shield—his conscience wouldn't allow it. Tormented by a year of guilt and deception, Putnam finally led authorities to Smith's remains. This is the story of what happened before, during, and after his startling confession—an account that "should take its place on the dark shelf of the best American true crime" (Newsday).
Revised and updated, this ebook also includes photos and a new epilogue by the author.
Featured still from "Above Suspicion" via White Knight