For decades upon decades, zombies have lurched their way through horror, shedding light on what it means to be alive—and what it means to be undead.
Indeed, the zombie genre is now a worldwide phenomenon, infecting everything from television and movies to literature. From Night of the Living Dead to Train to Busan, The Walking Dead to World War Z, which was itself based on Max Brooks's bestselling horror novel of the same name, it's clear that zombie stories will never die. And while you may be familiar with the blockbusters and bestsellers, the list below has plenty of lesser-known gems waiting to terrify you. Herewith, a horde of monstrously good zombie books to satisfy your hunger for horror.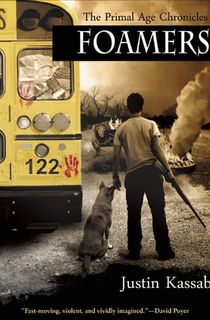 Foamers
Set in the middle of an unprecedented pandemic, Foamers—like the zombies in it—has taken on a new life in today's world.
When a Feline Flu hits pandemic levels and tears its way through the United States, a vaccine is hurried out to the public. However, the vaccine has troubling side effects that leave those who take it without their cognitive functions. Referred to as "foamers," the infected are driven solely by primal urges and a thirst for blood. As the foamers spread, the country descends into chaos.
Amidst it all, stands Kade. Diagnosed with Huntington's disease as a boy, Kade taught himself survival skills to pass the time. Now, those survival skills just may be the key to making it through the madness. With his unique abilities, Kade must lead his fellow survivors out of the darkness and towards safety.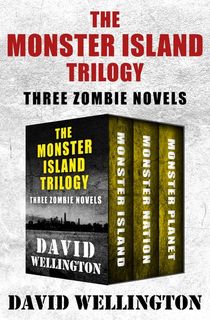 The Monster Island Trilogy
David Wellington, author of vampire novels like 99 Coffins and 23 Hours, stands out with this zombie trilogy. Akin to World War Z in scope and I Am Legend in its dramatic arc, The Monster Island Trilogy tells of humanity's struggle against an ever-growing horde of flesh-eating zombies.
Related: 11 Chilling Horror Movies Like Train to Busan
In Monster Island, a former UN weapons inspector searches zombie-infested New York City for the one thing that might save his family. In its prequel, Monster Nation, Wellington revisits the nightmare plague that gave rise to the zombie apocalypse in Monster Island. Nation follows a Colorado National Guardsman captivated by an exceptional zombie with the powers to reason, and possibly, the powers to save humanity. In the final book in the trilogy, Monster Planet, the world has reached its breaking point—an army of hungry zombies sweeps across the globe. A brave young woman, a wicked sorcerer, and a child commander of the zombies must all face off to determine whether humanity will persist or perish.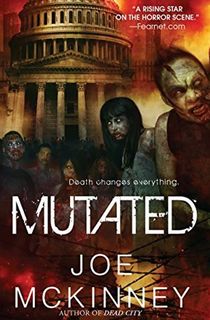 Mutated
A recipient of two Bram Stoker Awards, McKinney is an expert in horror. Dead City, the first of McKinney's Dead World zombie books, was described as "a merciless, fast-paced and genuinely scary read" by fellow Bram Stoker Award winner Brian Keene. McKinney builds on the excitement of his previous novels in his fourth Dead World book, Mutated. The action-packed novel follows Bob Richardson and his friends, who are facing down frightening odds. For starters, the living are splintering into factions. To make matters worse, it seems the zombies are adapting—and working together to rip humans apart.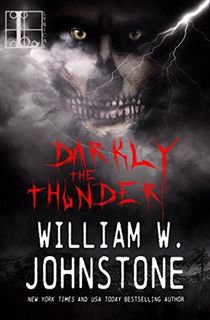 Darkly the Thunder
New York Times and USA Today bestselling author, William W. Johnstone has written hundreds of books, ranging from thrillers to folk horror narratives. Johnstone's Darkly the Thunder tells the story of dark trouble looming over a small town in the Rockies. Al Watts, the former head of police, knows that the town's impending disaster has been a long time in the making. Meanwhile, Howie Ingram, a young outcast, attempts to warn anyone who will listen about the sinister forces taking hold, about the townspeople transforming into zombies and the eerie sounds coming in over the airwaves.
Related: William W. Johnstone: Take a Twisted Ride Through the Mind of the Bestselling Old-School Horror Author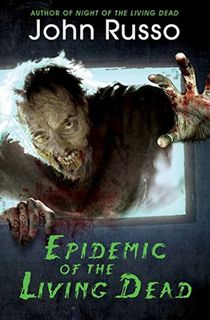 Epidemic of the Living Dead
John Russo, screenwriter for 1968 classic Night of the Living Dead, will have you terrified all over again in his Epidemic of the Living Dead. Described by Variety as "an unrelieved orgy of sadism," Epidemic of the Living Dead spares no twisted plot twist.
Related: 13 Haunting Books Like Bird Box
After a zombie infestation begins to spread, the townspeople try to kill the undead by any means necessary. Having rooted out the worst of it, they find that the few zombies left are sheltered in a local maternity ward, infecting the mothers-to-be. And while the newborn babies seem normal at first, the trouble they get into as adolescents causes nightmares, not headaches.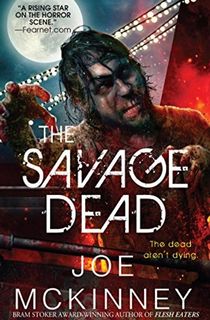 The Savage Dead
In The Savage Dead, McKinney's tactical training and riveting writing converge. Having worked as a patrol officer, a homicide detective, and a disaster mitigation specialist, Joe McKinney brings a unique background to this narrative set aboard a cruise ship. When a cartel-created, flesh-eating, and zombie-forming virus begins to spread throughout a cruise ship, Delta Force operative Juan Perez and his SEAL team must act quickly to contain the outbreak and save the people onboard—before they can no longer be considered people.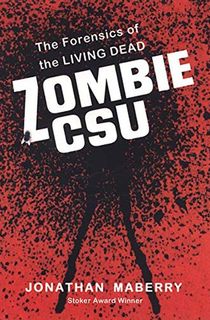 Zombie CSU
From the author of the highly influential Patient Zero and Rot & Ruin series, Jonathan Maberry's Zombie CSU offers a one-of-a-kind guide for zombie crime scene investigations. Nominated for a Bram Stoker Award, Zombie CSU gathers together all the evidence collecting, psychological profiling, and forensic analyzing tips necessary to survive a hypothetical—or a real—zombie takeover. With interviews from detectives, forensic scientists, authors, and filmmakers, Maberry's Zombie CSU includes many different perspectives in its intriguing and witty exploration of all things zombie.
Related: 13 Best Jonathan Maberry Horror and Paranormal Books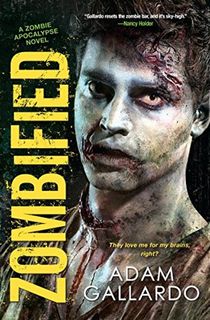 Zombified
Adam Gallardo's YA horror novel Zombified, which follows Zomburbia, describes a world in which zombies have become an accepted part of everyday life. Courtney lives what in many ways still resembles an average life for a suburban teenager. She navigates all the ups and downs of her relationships and future plans, while simultaneously navigating the blood, gore, and violence of her zombie-ridden world. In its review, Kirkus hailed Zombified has having "more brains than your average zombie novel... More entrails as well."
Handling the Undead
The internationally bestselling author of Let the Right One In, John Ajvide Lindqvist has been called "a master philosopher of the horror genre" (Washington Post Book World). Lindqvist is known for writing vampire horror that packs a bite. Here, he turns his attention to writing all-consuming zombie horror.
Related: 19 Vampire Movies that will Make Your Blood Run Cold
In Handling the Undead, a city morgue finds its bodies coming back to life during an unbearable summer heatwave. For the families of the deceased, the chance to see their loved ones again is surreal. But the opportunity is also unnerving, confusing, and potentially dangerous.
Kirkus called Lindqvist's moving novel "a unique and humanistic take on the undead that has a place alongside thoughtful horror novels like World War Z."
The Rising
Brian Keene is a major force in the horror genre. His writing has won a World Horror Grandmaster Award and multiple Bram Stoker Awards. He's also written for media properties like Alien and The X-Files. His novel The Rising is among the all-time best-selling zombie novels. In the gripping tale, Jim Thurmond travels across the country to find his young son, confronting along the way the evils of zombies and humans alike.
Related: 13 Scariest Episodes of The X-Files That Still Haunt Our Nightmares
Feed
Mira Grant is the pseudonym of Seanan McGuire, who has received many prestigious awards, including a John W. Campbell Award, Nebula Award, Hugo Award, and Locus Award. Grant's ability to craft original and enthralling stories shines in Feed, the first in her political thriller zombie series, Newsflesh.
Related: 13 Temporarily Dead People Open Up About What It Was Like to be Dead
In the process of curing cancer and the common cold, humanity created an infection that directs its host to feed—and only to feed. After 20 years and incalculable loss, Georgia and Shaun Mason are investigating the infection and the shady conspiracy behind it, both of which could kill them before they unearth the truth.
Zone One
"Whether charged with bleak sadness or bone-dry humor, sentences worth savoring pile up faster than the body count," The Los Angeles Times writes of Colson Whitehead's Zone One. Author of the National Book Award- and Pulitzer Prize-winning Underground Railroad and the Pulitzer Prize-winning Nickel Boys, Whitehead's Zone One tells of how the living have begun to rebuild after the worst of a zombie takeover has passed. Armed forces sweep through Manhattan, clearing out the borough of its living-dead. The armed guards then leave it up to civilian volunteers to clear out the last stragglers. Mark Spitz is among these civilians. As he goes about his work, grappling with the past and the world's new reality, things in Manhattan begin to go very wrong.
The Girl with All the Gifts
The Girl with All the Gifts is a riveting story, described by Joss Whedon as "so thoughtfully crafted, so heartfelt, remorseless and painfully human." Written by M.R. Carey, who has also written for DC and Marvel, the novel not only became a USA Today bestseller, but also served as the basis for a 2016 British film of the same name. Gifts tells the story of Melanie, a special girl who leaves her cell each day under the careful watch and trained gun of Sergeant. After being strapped into her wheelchair, she's pushed on to class, and though she jokes that she doesn't bite, Sergeant and his fellow guards hardly find it funny.
The Forest of Hands and Teeth
A New York Times bestseller and the first in her trilogy, The Forest of Hands and Teeth provides its readers with "a bleak but gripping story...Poignant and powerful" (Publishers Weekly). Carrie Ryan creates a memorable world, in which protagonist Mary lives by her faith in the Sisterhood and the Guardians and her fear of the Unconsecrated and the dangers of the Forest of Hands and Teeth. But when the Sisterhood and the Guardians fail to live up to the ideals they put forward and the fence holding back the dangers of the Forest of Hands and Teeth is breached, Mary's entire world begins to fall apart. She must confront questions—about her life, her future, and what exists beyond the death that surrounds her—all while struggling against the unrelenting waves of the Unconsecrated.
Related: What Waits Down Zombie Road?
Raising Stony Mayhall
Daryl Gregory, the award-winning author of Pandemonium and The Devil's Alphabet, delivers a zombie novel that is both sincere and frightening.
In 1968, in the wake of a zombie outbreak and in the midst of an Iowa snowstorm, Wanda Mayhall finds a baby bundled in a dead mother's arms. Though the baby doesn't breathe or have a pulse, he looks up toward Wanda. With the help of her three daughters, Wanda hides the little monster from the authorities. Named Stony, the creature lives a solitary, sheltered existence. Then one horrible night, he's forced into the outside world, and discovers that he's not alone.
This post is sponsored by Open Road Media. Thank you for supporting our partners, who make it possible for The Lineup to continue publishing the creepy stories you love.