When I was a kid, the library was my favorite place to be. I spent as much time there as possible—and each visit, I loaded up my card with the maximum number of books allowed.
But during summer, the library was extra special.
Most avid readers will remember the absolute thrill of Summer Reading Programs at the library.
As a kid in the early 90s, I'd head to the library each summer to collect whatever goodies our librarians had compiled for their summer patrons. Most importantly: the summer reading log and the stickers to note each book read. Sometimes the library would have a special theme—a treasure hunt, for example, and the reading log would look like a map.
Whatever the case, the Summer Reading Program was always an adventure. And it usually involved prizes fun prizes—like a coupon for a personal pan pizza at Pizza Hut!— at the end.
The Summer Scares initiative is a partnership between the Horror Writer's Association (HWA), United for Libraries, Book Riot, and Booklist. And it's a program that echoes all the fun of summer reading in years past!
The initiative was created back in 2019 to promote summer horror reading. With three book selections in Adult, Young Adult, and Middle Grade categories, this is a particularly fun way for families to get in on reading together.
Each year, the Summer Scares titles are carefully curated, and handpicked by a committee of writers and librarians. The primary goal is to showcase the range of the genre and introduce readers to horror as an excellent choice for reading. And with selections across multiple reading levels, the list appeals to readers of all ages. And while these titles are promoted as a summer reading initiation, they're also suitable for any season.
Each year, a spokesperson is selected in collaboration with the program. In past years, several incredible writers like Stephen Graham Jones, Grady Hendrix, Silvia Moreno-Garcia, and Alma Katsu have held the crucial role of Summer Scares Spokesperson. Daniel Kraus is the spokesperson for 2023.
For anyone looking for a taste of all that the horror genre has to offer, the Summer Scares reading lists (for the current years as well as years past!) are treasure troves.
So to get you started, you can read all about the 2023 Summer Scares selections in each category below!
2023 Adult Selections
Ring Shout
In this supernatural retelling of the Klu Klux Klan's all-too-real reign of terror, Maryse Boudreaux and her fellow freedom fighters work together to banish the Klan's demons to the hellfire they deserve. Follow P. Djèlí Clark as he recreates the demons of America's past as exactly that—living, breathing monsters cloaked in white and summoned straight from hell.
With The Birth of a Nation, the film that inflamed the KKK in 1915, reimagined as a terrible spell drawing its power from the darkest fears and prejudices of American hearts, and the fate of the world at risk, the issues at the heart of Ring Shout form the fabric of America's current reality.
Catherine House
Heard of the Ivy Leagues? In this quirky, creepy, atmospheric gothic novel by Yale graduate Elisabeth Thomas, Catherine House is in another league entirely. An extremely selective liberal arts school located in rural Pennsylvania, its students enjoy an all-expenses-paid three years on its hidden campus, and trade their freedom to leave or contact the outside world for the assured promise of mind-blowing success after graduation.
For Ines, an introverted runaway thrilled to gain admittance, Catherine House is both the home she never had and her ticket to success. But she will soon discover that the elusive boarding school is also home to something much more sinister than empty promises.
The Merry Spinster
Nominated for the Best Horror award in 2018, Daniel Mallory Ortberg's (now Daniel M. Lavery) The Merry Spinster spins classic fairy tales into stories brimming with mischief, psychological horror, and feminist twists. If you've read original fairy tales, you might be familiar with their darker elements, but Ortberg offers retellings that fascinate and frighten like never before. From a genderfluid Cinderella to a murder-hungry velveteen rabbit, these shocking, intelligent tales, both familiar and utterly strange, are sure to make you question everything.
2023 Young Adult Selections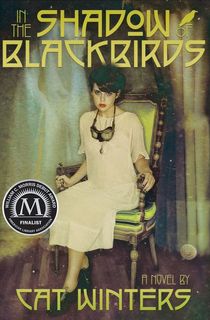 In the Shadow of Blackbirds
According to Booklist, this novel is an "unconventional and unflinching look at one of the darkest patches of American history." I would have to agree, as this finalist for the William C. Morris YA Debut Award is a skillful mix of historical fiction, romance, and ghost story that is set in 1918 during the Spanish Influenza outbreak.
Sixteen-year-old Mary Shelley Black must reevaluate her skepticism toward the paranormal after her first love visits her as a spirit. Assisting in making the story feel even more hauntingly real are the archival early-twentieth-century photographs included throughout the novel. Will Mary be able to help put her love's soul to rest?
Mooncakes
This spell-binding graphic novel is a coming-of-age story filled with witchcraft, werewolves and magic, with a lovely blossoming romance. Nova Huang—a skilled young witch—must help her childhood crush, Tam Lang (who also happens to be a werewolf), defeat the dark forces attempting to steal the magic of the wolves. This story not only contains wonderful representation of the LGBTQ+ community and the disabled community but also weaves a mystical tale with super-endearing witchy vibes.
Squad
How far would you be willing to go to gain acceptance? In Becca's case…pretty far! She has just moved to a high school in an elite San Francisco suburb and is prepared to let her new popular clique turn her into a werewolf.
But it should be fine. She'll be doing the world a favor by taking down predatory boys all too eager to take advantage of unsuspicious victims. This should work as long as their prey remains the worst of the worst, right? Delve into this thrilling graphic novel that "chomps down on the patriarchy" and explores friendship, peer pressure, and power relations (Chloe Gong, author of New York Times–bestselling These Violent Delights).
2023 Middle Grade Selections
A Small Zombie Problem
Gorgeously illustrated and skillfully written, A Small Zombie Problem introduces readers to sweet August DuPont, a protagonist you can't help but root for, who has felt like an outsider his whole life while living with his Aunt Hydrangea in a lonely run-down house. When his Aunt Orchid beckons him to attend school with his cousins, he is eager to begin this new exciting adventure. But he couldn't have anticipated that his journey would include a zombie girl, a fabled white alligator, or a shocking family secret.
Living Ghosts and Mischievous Monsters: Chilling American Indian Stories
With this collection of 32 short stories—both old and new—readers will have an abundance of material to fuel their nightmares. These stories from American Indian cultures throughout North America include tales of witches, sentient dolls, and other supernatural figures like La Llorona, or The Weeping Woman (who definitely found her way into my nightmares growing up!). I would advise you not to read these before bed, especially when Dan SaSuWeh Jones recounts his own personal encounters…
Small Spaces
Who said that chilling tales are solely designated for adults? Katherine Arden's middle-grade debut allows young readers to delve into a creepy ghost story centering around eleven-year-old Ollie, who takes comfort in the scary ghost tale she's been enjoying. "The Smiling Man," who grants individuals their most desired wish but only at a great cost, intrigues Ollie.
But when her school bus breaks down during a school trip and her bus driver suddenly begins giving cryptic warnings to her and her peers, she begins doubting that the tale she had been captivated by is purely fiction.