Nellie Bly was born Elizabeth Jane Cochran, in Cochran's Mills near present-day Pittsburgh. She was a writer, journalist, inventor, industrialist, and charity worker. One of her more famous undertakings was a record-setting 72-day trip around the world, based on the Jules Verne character Phileas Fogg from .
What she is perhaps best known for, however, is pioneering an intensely committed form of investigative journalism—by feigning insanity to get an inside look at a New York asylum.
In 1887, after practicing "deranged expressions" in front of a mirror for a night, Bly checked herself into a boarding house under the name "Nellie Moreno." That night, she purposely caused a scene. Bly refused to go to bed, exclaiming that she was afraid of the other boarders and thought they were "crazy." She would later write that it was, "the greatest night of my life."
Eventually, the police were called. When she was taken to court, Bly claimed she couldn't remember the night's events. She was then examined by several doctors, all of whom pronounced her insane. "I consider it a hopeless case," one of them was quoted as saying, while the head of the insane pavilion at Bellevue Hospital said that she was "undoubtedly insane."
Bly was committed to Blackwell's Island, where she stayed for 10 days as a patient. She was eventually released, thanks to an attorney from the New York World, the paper that had sent her there in the first place. Ten days, as it turned out, was plenty for Bly to write a scathing expose about conditions in the asylum and the treatment of its inmates.
The first installment of what would become ran two days after Bly's release, under the title "Behind Asylum Bars." In it, Bly described "oblivious doctors" and orderlies who "choked, beat, and harassed patients." She wrote of ice-cold baths, forced meals of rancid butter, and cruel isolation. "What, excepting torture, would produce insanity quicker than this treatment?" Bly wrote of her experiences on Blackwell's Island.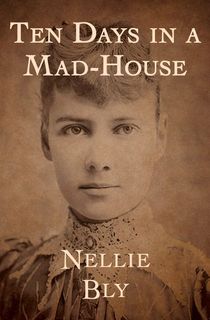 In fact, from the moment she arrived at Blackwell's Island, Bly dropped her insanity act. Yet, she found that this exacerbated, rather than helped, her position. "The more sanely I talked and acted," she wrote, "the crazier I was thought to be."
Nor was she alone. Bly observed that there were many women at Blackwell's Island who were perfectly sane, but had difficulty making themselves understood because they were foreigners.
"Take a perfectly sane and healthy woman," Bly wrote later, in her condemnation of Blackwell's Island, "shut her up and make her sit from 6:00 A.M. to 8:00 P.M. on straight-back benches, do not allow her to talk or move during these hours, give her no reading and let her know nothing of the world or its doings, give her bad food and harsh treatment, and see how long it will take to make her insane. Two months would make her a mental and physical wreck."
Bly's expose made an immediate impression, greatly embarrassing the doctors and administrators of the asylum. It led to increased funding and sweeping reforms at the facility. Within a month, Bly returned to Blackwell's Island, this time as part of a grand jury investigation. The investigation found that many of the conditions that Bly had reported had been improved or corrected. Bly's story also led to more stringent examinations of potential patients, to ensure that only those who were seriously ill were committed.
At the time, some journalists dismissed Bly's stint at the asylum "stunt reporting." However, her bravery and determination in exposing the truth forever changed the face of mental health practices, as well as investigative journalism.