Horror fiction is entertaining and engaging. Its frightening stories make us think about the darkness in the world. That's precisely why it's crucial to read horror fiction in translation. Besides introducing us to other cultures, horror fiction in translation illuminates the way some of horror's lingering tropes are reinterpreted elsewhere, shows us the role of language, geography, and culture in unsettling narratives, and exposes us to remarkable talents from across the world.
To read translated work is to enter a different perspective, and our lives are enriched whenever we do so. Also, it's great to see how place and local folklore shape fear and give birth to new horrific visions. If you don't know where to start with horror in translation, here are 11 top-notch recommendations.
The Twenty Days of Turin
This fantastic, spine-chilling novel about the end of the world is on the recommended list of two of the writing workshops I teach. It is one of the most atmospheric books I've ever read, and it gets under your skin even when you're not entirely sure of what's happening. Packed with religious undertones, this narrative, which became a cult classic in Italy, is one of those books every American fan of horror fiction should read.
Uzumaki
Japanese author Junji Ito is perhaps the greatest mangaka in the history of the genre, and Uzumaki has become a staple in horror fiction, even for those who don't regularly consume graphic novels. Stories of small towns descending into madness aren't new, but the way Ito weaves this narrative with a mysterious legend about spiral shapes has left an indelible mark on the face of horror. Games and film adaptations aside, the impact of Uzumaki on horror can be seen everywhere, and that's not going to change any time soon.
Related: 11 Horror Graphic Novels You Won't Be Able to Put Down
The Hole
This Korean novel is about a man who wakes up confined to a bed after a horrible accident has killed his wife and left him disfigured. The narrative delves into both supernatural and psychological elements. Sharp, elegant, and cerebral, the novel's prose and its unique plot show why Hye-young Pyun is one of Korea's literary stars. A must for fans of horror, The Hole gets personal in its exploration of the human psyche.
A Luminous Republic
An unsettling confrontation with creepy kids is a well-known horror trope, but Spanish author Andrés Barba makes it feel fresh and unique in this novel about mysterious children in a small town who speak their own language and eventually explode into violence. This novel feeds on the differences between children and adults and ensures you will never feel the same way again about kids and the supposedly innocent games they play.
Mouthful of Birds
This outstanding short story collection reminds me a bit of Brian Evenson's work, in that it runs the gamut from quiet and scary to unsettling and mysterious. I read this one while serving as a juror for the Shirley Jackson Awards. It stayed with me, and that's one of the best things a book can do. I also read somewhere that Argentine author Samanta Schweblin is a modern master that keeps reinventing herself while managing to consistently deliver superb narratives, and I couldn't agree more with that assessment.
Valley of Terror
Zhou Haohui is known as a master of suspense in China, but Valley of Terror is a rare and very welcome foray into horror. It's still a buzzy and talked-about book, despite having been published in 2017. The plot is at once simple and catchy: A mysterious "fear disease" is scaring the citizens of Longzhou, China to death—literally. American readers have seen an increase in Chinese literature in translation in the last decade, and this one is a superb introduction for those wanting to see the nation's take on horror.
Let the Right One In
I think the movie got more attention than the book, but more people should read this Swedish novel. John Ajvide Lindqvist always delivers weird, eerie prose, and this is probably his best book (I zipped through it with ease compared to I Am Behind You). Let the Right One In is an atmospheric vampire novel that will be enjoyed even by those who don't typically appreciate blood-sucking characters. It deals with universal themes like youth and loneliness, to name a few.
Related: 19 Vampire Movies that will Make Your Blood Run Cold
The Graveyard Apartment
A cult classic originally published in 1986, Mariko Koike's novel has been translated into several languages and was released in the U.S. in 2016. It follows a family of three who think they have found the perfect apartment, but soon learn that there is something evil about the land where it sits. The other residents flee, and the family eventually becomes the only people left in the building. This has been called Koike's greatest work, and it is now considered a classic of Japanese horror.
Hex
A novel that was not only translated from another language (Dutch), but also changed certain elements to have more of a connection with American readers, Hex is a story that brings together witches and technology into one tense, eerie read. This novel is worth reading not only because it's a great, spooky horror tale, but also because it shows how translation can sometimes be a lengthy process of adjusting a story to resonate with its new audience.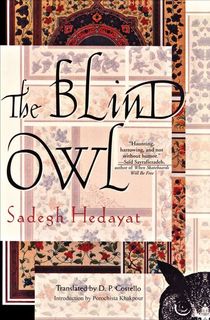 The Blind Owl
Long regarded as Sadegh Hedayat's masterpiece, this short novel has been called the most important work of literature to come out of Iran in the last century. A story about obsessions, the imagery it contains conveys pure horror and has drawn comparisons to the work of Edgar Allan Poe.
Things We Lost in the Fire: Stories
I have only heard good things about this short story collection by Argentine author Mariana Enríquez. In fact, I ordered it the second time it landed on my radar because Booklist boldly compared it to Shirley Jackon's work. There are plenty of other glowing reviews: The Boston Globe wrote, "Violent and cool, told in voices so lucid they feel spoken, these 12 tales present a gothic portrait of a country tilting uneasily away from the memory of horrific traumas, as new ones lurk around every corner."