When you think of the term "serial killer," what comes to mind? Maybe the smiling, clown makeup smeared face of John Wayne Gacy surfaces. Or perhaps the greasy, crooked spectacles of Jeffrey Dahmer haunt your imagination. There are a dozen or so names that have become so closely tied to any conversation on the topic of serial killers that it's easy to not even consider the fact that there could be more. And there are. So so many more.
In The Best New True Crime Stories: Serial Killers, edited by author and anthologist Mitzi Szereto, readers are presented with an extensive collection of true-crime stories involving some of the sickest minds throughout history. Many of whom you've probably never heard of.
Related: 33 True Crime Books About the World's Most Notorious Serial Killers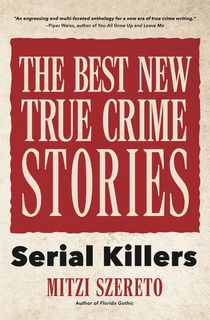 The Best New True Crime Stories
Travel around the world and inside the minds of monsters in this true crime anthology featuring sixteen astonishing serial killer exposés.
Serial killers: Ted Bundy, John Wayne Gacy, and Jeffrey Dahmer are often the first names that spring to mind. Many people assume serial killers are primarily an American phenomenon that came about in the latter part of the twentieth century—but such assumptions are far from the truth. Serial killers have been around for a long time and can be found in every corner of the globe―and they're not just limited to the male gender, either. Some of these predators have been caught and brought to justice whereas others have never been found, let alone identified. Serial killers can be anywhere. And scarier still, they can be anyone.
Edited by acclaimed author and anthologist Mitzi Szereto, The Best New True Crime Stories: Serial Killers reveals all-new accounts of true-crime serial killers from the contemporary to the historic. The international list of contributors includes award-winning crime writers, true-crime podcasters, journalists, and experts in the dark crimes field such as Martin Edwards, Lee Mellor, Danuta Kot, Craig Pittman, Richard O. Jones, Marcie Rendon, Mike Browne, and Vicki Hendricks.
This book will leave you wondering if it's ever really possible to know who's behind the mask you're allowed to see.
Perfect for readers of true crime books such as I'll Be Gone in the Dark, Mindhunter, The Devil in the White City, or Sons of Cain.
"An engrossing and multi-faceted anthology for a new era of true crime writing." ―Piper Weiss, author of You All Grow Up and Leave Me
A bestselling author and anthology editor of both non-fiction, and fiction, Mitzi Szereto is among the best when it comes to expertly presenting true-crime in a way that's both factual and entertaining. You'll not only be transported to the darkest corners of the most warped minds to ever live, but you'll come away with enough knowledge to, well, fill a book.
"Mitzi Szereto collects some of the day's very best true crime writing focused on one (troubling, fascinating, compelling) strand of the crime world: serial killers," says Crime Reads.
By compiling true-crime stories by some of the smartest and most thorough writers in the game, Szereto offers a one-stop-shop of serial killer intel with The Best New True Crime Stories: Serial Killers, and it's a genuine must have for any fan of true-crime books.