Horror in the desert has always felt like a natural fit. Maybe it's because I've lived in the Nevada desert my entire life. Driving through the desolate state in the extreme heat of summer or the bitter cold of winter is a constant reminder of how dangerous isolation can be, and there are plenty of deadly creatures skittering about. Coyotes, rattlesnakes, scorpions—and that's just to name a few.
There might be wide open skies and vistas where you can see for miles and miles, but if you're in the wrong place without the right supplies, the desert is unforgiving. Harsh. Deadly. That's why desert horror has always been one of my favorites. Here are a few of the best desert horror books you can start reading tonight!
Desperation
The long, lonely stretch of Highway 50 in the Nevada desert is no place you want to get stranded. Not even a town can guarantee you'll make it to your destination—especially one that greets you with a dead cat nailed to the sign: Welcome to Desperation. The tiny mining town is run by one man. Collie Entragian is the only lawman for miles, and he legislates justice any way he sees fit. But even worse is the evil that infects the town. It's an evil that young David Carver can sense, an evil that must be reckoned with. Desperation might be a terrible place to live, but it's a cruel place to die.
Sundial
Rob almost had the perfect life: two daughters, a husband, a beautiful house in the normal suburbs. It's a far cry from the desert commune of Sundial where she grew up. She never dreamed she'd return. But when her older daughter Callie begins behaving strangely, Rob knows Sundial is the only place she can go.
Sundial is deep in the Mojave Desert, far from prying eyes. It's the perfect place to bury your secrets. And Callie is terrified that though two of them arrived at Sundial, only one of them will leave that place alive.
Desert Creatures
When Magdala was nine years old, she and her father were forced from their home. The Sonoran Desert became their refuge as they joined other survivors heading for Las Vegas, the neon city that promised miracles and vigilante saints. But the desert is a strange place, filled with unnamed horrors.
As the pilgrims die from a mysterious illness, young Magdala is left all alone. Seven years later, she's tired of fending for herself. Her eyes set on glimmering neon, she forces an exiled Vegas priest to guide her. Her instincts kept her alive for nearly a decade, but are they leading her to redemption? Or towards her downfall?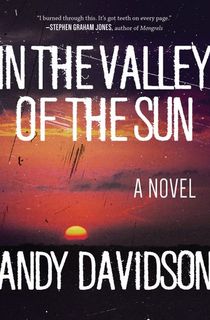 In the Valley of the Sun
Travis Stillwell has plenty of demons. He's not proud of them, but he has to satiate them. That's why he searches for women in the isolated towns of West Texas.
When he finds a pale girl in red boots, his life turns upside down. He wakes in his camper, bloody with no memory. Finding work doing odd jobs at a motel, he fights something worse than his demons ever caused: an insatiable hunger. But as the motel owner realizes Travis is more than he seems, someone else is hunting him down: a Texas ranger hell-bent on justice who has to decide how far into darkness will he go to get his man.
The Fast Red Road
After his father dies, Pidgin leaves the Utah porn factory to bury him. Pidgin couldn't bury him the first time he died, because his father donated his body to medical science. Now he can't bury him because someone steals the body at the funeral. Partnering with a car thief named Charlie, Pidgin crisscrosses through the barren New Mexico desert in a hallucinogenic fever-dream, where he faces the violent history of colonialism and confronts the complicated demons of his father's past.
Black Mad Wheel
The Danes were once the Darlings of Detroit. Now they're just a washed-up band, and they're desperate for a comeback. When the US Army asks them to go to an African desert to identify a strange sound, they agree. $100k for two weeks is exactly the boost their flailing career needs. But as they make their way through the endless sand and burning heat, they find themselves in the middle of a deadly conspiracy. One they may not get out of alive.
The Resort
The Reata is an exclusive spa in the remote reaches of the Arizona desert. Though the resort is luxurious, the lustful stares from the gardeners make Rachel Thurman uneasy. And her husband, Lowell, swears something tried to pull him under in the pool. Neither mentions their concerns to the other. Why ruin paradise? But when the guests start disappearing and everyone pretends it isn't happening, they know something else is going on. Something malevolent. Something evil. And if they can't stop it, they might be sacrificed next on the altar.
Kane
The tiny desert town of Tuskett, California only has 23 residents. Not much happens there, which makes the man with ice-blue eyes strolling from the desert a strange occurrence. Even stranger is the unnaturalness that clings to him. But when night falls, the man who calls himself Kane starts working. He's good at what he does, and though Tuskett is small, it's good for Kane's work. As death spreads all around him, the survivors take a stand. Tuskett may be dying, but the people aren't ready to die.
Ghosts of the Desert
The ghost towns and obsolete mines scattered across the Utah desert sound like paradise to Norman. He's desperate to escape his past and lose himself in work. Until he comes across an isolated community living in the unforgiving landscape. Their way of life is both intriguing and disturbing, but Norman can't help but get pulled in by the charismatic leader. Their practices are perverse and strange, and Norman can't find his place among their customs and rituals. But his only options are to run and take his chances in the desert, or succumb to the lure of their ways and become of one of them forever.
Little Heaven
When Ellen Bellhaven's nephew is taken to the backwoods New Mexico settlement of Little Heaven against his will, she'll do anything to get him back. Including hiring three mismatched mercenaries, Micah, Minerva, and Eb. From the moment they arrive, things are ominous. Their escape routes are cut off one-by-one as Hell slowly invades. But as Little Heaven marshals their forces to take one final stand against the evil entity invading their settlement, the enemy that targeted them in the first place does the same.
The Dead Run
There's an epidemic of missing girls on both sides of the Mexican-American border. Sherry Nichols is one of those girls. Somehow, she escaped. But that was the easy part. Now she has to survive the desert.
Jess Galvan is locked in a Mexican prison for a crime he didn't commit. Until the devil comes knocking. Galvan can gain his freedom if he manages to carry a package across the border in 24 hours.
Neither of them know that an ancient evil roams the desert. And if they want to live, they'll have to face their deepest fears.
Featured photo: Juli Kosolapova / Unsplash