The Serpent is an 8-part limited series now available for streaming on Netflix. The series is inspired by the disturbing and twisted true crime tale of Charles Sobhraj. Sobhraj was more than just a thief and a murderer, but a master of seduction and disguise. The Serpent follows the secret, dark deeds he carried out on Asia's hippie trail.
Related: Fall River True-Crime Story of "Satanic Panic" Coming to Epix
Nicknamed "The Bikini Killer," Charles Sobhraj almost got away with killing at least 12 unsuspecting tourists in Southeast Asia during the 1970s. Sobhraj befriended travelers before secretly poisoning them, and would then earn their trust by treating them for what he claimed was dysentery.
Two such victims were Dutch students Henricus "Henk" Bintanja and his fiancée Cornelia "Cocky" Hemker. As with his prior targets, Sobhraj poisoned the couple. The pair were in the process of "recovering" when Sobhraj, who often went by the name Alain Dupuis, decided to kill them both—fearing that the girlfriend of a previous victim, who had come looking for her significant other, would uncover his sinister ways.
Related: The Saitama Dog Lover Murders
Thomas Thompson's New York Times–bestselling true crime account, Serpentine, takes us deep into the lives of both Sobhraj and his victims—bringing to light how this con artist was able to charm so many, and may have lived out his life as a free man if he hadn't returned to Nepal.
Read on for an excerpt and then download the book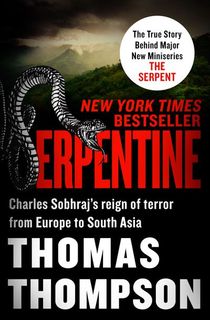 Serpentine
"Henricus "Henk" Bintanja was 29 years old and the proud possessor of a master's degree in chemistry, yet it had not opened the doors to a good job, nor to medical school. He suspected it was somehow due to the fact that he was of mixed parentage-Dutch and Indonesian, and though it was not his fault that the royal house of the Netherlands sent out pirate ships to plunder the long ago world of Bali and its environs, he, like others in his country, felt the sting of discrimination. His lover was Cornelia "Cocky" Hemker, 25, a nurse whose blond hair and blue eyes made her a poster for all things Dutch—silver skates, good health, cheese, and milk.
They lived happily together in a neat little house near an unfashionable canal, where their cat dozed beside a tiled fireplace, where a string quartet played softly on the stereo, where Henk read his chemistry books and smoked a pipe. They rode bicycles about the city, and Cocky was of little help to Henk's continuing war with his girth, for she made rich cheese pies and even a creditable rijsttafel, the unending feast of Indonesia. On rare occasions they went out dancing, or smoked marijuana at a friend's house, but all in all their lives were decorous, unfrilled, and—the only word is Dutch.
Related: The Twisted Case of the Hog Trail Murders
Frustrated by his inability to find work or further education commensurate with his intellect, Henk suggested to Cocky early in 1975 that they make an uncharacteristic splurge and "see the world." Cocky agreed at once and began working extra shifts to earn her travel money. Henk told his best friend, Benjamin, a lithographer, "We'll probably regret this—but we're going to spend every dime we have. But if we don't do it now, we never will." Benjamin saw no financial peril. "Don't look back," he said, "don't even think that the trip is a folie. It's something everybody would like to do—it will pay itself back in a thousand unknown ways." If the money held out, Henk hoped to visit Indonesia, where distant relatives lived. He had a need to inspect his roots. He also kidded Cocky about finding a grass hut and farming coconuts, to which she raised no objections. Theirs was a solid relationship, two people who respected one another's intelligence, ability, and feelings.
Charles must have dazzled the Dutch. Lunch at the Hyatt Regency and a stroll down the corridor of boutiques where fortunes in gems nestled against red lacquer boxes and pearls as large as eyeballs were fastened to the limbs of a silver and gold weeping willow. An invitation to his room, where uncut movies played from his television, and little bottles of scotch whisky or imported beer could be fetched from a machine that automatically entered the cost on the hotel bill downstairs. Henk was so impressed by the wonders of the room and the man that he wrote a letter home to his family in Amsterdam. It would one day become valuable to the police of half the world.
An investigation would show that Charles led the Dutch couple through the streets of Hong Kong, across the waters of Victoria Harbor on the world's best ferry ride, and into the duty-free shopping district where he escorted Henk and Cocky on a gem-buying expedition. The young nurse had made it known that she wanted to purchase a sapphire ring, and Charles warned her to beware of exorbitant prices and inferior quality. After visits to several stores where they obtained varying prices, Cocky was disappointed at the lack of bargains. That seemed to be precisely the attitude that Charles cultivated.
Related: The Rise and Fall of "Club Kid Killer" Michael Alig
As a "special favor" to his new friends from Holland, Charles permitted Cocky to buy a sapphire ring from his own "private collection." The Dutch girl paid $1,600 and she must have been nervous. In a letter to her family in the Netherlands, she revealed the purchase, insisting that the price she paid for such a quality ring was about one half what she had encountered in Hong Kong's best shops. "Our new friend's name is Alain Dupuis," she wrote, "and he has invited us to visit him in Bangkok."
"Alain Dupuis," the name that Charles was using in Hong Kong (after gaining admittance to the territory by using Vitali Hakim's passport), offered to send a car and driver to the Bangkok airport when the Dutch couple arrived, plus the offer of free room and board in his "penthouse," where a "French chef" prepared the meals. It must have sounded like an apartment on the Avenue Foch, for Cocky informed her family in a letter that Monsieur Dupuis was fabulously wealthy—in addition to being helpful and generous.
Related: The Man Caught on Tape Attacking a 65-year-old Asian American Woman Was Arrested
When Cocky and Henk landed in Bangkok and proceeded into the hall where they intended to give Alain Dupuis a telephone call, a young man rushed toward them with welcoming embraces. Alain Dupuis was waiting for them—astonishing, as he had not known their precise flight number. The Dutch must have been a little disappointed when the chauffeured limousine turned out to be a rented brown Toyota, and the French chef a haggard-looking Canadian woman. The guest apartment next door was hardly that of a millionaire, but it was free, and the Dutch were, above all, thrifty.
It was the night of December 10.
A day or two later, Belle rode the lift to the fifth floor and knocked on her friend's door. No answer. She thought she heard Monique's voice coming from next door, from the adjoining flat. Without knocking, Belle opened the door. Inside it was dark, and it took a moment for her eyes to focus on the gloom. On a chair, his bearded face pale and sweating, his eyes swimming wildly in his head, sat a stranger. Beside him, slumped on the floor, was a blond girl, desperately sick, holding her stomach and trembling all over. They looked like figures in a wax museum tableau, and when light from outside streamed through the open door, both moved their lips soundlessly. Her heart went out to the unfortunate pair, but Belle could only shut the door and return the apartment to darkness.
"Who are those poor people?" asked Belle when she caught up with Monique later.
"Some Dutch customers," answered her friend brusquely.
Related: Best True Crime Podcasts To Debut In 2021
Belle let it go at that, though she was troubled. That night, as she waited for sleep, an image kept running through her mind, an image that could not be discarded. She had only glimpsed the Dutchman for a moment, but it seemed now, in retrospect, that his hands had been tied behind him. He looked like a prisoner.
[…]
Incredibly, the very next night, the Dutch couple was evicted from the guest apartment. They were half carried, half dragged down the service stairs and shoved into Charles' car. He and Ajay Chowdhury drove away after midnight and did not return until it was almost dawn. They were alone. Their trouser legs were wet and muddy. The first thing Charles did when he entered his apartment was to strip off his pants and call for Dominique to have them cleaned. Dominique smelled the odor of gasoline but asked no questions and did as he was ordered.
The December 18 edition of the Bangkok Post carried a front-page article with a particularly grisly photograph. The account was erroneous, for it reported that a young Australian couple had been found murdered:
Related: Prepare Yourself for the New True Crime Docuseries Night Stalker—The Hunt for a Serial Killer
"The partly-burnt bodies of a young Australian man and woman have been found in a ditch alongside a highway 58 kilometers south of Bangkok … An initial autopsy conducted at the Police Hospital … showed that they had died before being set ablaze …"
Henricus "Henk" Bintanja and his fiancée, Cornelia "Cocky" Hemker, had been strangled. Then she was smashed in the skull with a board. Both were drenched with gasoline and set afire, and in the flames, they writhed and reached out involuntarily for one another.