We know how it goes.
You go for a walk, pop in your earbuds, turn on your favorite true crime podcast, and an hour later, you race back to your computer to do a deep dive on the episode. No matter how skilled the host, sometimes an hour simply isn't enough time to satiate your curiosity. We've been there—many times. To save you time and countless internet tabs, we've paired a few of our favorite true crime podcasts with a corresponding true crime book that takes the subject even deeper.
The Hillside Stranglers
In 1977, residents of Los Angeles were terrorized for months when two serial killers abducted young women, leaving their assaulted, naked, strangled bodies in the hills surrounding the city. Through intimate, straightforward storytelling, hosts Ashley Flowers and Brit Prawat explore all things true crime in their popular podcast, Crime Junkie. In their episode on the Hillside Stranglers, they take you through the details of how these crimes first began all the way through to the arrest and conviction.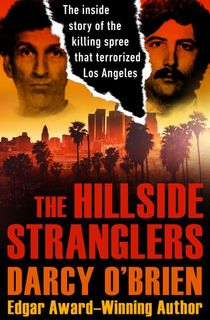 The Hillside Stranglers
If the episode doesn't satiate you need to know everything, the book, The Hillside Stranglers by Darcy O'Brien, will. These crimes began even before the first body was found, when Kenny Bianchi and his cousin, Angelo Buono, cemented their dysfunctional reliance on each other with a deep and unrelenting hatred of women. O'Brien weaves his skill as a novelist in with a sharp, investigative eye, bringing the two men guilty of these crimes into sharp perspective.
The Son of Sam
Not Another True Crime Podcast is the (un)healthy mix of sketchy and funny. Every week, hosts Sara Levine and Danny Murphy explore a morbid fascination with facts, jokes, and personal theories. When they talk about The Son of Sam, they go all the way to David Berkowitz's childhood and military record before talking about his capture, the recent Netflix documentary—complete with their own theories—and end with a musical test of all the iconic songs released in 1976.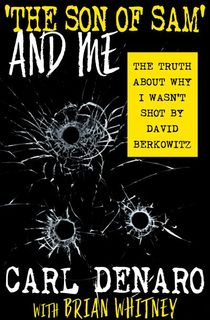 'The Son of Sam' and Me
For a more serious deep dive, 'The Son of Sam' and Me: The Truth About Why I Wasn't Shot by David Berkowitz by Carl Denaro with Brian Whitney is a first-hand account of getting shot in the head—and surviving. After he was arrested, Berkowitz confessed to every other killing but denied shooting Denaro. And maybe he was telling the truth. Including never-before-seen correspondence between Berkowitz and Denaro, this book covers the extensive research, investigation, and shocking conclusion on who he believes actually tried to kill him.
Gladys Lincoln Broadhurst
What does a serial bride, a cowboy chauffeur, and a dead doctor have in common? That exactly what Crooked Crimes podcast wants to know. Crime enthusiasts, Taylor and Trystan, take you crime scandals in the Pacific Northwest (though now the podcast has expanded and only Taylor hosts). In one of their first episodes, they go through the salacious life of black widow Gladys Lincoln Broadhurst. It's a story teeming with lies, murder, and life in the 1940's.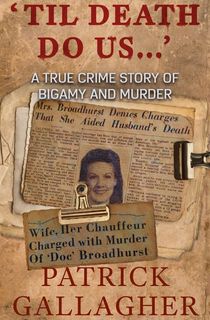 'Til Death Do Us . . .'
'Til Death Do Us…': A True Crime Story of Bigamy and Murder by Patrick Gallagher goes into far more detail about both Gladys and the crime she was eventually convicted of. A serial bride, Gladys ended up marrying six men in total—two at the same time. But eventually divorce wasn't enough, and with the help of her cowboy chaffeur, she killed her final husband, Dr. W.D. Broadhurst. Written by grandson of Gladys' lead defense attorney, Gallagher gives stunning insight, including love letters Gladys wrote to her eventual victim.
The Murder of Dennis Jurgens
Courtney Shannon and Colin Browen dive deep into the most infamous homicides from every state on the podcast, Murder in America. These are the darkest stories, handled with expert analysis and a fresh outlook. In April, 2021, in honor of child abuse prevention month, they bring to light the horrific murder of a little boy. Dennis Jurgens died in his adoptive home at three years old. But his death wasn't questioned until nearly twenty years later. It's a brutal case with disturbing details.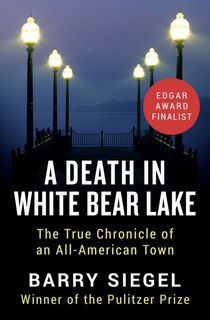 A Death in White Bear Lake
The biggest question at the core of Barry Seigel's book, A Death in White Bear Lake: The True Chronicle of an All-American Town, is how someone could get away with murdering a child. It's not a comfortable answer. Lois Jurgens had lived in the tranquil White Bear Lake, Minnesota, her entire life, and her brother was police lieutenant. Despite an entire town wanting the truth buried, two detectives doggedly pursued every lead, until they had a clear but ominous picture of ritual child abuse and the town who did nothing.
The Colonial Parkway Murders
True Crime Garage is no ordinary garage. Every week, hosts Nic and the Captain go down the rabbit hole of crime. With the beer of the week, they discuss The Colonial Parkway Murders, where over four years, four couples died at the hands of one or more serial killers. At one point, the case had over 150 suspects and to this day, has never been solved.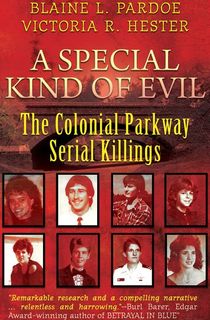 A Special Kind of Evil
Father-daughter true crime team, Blaine L. Pardoe & Victoria R. Hester, team together to examine the details of this case in A Special Kind of Evil: The Colonial Parkway Serial Killings. They sort through the myths and rumors, to uncover the core of the case and provide an in-depth examination through interviews and new information.
The Mysterious Death of Frank Rodriguez
Katie and Whitney want you to join them around the True Crime Campfire. Every week, they cover a stranger-than-fiction story, combining facts, humor, and superb storytelling. They generally believe people are good. But in this episode on the death of Frank Rodriguez, they bring the story of a predatory woman who ruthlessly valued money over everything else.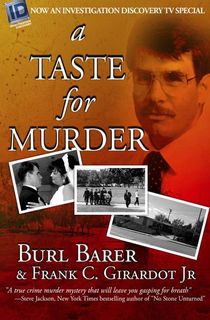 A Taste for Murder
Go even deeper into the investigation and history of Frank Rodriguez in A Taste for Murder by Burl Barer & Frank C. Girardot Jr. When Rodriguez was found dead on his bedroom floor, his wife Angelina was in shock. As the autopsy revealed, Frank was in perfect health. So how did he die? Demanding answers, Angelina badgers police until they realize her persistence may have less to do with grief and more with collecting his life insurance policy. As more details emerge, LA detectives unravel a web of shocking crimes.
The Vampire of Sacramento
The Last Podcast on the Left covers everything real and imagined. Hosts Ben Kissel, Henry Zebrowski, and Marcus Parks love talking the horrors of the world. In their bloodiest episode, they dive into the five-murder spree of The Vampire of Sacramento.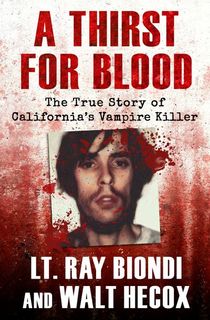 A Thirst for Blood
No one can tell the story on the hunt for Richard Chase than the lead detective Lt. Ray Biondi. With author Walt Hecox, he brings readers the inside story in the fast-paced A Thirst for Blood: The True Story of California's Vampire Killer. With eyewitness testimony, a first-person account of the crime scene discoveries, and even scenes from the interrogation, Biondi and Hecox reveal how relentless police work brought a violent murderer to justice.
The Unsolved Murder of Elizabeth Andes
Covering all thing Ohio, hosts Paula and Steven take you through unsolved crimes and local legends in their podcast, Ohio Mysteries. When Miami University graduate Elizabeth Andes is found strangled and stabbed on her bedroom floor, Oxford police have the first murder in twenty-five years. But when not one, but two juries acquit her boyfriend, it's unclear if he was let go just so police can close the case.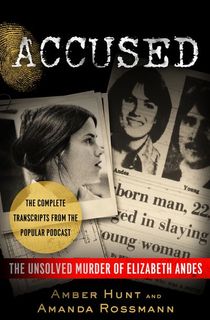 Accused
Amber Hunt in intimately acquainted with this case. She covered it in her own podcast, Accused: The Unsolved Murder of Elizabeth Andes. With Amanda Rossmann, Amber releases the full-text transcripts of that podcast into print in a book with the same name. This is less about the investigation leading up to the arrest, but rather an in-depth look at why police were convinced they had the right person even after two juries said they disagreed. Even worse, why did they not look anywhere else in a town with plenty of other suspects with reason to kill?
The Jolly Jane Toppan
There are no shortage of wild women on the wrong side of the law. In Criminal Broads, host Tori Telfer combines true crime and history to explore these women. And in the episode of Jane Toppan, she takes you back to 1895, when as a nurse, Jane offered her own form of comfort to her patients.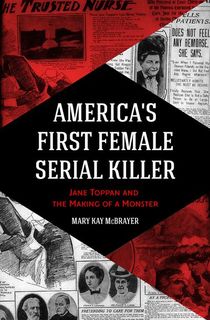 America's First Female Serial Killer
In America's First Female Serial Killer, Mary Kay McBrayer covers the life of first-generation Irish-American nurse, Jane Toppan. Toppan wasn't always a killer. But her life was never easy. After being abandoned at an asylum by her father, forced to change her name, indentured to an abusive family, and jilted at the altar, Jane took her life into her own hands. She became a nurse. It gave her control for the first time. Over her life, and her patients'.
The Black Widow of North Carolina
Host Erica Kelley loves nothing more than showing you exactly how southern-fried the justice system in the Deep South can be. With Southern charm and a lot of sass, she explores historical and contemporary Southern True Crime. There's a lot the world seems to know about North Carolina's Black Widow, Barbara Ford Stager. But is that all there is? Her story starts with shooting two husbands, ten years apart.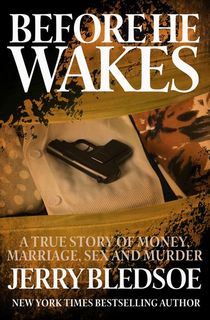 Before He Wakes
In her podcast notes, Erica recommends Before He Wakes by Jerry Bledsoe as additional reading. The New York Times bestselling author takes you through Barbara Stager's life. She was a devoted mother, wife, and church leader. When she 'accidentally' shot her husband, high school coach Russ Durham, police believed her. Until they discovered she had done the same thing ten years earlier. Sgt. Rick Buchanan was determined to understand the truth behind Barbara's façade, relentlessly investigating her past until he finally uncovered the one piece of evidence that sealed her fate.