The Dakota building, located at the corner of Central Park West and 72nd Street in New York, is probably better known to horror aficionados by another name. It stood in for "The Bramford" in Roman Polanski's 1968 film Rosemary's Baby. While the real Dakota may not be quite as sinister as its cinematic counterpart, there is plenty of haunted history in its halls, sure to keep fans of the paranormal awake at night.
Aside from its role in Rosemary's Baby, the Dakota is best known as the last residence of John Lennon, as well as the location of his murder. On December 8, 1980, Lennon was shot four times in the back and shoulder by Mark David Chapman outside the building. He staggered a few steps forward before collapsing to the ground.
After Lennon's tragic death, people continued to see him hanging around the Dakota. Musician Joey Harrow, who lived near the Dakota, claimed to see Lennon's ghost standing in the archway just a few years after his murder, surrounded by an "eerie light." Other witnesses have also seen Lennon's ghost at the Dakota; even his widow Yoko Ono claimed to have seen him sitting at his white piano in their apartment. According to Ono, he turned to her and said, "Don't be afraid. I am still with you."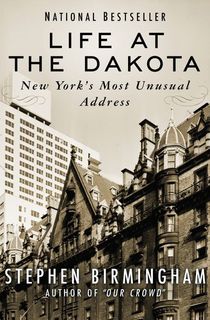 Lennon, though, is not the first ghost to call the Dakota home. While he was alive, Lennon himself reported seeing a UFO from the window of his apartment. He also saw an apparition that he dubbed the "Crying Lady Ghost" in the hallways of the old building.
From the time of its construction between 1880 and 1884, the Dakota began to accrue stories of spectral presences and strange happenings. Painters working in the building reported seeing the ghost of a girl with long blonde hair, dressed in clothes from an earlier time, bouncing a ball in one of the building's hallways. Later, a woman who was waiting for a friend in the building's foyer saw the same blonde girl go into what she thought at the time was a room, but later discovered was only a closet.
After the death of actress Judy Holliday, a Dakota resident, workers who were repairing her apartment felt like they were being watched, and several of them spotted the ghostly figure of a young man with the face of a small child.
Several of the Dakota's residents have reported objects moving on their own. Frederick and Suzanne Weinstein reported hearing footsteps and other noises in their apartment, while their dining room furniture and rugs slid around on their own. One day, when Mr. Weinstein was returning home, he saw the lights of a chandelier aglow in his living room, though their apartment had no chandelier. When he got upstairs, the light was gone, but he found bolts in the ceiling where a chandelier had once been installed.
Unsurprisingly, the Dakota reserves its most sinister stories for the basement. Supposedly, a porter once summoned a tenant down there, to show him that objects had been moving around on their own. While the men investigated, a heavy metal bar flew across the room and nearly struck the porter, landing at his feet. He reached down to pick it up, but found that it weighed too much to lift.
Repairmen, electricians, and other visitors to the basement have reported seeing an apparition of a short man with a long nose and beard, wearing wire-frame glasses, a wig, and a frock coat. According to some, the description of the ghost matches Edward Clark, who built the Dakota, but never lived to see it completed. Perhaps it is indeed his spirit that haunts the basement of the Dakota to this day, keeping an eye on the fate of his building.
[via: Wikipedia; Business Insider]
Feature photo of Dakota Building Circa 1890: Wikimedia Commons