The hotly-anticipated All the Sinners Bleed from bestselling author S.A. Cosby is hitting the shelves this June. Cosby is known for his hard-hitting, heartfelt, and gritty noir, including the New York Times bestselling and 2022 Edgar award-winning Razorblade Tears—a thrilling narrative pace and the tensions of two fathers seeking vengeance for the death of their sons. The novel was on numerous best-of-the-year lists and earned countless nominations, which is absolutely telling of the incredible balance Cosby achieved. It's the sort of mastery on the page that has readers unable to put the book down.
Cosby has built up an oeuvre brimming with must-reads, books that unabashedly explore the struggles of those looking to make good. The question might be, especially for those looking to read more of his work, where do you begin? Let's take a look.
Blacktop Wasteland
The first book I read by Cosby, Blacktop Wasteland is also the same book that catapulted him into broader public awareness. Brimming with desperation, the novel follows Beauregard "Bug" Montage, a man living the structured life of a car mechanic. He aims to be a devoted husband, present for his kids, and an upstanding citizen with a modestly successful small business.
But finances are a problem. Raising kids with a business that doesn't rake it in takes its toll—not to mention, he has a terminally ill mother facing eviction. Bug's waking life has become a frenzy of anxiety and stress. Additionally, Bug attempts to hide—from both himself and all those around him—his infamous and lucrative past life as a driver. He's a master of every sharp turn, capable of offering criminals in need of a quick and reliable getaway.
With the mounting pressure of providing for his family, Bug slides back into the getaway driver life for one last job—a diamond heist. Just enough to dig himself out of financial collapse, he tells himself.
In Blacktop Wasteland, Cosby flexes his storytelling skills and exhibits his literary powers.
My Darkest Prayer
Years before Blacktop Wasteland, S.A. Cosby published his official debut novel My Darkest Prayer, through the small press Intrigue Publishing. It's a bleak yet determined crime thriller about a man named Nathan Waymaker. He places confidence in his ability to "handle the bodies." A past that saw him serve in the Marines and even as a sheriff's deputy, Nathan is a man that knows the depths of the law and all its shades of darkness.
After the death of a local minister, Nathan is put to the task of figuring out the source of the murder. This works perfectly into Nathan's prowess, except that for him to solve the problem, it will force him to descend into the shockingly intricate web of an underground thriving just underneath the surface of a local town. Cosby examines the ricocheting aftereffects of corruption.
My Darkest Prayer was recently republished in a new edition by Flatiron Books so there's no better time to meet up with Nathan Waymaker and journey into the darkness.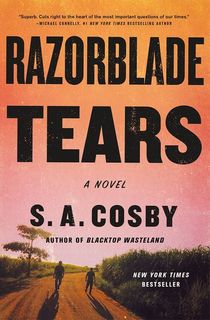 Razorblade Tears
I've talked about the book at the top of this article, and many of you have probably enjoyed Razorblade Tears.
However, for those that haven't, Cosby's award-winning novel is about two fathers, Ike Randolph and Buddy Lee. They both are ex-cons with a dark past living in Virginia. Both fathers endure unexpected tragedy when their sons are murdered. Ike's son Isiah is murdered along with his partner, Derek. This unites the fathers in a brutal search for those killers.
Cosby layers the narrative with the daring choice to have both fathers wear their own cultural views on their sleeves. It makes for an already breathless narrative to be that much more uncomfortable because there's no end to the sexism and racism that bubble up to the surface as the fathers enact their quest. Razorblade Tears is an essential read.
Brotherhood of the Blade: The Invitation
Now for a deeper cut. Before My Darkest Prayer, Cosby published Brotherhood of the Blade: The Invitation a novel that blends fantasy and fight-fiction for a fantastically fun ride.
Catlow Creedence is born to learn "The Way of the Sword." Akin to the best samurai or kung fu films (think Ghost Dog: Way of the Samurai or even Man of Tai Chi), Creedence abides by his family's legacy to prepare for defending against a battle that may never arrive. However, he would rather be normal, the path chosen for him the opposite of one he'd willingly walk. As part of the Brotherhood of the Blade, Creedence discovers soon that a lack of choice fails to stand up against a destiny that has written Catlow into its storyline as being among the warriors that must fight with honor to ensure that there is a tomorrow.