Mary SanGiovanni is an award-winning horror and thriller author with over 20 books to her name, as well as a diverse portfolio of short stories, comics, and nonfiction pieces. Her haunting imagery, complex characters, and hair-raising plots have captivated readers around the world.
In addition to her writing, she is the co-host of the popular horror podcast The Ghost Writers and is the creator of her own podcast, Cosmic Shenanigans.
As if all of that wasn't cool enough, SanGiovanni was one of the first women to ever speak about writing at the CIA headquarters in Langley, VA.
Mary SanGiovanni is a prolific staple in the horror community, widely considered to be the Queen of Cosmic Horror. Any devoted horror fan will have at least a few of SanGiovanni's novels in their repertoire. And if you don't? Time to get started!
Explore the list below to find your way into SanGiovanni's intense, chilling, and thought-provoking worlds.
The Hollower
Get your start with Mary Giovanni's Bram Stoker award-nominated first novel, The Hollower. This story follows a small town in New Jersey in the grips of a terrifying supernatural being. This alien creature can see into the minds of people and identify their deepest fears and darkest secrets, which it uses to destroy them from the inside out. With his best friend and family in danger, Dave Kohlar must find the inner strength to protect himself from the monster and save the ones he loves—and hopefully the rest of the town of Lakehaven.
This is the perfect first read because it introduces you to the dark tone and sense of dread that color SanGiovanni's writing style. It sets the foundation for her following two novels—all part of The Hollower Trilogy—and introduces readers to her unique storytelling approach.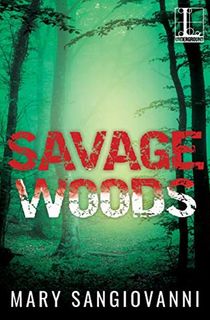 Savage Woods
Mary SanGiovanni's most popular novel, Savage Woods, is a must-read for fans looking to get into her writing. Urban legend in New Jersey's Pine Barrens has it that hikers are known to go inexplicably insane and take their own lives within the 600-ace plot of haunted woods called Nilhollow. When Julia Russo's ex-boyfriend runs her off the road, she makes the mistake of fleeing into these very woods and vanishes without a trace.
State Trooper Peter Grainger has witnessed terrifying things before, but it's nothing compared to the centuries-old being in the forest that seeks to destroy humankind. As he sets out on his journey to find Julia, every step leads him closer to an ancient hatred which has risen to feed on our species.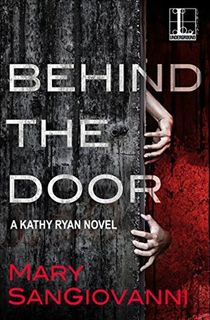 Behind the Door
Behind the Door is a novel in SanGiovanni's Kathy Ryan series and another one of her most well-known works. The Door is a paranormal Pandora's box located in the woods of a rural town known as Zarepath, on the Pennsylvania-New Jersey border. No one knows where the door leads, but for generations, the people of Zarepath have gone to the door with wishes written on handwritten letters and sealed with a combination of wax and their own blood. They slide the letter under the door, and three days later, their wish is granted—but it's not always for the better.
After her teenage daughter commits suicide, single mother Kari asks the powers beyond the Door to erase all memories she had of her deceased child. But when Kari makes the mistake of opening the door to retrieve her wish, she unleashes every spirit and secret contained on the other side. Now, occultist Kathy Ryan must find a way to shut the door before the world of the living falls to hell.
The Shapes of Night
SanGiovanni's most recent novel, Shapes of the Night, proves that her ability to create truly nightmarish works of horror has only gotten stronger over time. In Bloomwood, New Jersey, children go missing and die. And then that happens, strange alien beings resurrect their bodies for their own.
Tim Jenkins is a teacher who has a vision of one of his former students, Charlie Brentner, being mangled to death. In an attempt to save him, Tim accidentally gets the pair involved in a fight to save the world from an evil that seeks to fundamentally change its geometry forever.
ALIEN: Enemy of my Enemy
Fans of the ALIEN franchise will especially love SanGiovanni's media tie-in, ALIEN: Enemy of my Enemy. Hygieia is in grave danger as the moon it was built on hurtles towards a collision with the dead planet, Hephaestus. At the same time, a strange black substance is raining down on Earth that turns indigenous creatures and human beings into terrible monsters.
And on the United Americas colony, LV-846, the authorities are gathering to discuss how to address these issues, but some of the participants have a secret plot to plunge the colonies into war. With all of this going on, it turns out their only chance at maintaining the peace remains with a dangerous and deadly ally…
Things Left Behind
Co-written by Mary SanGiovanni and fellow horror superstar Brian Keene, Things Left Behind is a story of cosmic, supernatural, and violent horror that sweeps across America. It starts in a Baltimore basement, where a writer uncovers a deadly secret that threatens to tear apart his life as he knows it. Then, discover the tale of a small town where the trees hold a devastating power. Continue following the story to read bout the likes of a Colorado convention gone wrong, a young widow learning she has more to lose on the shores of San Francisco, and so much more!
Thrall
Thrall is another SanGiovanni classic that no reader should miss. Seven years ago, Jesse Coaglan left his hometown of Thrall, New Jersey, because he was sick of the dark ways the town affected its citizens' minds, bodies, and perspectives. But when his old love Mia Dalianis leaves him a voicemail begging him to return to help find the daughter he never knew he had, Jesse knows he must go back. With help from his friends, Jesse intends to find his daughter if it's the last thing he does. Only, Jesse discovers something about the town of Thrall that might destroy him and everyone he loves…
A Very DC Halloween
Did somebody say range? Apart from her novels, SanGiovanni is also a master of the comic world. If you're a fan of DC comics, then you'll love Mary SanGiovanni's contribution to the DC multiverse, A Man's World, part of the DC comic special, A Very DC Halloween. This comic book contains a collection of works by some of the best of the best in horror, so it only makes sense that SanGiovanni would be included.
Drawing off of the Wonder Woman mythos, this comic is a dark, non-linear horror masterpiece that leads readers down two parallel timelines of the past and present. And when those timelines finally converge and the full story reveals itself, the effect is mind-blowing! It's beautifully crafted in SanGiovanni's signature haunting, stoic voice, and is sure to delight readers who are less acquainted with the DC universe just as much as DC megafans.
A Weirdish Wild Space
Taking her talents in a completely new direction, Mary SanGiovanni shows that she's also a talented nonfiction author in her collection of essays, A Weirdest Wild Space. This collection covers a breadth of topics, such as the role of horror in fiction, cinema art, and video games. It also includes essays of SanGiovanni's perspective on her role as a writer, mother, sister, and daughter. Finally, discover SanGiovanni's thoughts on the history of the publishing industry, recognition of her friends and mentors, and the changing role of women in the genre. This is an essential read for those looking to gain a whole new appreciation for this gifted author.
Night Moves
Now that you've gotten your fill of novels and a taste of Sangiovanni's comic and nonfiction work, check out the treasure that is her collection of short fiction. Night Moves is the perfect place to start since it contains all of her best short stories to date!
You'll find unsettling, dark, and haunting stories, like the one of a grown woman who loses her teeth one by one, only to discover that it's just the beginning of something terrible happening to her life; or the story of a run-down apartment building that contains the disturbing secrets of universes known and unknown. This collection is all you need to find out how truly excellent short horror fiction can be!
For Emmy
For Emmy, published in 2011, is SanGiovanni's first novella, and what she's able to accomplish in 64 pages is outstanding. This chilling novella tells the story of a young girl named Emmy who mysteriously vanishes, only to reappear four months later. But Emmy isn't the same; the experiences she underwent while in captivity go beyond what the mind can and should endure. Narrated by Emmy's sister, For Emmy is at once a gripping work of horror as well as a study of what the human mind can endure.
The Fading Place
Another one of SanGiovanni's novellas packs a terrifying punch in only 54 pages. When a deranged woman named Simone abducts Charlie Van Houten and her baby into her car, Charlie knows she must do whatever it takes to save herself and, more importantly, her child. But the closer they get to their destination, the more reckless and paranoid Simone becomes. It turns out Simone is a different kind of monster; one Charlie could have never imagined…