Editor's note: This giveaway is now closed.
What better way to start off the new year than with a fresh set of true crime stories to immerse yourself in? One lucky reader of The Lineup will win five of the best true crime books WildBlue Press has to offer!
From R. Kelly's victim Lizette Martinez—who bravely tells her side of the story—to a mysterious cold case from San Diego's Jazz Age, from the gripping accounts of inmates on death row to a true story of murder, survival, and bringing down the Chicago mob, these books offer something for every stripe of dedicated true crime fan.
Read more about the five books included in this addictively bloody package below and enter for a chance to win this covetable prize!
By entering this giveaway, you agree to receive emails from The Lineup and WildBlue Press.
Enter your email address below for your chance to win these five heart-pounding books!
Deadly Associates
Step into Chicago during the 1960s and '70s, where mobsters influence everyone from strip-club owners to Teamsters, aldermen, judges, and local police. It is a world where good men are corrupted by the irresistible lure of money and power, and families are shattered by lies, violence, and tragedy.
Danny Seifert, a street-smart and ambitious young man, follows his father's example in his efforts to provide a good, comfortable life for his wife and children. Soon, however, his path leads him toward the dark heart of the Mob. His career choices eventually bring him to a point where he must choose between loyalty to the Mob and probable prison time, or coming clean to the FBI, testifying against Mob leaders and risking retaliation to himself and his family. He chooses the latter, which ultimately leads to his murder and decades of living in fear for his widow, Emma, and their children.
As they grow into men, Danny's sons, Joe and Nick, take it upon themselves to find the man responsible for their father's death and make him pay. In seeking retribution for Danny, will they also succumb to lives of crime, or will they follow the high road of law and justice all the way to the Family Secrets trial in 2007, one of the largest Mob trials in history?
Find out in Deadly Associates, a meticulously researched and poignantly personal story of one family's life inside and outside the Chicago Mob.
Jane Doe 9
In January of 1995, 17-year-old Lizzette Martinez met Grammy-winning musician and record producer R. Kelly at Aventura Mall in Florida where he was performing. At first, it seemed that her hopes of becoming a professional singer were about to come true when he offered to help boost her career. However, this mentorship quickly turned into sexual grooming, leading to years of physical, emotional, and sexual abuse.
In JANE DOE #9 by Lizzette Martinez and Keelin MacGregor, readers get a no-holds-barred look at Martinez's relationship with Kelly, her efforts to break free and pursue her dreams, and courage to take on her abuser and seek justice.
Watch Me Die
Watch Me Die presents an unbiased look at the realities of death row, in Ohio and America as a whole. This book is much more than an argument about the death penalty. Instead, Kimberlin exposes the harsh truth of what it is like to be on death row, counting the days until your own execution, as told to him by those who have lived it.
With no physical or mental restraints, Kimberlin's conversations earn the trust of many high-level and violent offenders. He shares with the reader these unfiltered and honest thoughts from people staring in the face of death. Their writings, their artwork, and their own words will put the reader in the room with these dangerous killers. Nothing is off limits and there is nothing to shield Kimberlin from the same hands that have taken countless lives, leaving Kimberlin himself asking, "Will this be my last trip to death row?"
In this newly revised edition of Watch Me Die, Bill Kimberlin takes the reader on a more intimate journey into death row than ever before. This edition includes a "Where Are They Now?" section, updating the reader on which inmates have faced their execution, which inmates are still counting their days, and who else has asked Kimberlin to watch them die.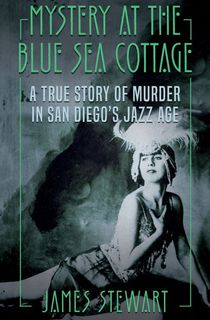 Mystery at the Blue Sea Cottage
Set in Jazz Age San Diego against the backdrop of yellow journalism, notorious Hollywood scandals, Prohibition corruption and a lively culture war, Mystery At The Blue Sea Cottage tells the intriguing true crime story of a beautiful dancer, a playboy actor, and a debonair doctor.
In January 1923, 20-year-old Fritzie Mann left home for a remote cottage by the sea to meet a man whose identity she had revealed to no one. The next morning, the barely clad body of the beautiful and bewitching dancer washed up on lonely Torrey Pines beach, her party dress and possessions strewn about on the sand.
The scene baffled investigators. Was it suicide, murder, or an accidental drowning? A botched autopsy created more questions than it answered. However, the investigation revealed a scandalous secret and, possibly, a powerful motive for murder.
After a suspect was arrested and charged with murder, an ambitious district attorney battled a high-profile L.A. private counsel in the most sensational trial in San Diego's history that was followed avidly across the nation. The big question: What really happened at the Blue Sea Cottage?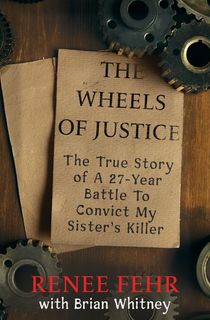 The Wheels of Justice
"The wheels of justice turn slowly, but grind exceedingly fine."
Renee Fehr knew that Gregory Houser killed her sister Sheryl. There was not a single doubt in her mind. Yet for 27 years Houser walked free.
But Renee wouldn't rest until he was convicted for murder.
The Wheels of Justice is equal parts the story of a monstrous killer, a harrowing look at domestic violence, and an inspirational story of a family that wouldn't quit until justice prevailed.
For full details, see official rules.
Note: The sweepstakes is open to all legal residents of the 50 United States and Washington, D.C. who are 18 years of age and older by December 10, 2021.