Many people are familiar with the name John Wayne Gacy. To read it, or hear it, the image of a heavyset man dressed as a clown, face painted into a red slash of a smile, eyes squinted into the sun, comes immediately to mind. From there, the details of his crimes, which primarily involved the killing of 33 men and boys between 1972 and 1978, start to slowly line themselves up in the darkest corners of memory.
The coercing. The binding. The killing. And, nearly worst of all, the disposal of the young bodies in the dirty crawl space beneath his home, located in an unsuspecting suburb of Chicago, Illinois. We know the bulk of it, but there's more. So so much more to Gacy's vile and murderous story.
Killer Clown, written by Terry Sullivan, a former Gacy trial key prosecutor, grippingly unravels details of this case that could only have been gleaned from someone who witnessed it first-hand.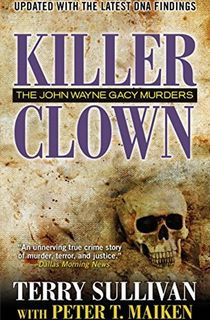 Killer Clown
The "chilling" story of America's most notorious serial killer by the man who helped catch him—now updated with the latest DNA findings (Nashville Banner).
He was a model citizen. A hospital volunteer. And one of the most sadistic serial killers of all time. But few people could see the cruel monster beneath the colorful clown makeup that John Gacy wore to entertain children in his Chicago suburb. Few could imagine what lay buried beneath his house of horrors—until a teenaged boy disappeared before Christmas in 1978, leading prosecutor Terry Sullivan on the greatest manhunt of his career.
Reconstructing the investigation—from records of violence in Gacy's past, to the gruesome discovery of twenty-nine corpses of abused boys in Gacy's crawlspace and four others found in the nearby river—Sullivan's shocking eyewitness account takes you where few true crime books ever go: inside the heart of a serial murder investigation and trial.
This updated edition features new revelations that have emerged using DNA evidence to confirm the identities of additional victims—and sixteen pages of dramatic photos.
Aided by retired Chicago Tribune editor Peter T. Maiken, Sullivan pulls no punches, but reports fairly on Gacy, who he referred to as "the worst animal to ever have existed in this century" in an interview with Inside Edition.
Sullivan went into private practice in 1982, serving as head of The Sullivan Firm, Ltd, which remains in operation as of the time of this post.
As one of the key prosecutors in Gacy's criminal trial, he's often credited with having a hand in putting him away for good. When asked about it in a 1992 Chicago Tribune interview, Sullivan said "It carries a little notoriety with it. Sometimes it's flattering, and sometimes it's not necessarily too good. You fight with being able to put local history away.''
In 1979, the home in which Gacy did his killing and body disposing was torn down and a Chicago woman bought the land in 1986 for $30,544, using it to have a house built for her parents, according to TMZ. In 2019, the house changed hands again, this time to the tune of $459,000. Not a bad price, but gardening, or any type of digging for that matter, would probably be best avoided on this plot of land.
Featured photo: Erin Hooley / Chicago Tribune / Des Plaines Police Department