Imagine a book so effectively scary that it lands the author a Bram Stoker Lifetime Achievement Award. Richard Matheson's I Am Legend is such a book. First published in 1954, the story of a world laid low by a pandemic of vampire bacteria was so memorable that it was honored as Best Vampire Novel of the Century by the Horror Writers Association, so many years later in 2012. Being honored with these awards may not have been the last accolades in the author's life before his passing on June 23, 2013, but they were certainly among the crown jewels of his career.
Adapted into film three times to date (The Last Man on Earth in 1964, Omega Man in 1971, and I am Legend in 2007), Matheson's source material was, and is still, able to appeal to both the science fiction and horror communities. And, hey, who can resist a well-written vampire story?
Related: Bram Stoker's Descendant Gives Dracula a Creepy Origin Story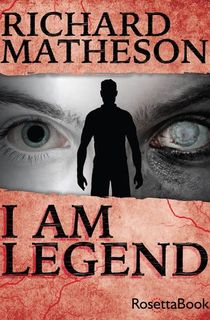 I Am Legend
The population of the entire world has been obliterated by a pandemic of vampire bacteria. Yet somehow, Robert Neville survived. He must now struggle to make sense of what happened and learn to protect himself against the vampires who hunt him nightly.
As months of scavenging and hiding turn to years marked by depression and alcoholism, Robert spends his days hunting his tormentors and researching the cause of their affliction. But the more he discovers about the vampires around him, the more he sees the unsettling truth of who is—and who is not—a monster.
In a 2013 article in The Guardian, writer Alison Flood eulogized Matheson's classic horror novel I Am Legend saying the vampires he created in 1954 were "so much scarier, so much more interesting and memorable and believable, than the hordes of pallid high–school students who keep springing up today." Consider Edward Cullen's wig officially snatched.
Related: Vampires, Witches, and More: The 9 Best Anne Rice Books
Related: Why the Midnight Sun Twilight Saga Release Is Such Exciting News Right Now
In press following I Am Legend's Vampire Novel of the Century award, which was won over Stephen King's Salem's Lot, and Anne Rice's Interview with the Vampire, The Guardian heaped even more praise upon Matheson, quoting his acceptance speech.
"I am certainly honored and delighted that you have chosen I Am Legend as the vampire novel of the century, which is a rather dubious but interesting distinction," said Matheson. "When I was a teenager I went to see Dracula with Bela Lugosi and at that time, even as a teenager, the thought occurred to me that if one vampire is scary, what if all the world were full of vampires?"
To imagine what other classics Matheson could have added to his name aside from the dozens he left us with is too bittersweet. If he'd only written a single novel, and that's as far as his career got, I Am Legend will truly live forever, much like the bloodsucking monsters within its pages.