Alfred Hitchcock. The name holds a space in the annals of mystery, thriller, and horror films. Many of his works are considered to be prime examples of cinema, and he is widely regarded as one of the best directors of all time. This claim has seldom been refuted by critics and fans alike, so much so that he has been christened "the master of suspense."
His titles read like a ticker tape of high art: Psycho, Rear Window, Strangers on a Train, North by Northwest, The Birds, and more. There's so much to explore and learn from Hitchcock's career and oeuvre that countless books—from biography to critical analysis—have been published to attempt even a small glimpse into his brilliant mind. But which ones stand out in a sea of options?
We took a deep dive into the genre of Hitchcock appreciation to dig out the best options for both seasoned and budding Hitchcock fans. Here are seven of the best books about Alfred Hitchcock.
Alfred Hitchcock: A Life in Darkness and Light
McGillian's biography is considered to be the "definitive" text about the director's life and career. It goes into a tremendous amount of detail about the man behind the image. Hitchcock was keen to carry that image of "the Master of Suspense," yet this biography paints a more complex picture of a man that might just fit another moniker: "mad genius."
McGillian provides juicy details about how his films came to light, while also showcasing the more vulnerable side of Hitchcock, from his Catholic childhood, to his fears and his many obsessions. It's also a true door stopper at 864 pages, so be ready for a master class about the director.
Hitchcock
Hailed as both a perfect touchstone for film aficionados and an impressive conversational experiment, French film director Francois Truffaut set upon the task of interviewing Hitchcock for a record 50-hours. The result is nothing short of fascinating, the book effectively being the transcript of two film masters chatting through countless topics.
Truffaut is, in his own right, a master of the medium, known for films like the 400 Blows and Day for Night. He's also considered a pioneer of the French New Wave film movement. When he gets to talking about the deep stuff, you can see how Hitchcock doesn't shy away from honesty and detail. In this book, you get two film obsessed minds giving way fully to conversation.
The Art of Alfred Hitchcock: Fifty Years of His Motion Pictures
Since its original publication, Donald Spoto's book has become an essential film texts taught in a variety of classes, due to its intense exploration of Hitchcock's catalogue. Indeed, in this book the films take center stage. Spoto analyzes everything from themes to art direction, and everything in between. It's a great book on its own, and one to recommend to Hitchcock devotees seeking a critical look at their favorite Hitchcock films.
The Twelve Lives of Alfred Hitchcock: An Anatomy of the Master of Suspense
Edward White's The Twelve Lives of Alfred Hitchcock offers a dozen lenses with which to inspect Hitchcock's life and career, with special focus on the many curiosities and controversies behind the enigmatic director. White approaches the material similarly to McGilligan and Spoto, but this time he takes to examining the more troubling and "darker" layers of Hitchcock, including his treatment of women. It reveals a legacy that is as intimidating as the man that created it.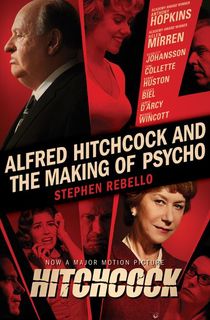 Alfred Hitchcock and the Making of Psycho
Perhaps his most well-known piece of work (and that's saying a lot, given his extensive filmography), Psycho is the sort of film that is often described as "perfect." In Stephen Rebello's book, the author goes into stunning detail on how the film was made. It still surprises some to know that the film was inspired by the infamous serial killer, Ed Gein; the book begins with the facts and the novel by Robert Bloch, the source of the film's inspiration, and proceeds to turn over every rock in the film's production. You'll also get some interesting tidbits about Hitchcock himself, even though the book is more centered on the classic film.
Writing with Hitchcock: The Collaboration of Alfred Hitchcock and John Michael Hayes
This one is for the Hitchcock fans that want to learn more about what it was like to work with the director. John Michael Hayes collaborated with Hitchcock on four films: Rear Window, To Catch a Thief, The Trouble with Harry, and The Man Who Knew Too Much. DeRosa investigates how Hayes affected Hitchcock's style, including Hitchcock's ego, particularly during the moments when Hayes got any attention for being involved.
Writing with Hitchcock offers yet another layer, a peculiar lens, to explore the director's legacy. If you ever wondered what it was like to directly collaborate with a mad genius like Hitchcock, this book will reveal it all.
Alfred Hitchcock. The Complete Films
If it's being published by Taschen, you know what to expect: High quality photos and a book that sits well on any coffee table. Though Duncan does give an excellent overview of Hitchcock's many films, The Complete Films stands alone for its visual portrayal, with images that illuminate and captivate. Fans will also enjoy all the little details included, like a list of cameos and exclusive photographs from behind the scenes. If you're looking for an exhaustive biography, go with McGilligan's, but if you want a book that can act as a visual nostalgia trip, this book is for you.