Book censorship is at an all-time high. In 2022, the American Library Association (ALA) reported that 2,571 unique titles were challenged. This is a 32% increase from the previous number, 1,858. It has a lot to do with how all across the country groups are aggressively and consciously targeting books for censorship. At the center of all this censorship are schools and libraries at the frontlines.
Stephen King is no stranger to having his books challenged. Throughout his career, his unique blend of horror has irked and provoked readers sensitive to the grim, transgressive, and (often) gory worlds King tends to create.
That being said, amid all the book censorship coverage and resources, it remains largely difficult to see which books in his oeuvre have been challenged the most. In fact, it might be easier and more accurate to say that nearly every title in his bibliography has been contested at one point or another. Even his novella collection, Different Seasons, has been targeted. In fact, ALA's Most Banned Books list for the years spanning 1990-1999 holds multiple King titles.
However, there are some standout candidates, including one book so infamous King himself has pulled it from circulation—and it remains out of print.
Let's take a look.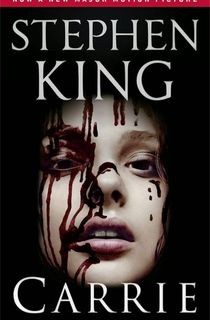 Carrie
King's debut novel remains one of his most contested. Considered a modern horror classic by many readers, Carrie is a harrowing tale of the eponymous protagonist as she battles the terrors of high school. Her "oddity" turns out to be more than not merely fitting in; her special powers become the impetus for a shocking chain of events that culminate with a final act that has gone down in history as one of the most shocking.
Carrie has been banned in Nevada, Vermont, Iowa, New York, Pennsylvania, and North Dakota. Why? Because of the very things that make the book such a standout—especially its discussions of bullying, harassment, and psychological/emotional toxicities. Those attacking the book feel that its depictions of violence and underage sex are tantamount to sacrilege.
It
Considered by many fans of King's work as among his best, It has undergone its own battles with book censorship. A tale of friendship among kids that don't quite fit in, the town of Derry, Maine becomes the subject of a sinister evil that threatens its youth. "It" likes to reveal itself as a clown named Pennywise, yet what it might really be is fear itself.
King's novel has gone under fire for being "corruptive and obscene" and with that infamous "bonding scene" in the sewers… it has, in the last few years, been targeted again by those seeking its censorship.
The Dead Zone
The Dead Zone was ranked 82nd most challenged book (during the period of 1990-1999) in ALA's banned books list. The novel is about a man named Johnny Smith who falls into a coma for upwards of five years; when he regains consciousness, he has suffered brain damage and gains clairvoyant powers, visions that can be triggered by the sense of touch. He calls it "the dead zone."
The book made the list for, well, foul language. Yeah. It's the leading reason why the book was banned by school boards etc. One has to wonder: Would it make the list today? Was The Dead Zone challenged mostly due to King's reputation for writing horror?
Cujo
Ah, Cujo. It's one of King's novels that isn't discussed as often these days. The titular Saint Bernard that goes rabid after being bitten by a bat, and the survival situation of a mother and her child, stuck in their stalled-out car while Cujo prowls the exterior, waiting to attack, is a horror classic in its own right. King himself has stated he doesn't remember writing the book, mostly due to writing it during the peak of his struggles with alcohol.
However, Cujo is a book that made ALA's list, and during the limelight of its days on store shelves, it was challenged primarily due to its treatment of infidelity and divorce.
Rage
After looking at four examples among the multiple dozens of King's books being challenged, it becomes clear that what provokes censorship the most is what King intends to challenge in readers: facing the uncomfortable side of society and humanity, delving into fear itself to understand why we turn away rather than face it head-on.
Never mind his prolific career and countless bestsellers and modern horror classics as proof; King is successful because of how often his books provoke those perhaps unwilling or unable to stare at the page and be with the outrage they experience as human horrors stare back at them.
Now, there is one book that King has since chosen to pull from print. During his short run using the pen name Richard Bachman, he wrote a book called Rage. The protagonist, named Charlie Decker, is a high school student who is reprimanded for violent behavior. He is expelled when he acts out at the principal. What happens next is, well, a quite vivid portrayal of a troubled teen who decides to kill people. The book goes into depth with what becomes…a school shooting. King let the book fall out of print and in the 2007 preface to the novel Blaze, he wrote about Rage claiming, "Now out of print, and a good thing."
This may not be censorship or banning in the conventional sense; however, it does offer an anchor point to all the instances his books have been challenged by others. King doesn't shy away from something that should be contested; and in Rage, he saw a book that was equally alarming and troubling.
It was also prescient. The book was written in the 1970s. King has explained that Rage was inspired by his own feelings of frustration being a high school student. Certainly, he channeled something that perhaps so many are now battling too.
Yet Rage is a book that its own author has chosen to ban from being read. It seems that even some topics are too far for the King. Rage is simply too real—even more so in modern-day 2023—and hit too close to home with their harrowing reveal of the tension and brimming violence in this country's schools.
Note: Since Rage is now out of print, the remaining copies are very expensive! If you ever find one lurking innocuously on a thrift store or used bookstore shelf—snap it up! If you dare.